Growing up in western Pennsylvania, the winters were long and harsh. Tulips beginning to bloom were the definitive sign that winter was finally over. For a few months anyway. My mom would plant tulip along our house and I'd check them each day as I walked down the driveway to the school bus, waiting to see what color they'd bloom that year. So when I heard about the Fête de la Tulipe, or Morges Tulip Festival, which welcomes spring to the pretty Lake Geneva town each year, I just had to go.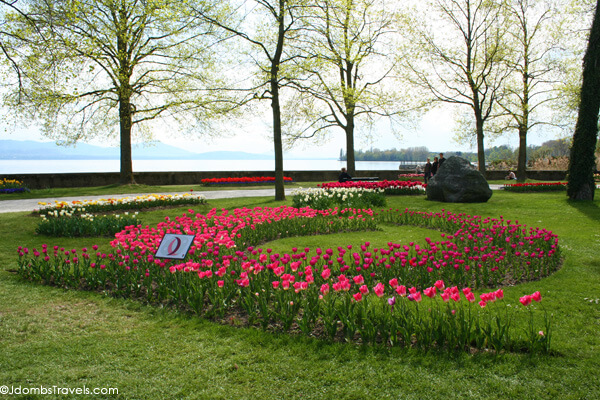 More than 150,000 tulips of 300 different varieties from around the world bloom on the shores of Lake Geneva in Parc de l'Indépendance. Rows of tulips bloom in shades of red, pink, and violet. Others are artistically planted into shapes. Some tulip varieties were traditional, others were up-side-down tulips in flaming shades of orange.
Tulips at the Morges Tulip Festival have been blooming between mid-April and mid-May since the Lake Geneva Horticultural Society created the festival in 1971. This year's festival edition includes a number of events like Brunch in the Tulips, a Potters Market, family days with special events and activities for kids, and the selling of the tulip bulbs at the conclusion of the festival.
Tulip Festival
Getting There
Opening day is March 28, 2015 but the blooming of the tulips is largely dependent on weather. We went mid-April and all of the tulips were in bloom. The festival runs until May 17, 2015.
The festival is free; snacks and drinks are available for a charge in the marquee tent or take the short stroll to Morges' Old Town to find a variety of restaurants.
Brunch in the Tulips is on March 29, 2015 from 11am – 2:30pm and costs 38 CHF per adult and 22 CHF per child 6 – 12 years of age. Children 5 and under are free. Reservations are required and can be made by phoning Relais Services at +41 021 811 51 71.
Morges is easy to reach from Geneva or Lausanne. By car, use Autoroute A1 – exit 15 when traveling from Geneva or exit 16 from Lausanne. Trains run regularly from Geneva or Lausanne to Morges; book your train tickets
here
.