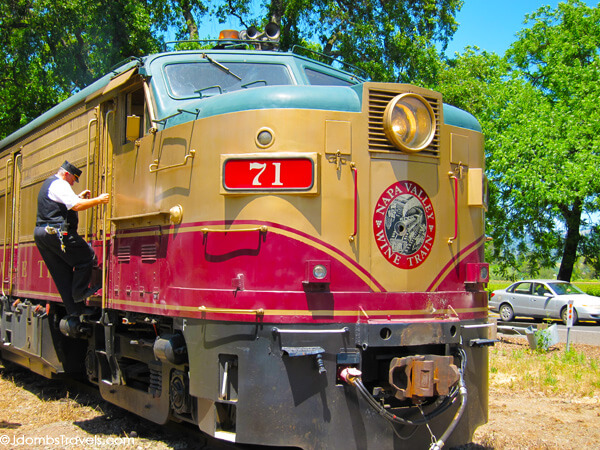 "All aboard!" I boarded the 1915-1917 Pullman Le Petite Gourmet dining car and took my seat at the picture window on the Napa Valley Wine Train. The Napa Valley Wine Train runs runs for 36 miles from McKinstry Street Station in Napa all the way to St. Helena through the heart of the world famous wine region.
As the Napa Valley Wine Train chugged out of McKinstry Street Station, we traveled north through Napa Valley toward Rutherford and I enjoyed a three-course gourmet lunch along the way. Meals are prepared under the direction of Executive Chef Kelly MacDonald right on board in a specially crafted kitchen car. You can even watch the meal preparation through a glass wall! Lunch includes choice of soup or salad, a selection of seasonal entrees including a daily chef special, and dessert and coffee.
Guests can ride the Napa Valley Wine Train for the full 36 miles round trip or can book at winery tour. I disembarked in Rutherford for a tour and wine tasting at Grgich Hills Estate. Grgich Hills founder and winemaker Miljenko "Mike" Grgich became famous after he crafted the 1973 Chateau Montelena Chardonnay that won the historic 1976 Paris Tasting. Not only was I excited to visit Grgich Hills Estate because I had just watched the movie Bottle Shocked, which is about Chateau Montelena and the 1976 tasting, but also because Mike Grgich hails from Croatia, where he also has a winery still today.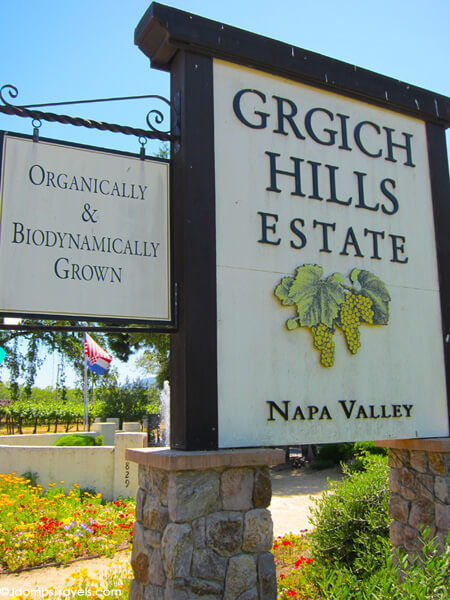 Grgich Hills has 336 total acres across five vineyards throughout Napa Valley. Because the climate varies from vineyard to vineyard, different grapes are produced based on which is the best environment for them to grow. 17.3 acres of Cabernet and one acre of Petit Verdot surround the estate in Rutherford, the green vines practically sparkling in the sun.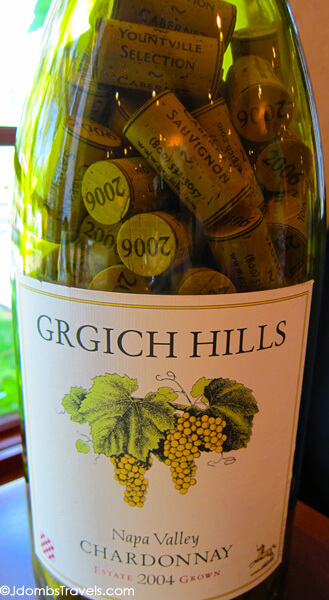 The Grgich Hills Estate is most famous for its Chardonnay, which has been served at State Dinners by some of the world's leaders such as Presidents Reagan and Clinton, Queen Elizabeth II, and French President François Mitterrand. While I wasn't so lucky as to taste the 1973 Chateau Montelena Chardonnay, I did taste a 2010 Chardonnay. It was crisp with flavors of tropical fruit and white peaches, perfect and refreshing on such a hot day as my visit.
Grgich Hills doesn't just produce the white wine they are so famous for. We tasted a 2009 Cabernet Sauvignon produced from a blend of grapes at the Rutherford and Calistoga vineyards. Full of rich scents like black cherry, black licorice, and a hint of roasted coffee, our guide recommended that this would be perfect with barbecue.
The Chardonnay and Cabernet Sauvignon were my favorites and had I not been traveling carry-on luggage only, I would have been toting at least a bottle each with me all the way back home to Italy. I did get sent home, as did all the other guests, with my very own wine glass with the Grgich Hills name and logo etched into it. The Chardonnay retails for $42 per bottle and the Cabernet Sauvignon retails for $60 per bottle.
We heard the train horn in the distance and soon it was time to board the Napa Valley Wine Train again as it pulled up along the Grgich Hills Estate. Chocolate tarts were served in the lounge car with coffee as we chugged along back toward McKinstry Street Station in downtown Napa. Perhaps it was the wine, but after dessert I made my way back to the caboose and was more than happy to return a wave to passersby.
Know Before You Go
The
Grgich Hills Winery Tour
is available every lunch and costs $179 per person. Wine on board the train is not included.
A welcome glass of wine prior to departure at the McKinstry Street Station is included and wine can be brought on board for a small corkage fee of $15 for 750ml bottle.
On board the train, visit Napa's most unique tasting bar which is usually stocked with 30-40 boutique Napa Valley wines. At the tasting bar, guests can sample four tastes of wine for $10.
Thank you to the Napa Valley Wine Train for hosting me on the Grgich Hills Winery Tour. As always, all opinions are entirely my own and I assure you I was not influenced with glasses of wine.