We live less than two hours away from the world class ski resorts in the Italian Dolomites, so you might wonder why we would want to go anywhere else. Conveniently for us, Austria can be easily reached in two hours as well. Nassfeld Ski Resort is one of the top ski resorts in Austria. Being on the edge of the Alps, it can have completely different weather than that of resorts in the Dolomites.
At Nassfeld you will find 110 kilometers of down hill ski runs which are serviced by 30 lifts. They have the capability to carry 44,000 happy skiers per hour, which just about ensures you will never be waiting in line for a lift. I've had the pleasure of skiing at Nassfeld at least five times now and it wasn't until the last visit that I finally completed skiing all the runs there.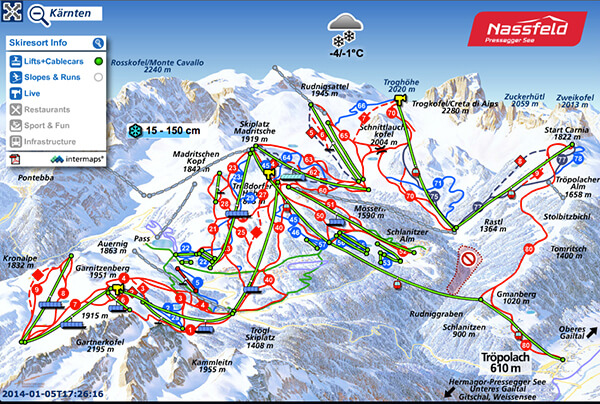 Be sure not to miss the "Carnia" #80 ski run. It is 7600 meters long and takes you from 1822 meters down to 610 meters. By the time you get to the bottom you will be ready for a drink from bar to catch your legs again. A full day lift pass costs €40 (€43 during peak season). Consider the half day tickets at €35 if you're an early riser since you can ski with it until 1pm.

Know Before You Go:
Nassfeld is open daily from early December – late April from 9am – 4:15pm
Nassfeld is located in Southern Austria; ~2 hours from Venice, Italy and 2.5 hours from Salzburg, Austria.
The nearest airport is Klagenfurt and there is bus service from the airport to Nassfeld. If arriving by car, note that motorways and expressways in Austria are subject to tolls and a compulsory vignette. A 10-day vignette is €8.50.

View detailed snow forecast for Nassfeld at:
snow-forecast.com