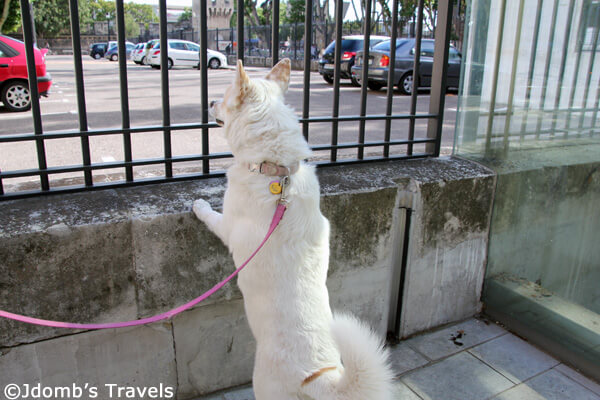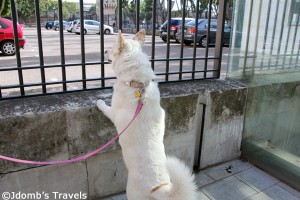 Avignon is just a short drive away from our base in Saint-Rémy-de-Provence so we decided to go check out the ancient, fortified city. As soon as we arrived and started our stroll from the parking garage down the Rue de la Republique, the city's main central boulevard, we came to a park with a No Dogs Allowed sign. What was this? I had been allowed everywhere else in Provence. I had even visited Van Gogh's room in the asylum Saint-Paul-de-Mausole only an hour earlier.
We walked down the Rue de la Republique and my mom went in to that park without me to take some pictures. I stood peering through the fence at her. We continued down the boulevard past the Hôtel de Ville, theater, and other buildings with beautifully decorated facades.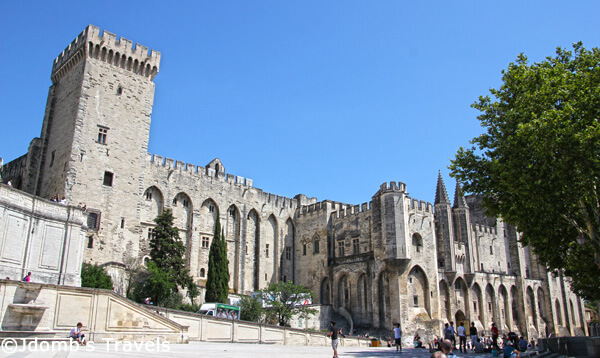 The Palais des Papes dwarfs everything else in the city. Popes? I thought they live in Rome. Well, for a short while Avignon became the residence of the Popes when in 1309, the Gascon Bertrand de Goth (Pope Clement V) was unwilling to face the violent chaos of Rome after his election in 1305. So Pope Clement V moved the Papal Curia to Avignon. He and his successors built this massive complex. The popes finally departed Avignon in 1377 and returned to Rome.

No dogs allowed at the Palais des Papes either, not even in the gardens around the palace. So we moved on, winding through the narrow alleys toward the Pont d'Avignon which spans the Rhône River between Avignon and Villeneuve-lès-Avignon on the left bank. All the other dogs on holiday were here! I think it was the only attraction in the city that allowed dogs. My mom handed over the €4.50 each to visit the bridge (free for me) and we climbed up the stairs to cross.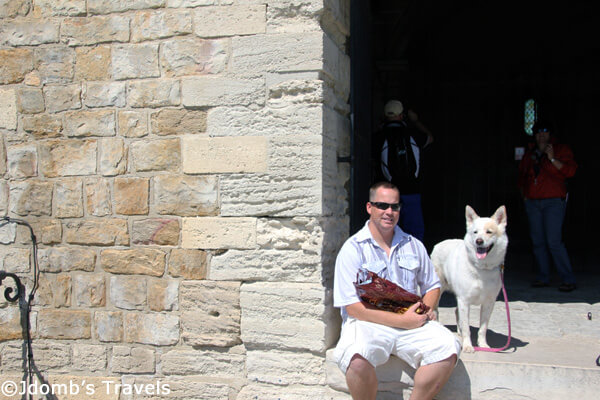 According to legend a local shepard boy, Bénézet, had three saintly visions urging him to build a bridge across the Rhône. He was ridiculed until he proved his divine vision by miraculously lifting a huge block of stone as the first foundation stone. After, he easily gained financial support from the rich merchants to complete the bridge. Saint Bénezet is buried in the small chapel on the 2nd pier of the bridge.
It was very hot out so we walked back to the Place de l'Horloge. Cafe after cafe line the square and we rested under the shade of the umbrellas, watching the carousel go round and round. I do like these French waiters. They always bring me a bowl of water and sometimes even a biscuit!
With No Dogs Allowed signs posted practically everywhere, we made our way back to the car, popping into a few shops along the way. I was one pooped-out pup and napped all the way back to Saint-Rémy-de-Provence!