If you haven't figured it out by now, I am a car fanatic. Last fall I was able to visit the Paris Auto Show and fell in love with the Subaru BRZ. For those of you who don't know, the car was a joint effort by both Toyota and Subaru. In Europe it's called the Toyota GT86 but in the US it's branded as the Scion FRS; Subaru sticks with the BRZ name.
For you car enthusiasts out there, you may have heard of the Nordschleife track at the Nurburgring. If you haven't, it's a world famous challenging racetrack set outside a small German town. The track is just under 13 miles of hills and challenging blind corners. It is most famous for the 24 hour race it hosts each year which includes normal cars to super-cars. The track is also featured in countless Top Gear episodes from testing various cars to unique challenges to entertain viewers.
While researching the ring, I came across a company that immediately peaked my interest when I discovered they rent race track ready cars for track days at the ring. With Rent Race Car you can choose from a number of different cars based on your budget and experience level. For as little as €99 you can race a car around the track. That may seem like a lot for a rental car but these are no ordinary cars. Each car they rent is set-up specifically for racing at Nurburgring. Bjorn from Rent Race Car explained the differences in the cars they provide and also gave me a quick safety brief before heading out onto the track. I especially got a laugh out of the numerous jokes reminding me that you're not racing in a video game and there is not a reset button on these cars.They have semi-slick race tires, upgraded suspension and brakes, and a roll cage installed for added safety. Rent Race Car is one of tracks partners and has been helping customers fulfill their racing dreams for eight years now.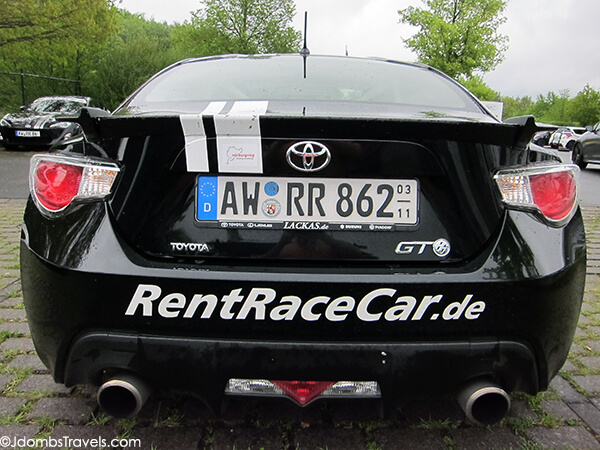 Racing the track is certainly a challenge as it's a very hilly course. Most of the corners are blind turns with no clear line of site for the track. Also, on the day I went the weather was not cooperating as it had been raining. With a €6000 deductible if I were to crash, I took it fairly easy around the course. I'm not going to say I didn't push the car at times, as there were numerous times coming around corners that the rear wheel drive GT86 would like to kick out but thankfully the traction control would kick in and keep me nice and straight. After two laps at the Nordschleife, my adrenaline was kicking and even a few days later I can't wait to return one day.
Know Before You Go
The Nurburgring is located a little over an hour north west of Frankfurt.
A lap on the track will cost you €26 if you're driving your own car; otherwise the laps are included in most packages with Rent Race Car.
Be sure to check the dates for the next available track day before you plan your visit.
Get photo's of you on the track by visiting Nordschleife Pics, just select the day you raced and it will show all the photographers websites that were out there that day.  Then just find your car, individual photo's are a bargain at €8.
Thank you to Rent Race Car for hosting me for my evening at the track. As always, all opinions (and decisions to attempt to race a fast car on a challenging track in the rain) are entirely my own.