Oulu Market Hall has been an important part of the Market Square for over 100 years. Located at the sea front, the Market Square has and continues to be a popular meeting place for locals. The famous Market Square Policeman statue, erected in honor of the policeman that once patrolled the square and kept order, watches over Market Square and the sea.
Just as in the olden days since 1901 when it was built, Oulu Market Hall has a selection of food products like fruits and vegetables, fresh fish, cheese, bread, and meats only found in Lapland like reindeer, moose, and bear. There are also a selection of handicrafts on offer and many locals gather for a cup of coffee and a bite to eat.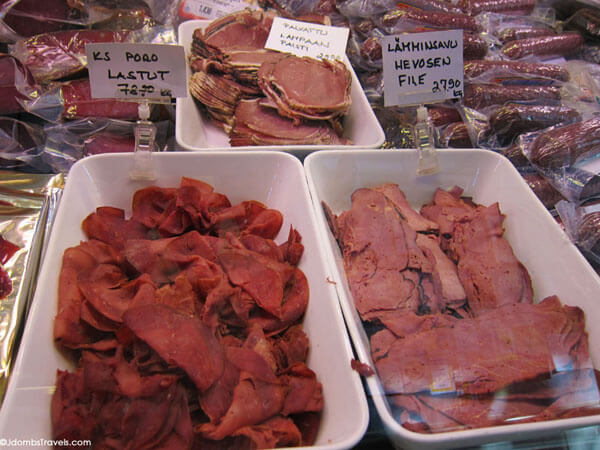 We stopped by Kylmänen meat shop to pick up reindeer, moose, and bear salami because they are cured and can easily travel. Oh, how we would have loved to bring home some reindeer filets, which are so tender they practically melt in your mouth! Prices for the salami are by the kilogram, so may seem expensive. They are actually quite reasonable for at around €5 – €10 per salami, with the bear being the most expensive.
Outside the Oulu Market Hall, the old granaries (originally used as warehouses to store things like salt) have been converted into handicraft shops selling things like reindeer pelts and fur hats to unique restaurants and cafes.
With the vendors already soaking up the sun on gorgeous Lapland spring days, it's easy to imagine the Market Square lively with vendors filling it in summertime.
Know Before You Go
Oulu Market Hall is open Monday – Thursday from 8am – 5pm, Friday from 8am – 6pm, and Saturday from 8am – 3pm.
All vendors accept credit cards.
Drop a postcard in the post box at Market Hall for a special "Bobby the Policeman" stamp, which makes a great souvenir!