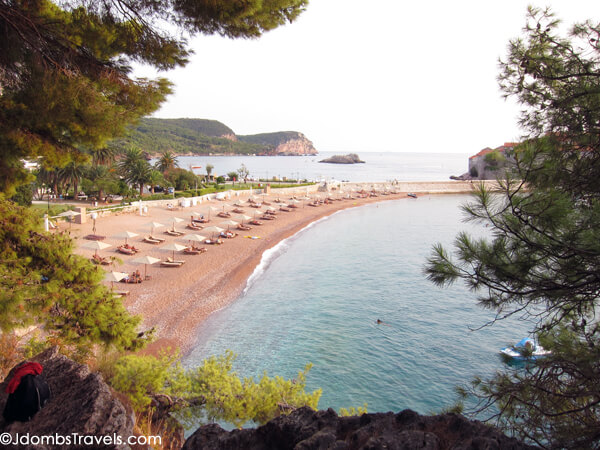 Beaches aren't always white sand and more often than not along the Adriatic, beaches are pebble beaches. But along the 2 kilometer stretch of Montenegro's coastline that comprises Sveti Stefan, pink sand beaches frame the distinct blue waters. The pink sand beaches are made pink from a mixture of fragments of calcium rich shells and sea creatures.
This area of the coastline is so beautiful, the royal family Karađorđević made their summer home here in 1934. Two of the pink sand beaches are even named King's Beach and Queen's Beach because of their spectacular westward facing location, where kings and queens once watched the orange sun dip into the sea as it set.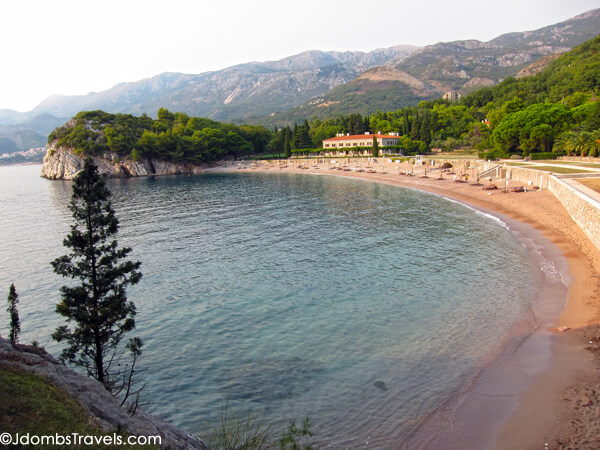 King's Beach, officially named Miločer Beach, is surrounded by 18 acres of park containing exotic flora such as Lebanese cedars, cactus, agave, and tropical mimosas. Admittedly Miločer is a very beautiful beach with exclusive loungers and umbrellas spaced plenty far away from other guests. But this little slice of heaven will cost a cool €75 per person.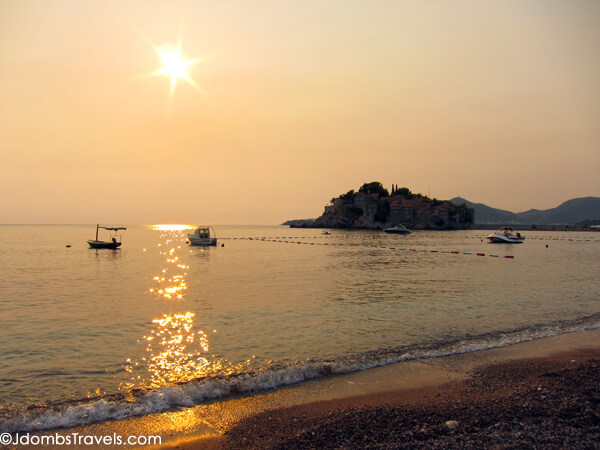 The Queen's Beach, separated from Miločer by a little forested hill, offers similar exclusivity for just €50 per person. The beach's stunning views of the sunset made it a favorite beach of Queen Marija, hence its name.
If, like us, you just scoffed at these prices just to go to the beach then you can secure yourself a spot on the pink sand at the far end of the beach for free. No frills and no beach beds with sheer curtains blowing in the breeze, but we enjoyed frolicking in the blue sea and lounging around the little pools made by the rocks.
And had we not had Emma with us, there were plenty of water sports to keep you entertained if like Tim, you get a little bored just sunning yourself on the beach. Jet skis, parasailing, pedal boats with water slides, and even snorkeling along the coastline were just a few of the activities available.
Or if the exclusive island of Sveti Stefan taunts you with its off-limits to non-hotel guests policy as it did to me, you can hatch a plan to swim over and "break-in". All in all, we enjoyed our two days with nothing to do but relax on the beach.
Sveti Stefan
When planning our Croatia-Montenegro-Albania-Bosnia road trip, I was lured by photographs of a tiny fortified island surrounded framed by pink sand beaches and crystal clear blue waters. It looked like the perfect place to relax for a few days and so I booked us a room at Villa Levantin just across from the island's tiny isthmus that connects it to the mainland since the only hotel on the island itself was not dog friendly.
After settling into our huge sea-view suite at Villa Levantin, we wandered down to the beach ready to explore the tiny fortified island. We may as well have been pirates trying to invade the island in the 15th century. But instead of Pastrovics guardsmen protecting the island, Aman Sveti Stefan's hotel bouncers quickly intercepted us.
"For hotel guests only," an accented voice boomed behind us, halting us in our tracks.
"For the entire island?", Tim inquired.
Yep, that's right! The entire island is reserved exclusively for hotel guests. It's no wonder I had read the Sveti Stefan had been a playground for the rich and famous such as Marilyn Monroe, Sophia Loren, and Claudia Schiffer. A village room at Aman Sveti Stefan would cost you a cool €750 per night.
For the next two days the tiny island taunted me. I plotted how I might sneak a peek. Were the bouncers standing guard at their red velvet ropes all night long? Could I swim over to the island and heave myself up and over the fortified walls? Could Tim distract the bouncers long enough while I made a run for it across the tiny isthmus?
I'll never know. Instead, we spent our two days in Sveti Stefan relaxing on the pink sand beach and swimming in the crystal clear waters while imagining the cobbled streets contained within the walls of the tiny island.