Have you ever seen a picture that made you want to plan a trip to see the scene in all its glory? It's an affliction that Tim and I suffer from often. The phrase "Wow, that looks gorgeous! Let's go!" is a regular part of our vocabulary. And photos of Plitvice Lakes had us wanting to go for two years now. I looked forward to finally seeing them in all their sparkling jade-green glory for our entire road trip through Croatia, Montenegro, Albania, and Bosnia. Plitvice Lakes was our very last stop before finally heading home.
Oh Plitvice Lakes, how you let me down!
I've thought about this. I've struggled with it even. With nearly 40 countries under our belts, this is the very first place I have ever been disappointed by. Was it the cloudy, cold weather? Was I just tired after eleven days and four countries? Were my expectations just unrealistic? Sure, those things probably played a factor. But honestly, I would have been even more disappointed had we planned to spend a whole weekend at Plitvice Lakes.
Admittedly, the weather dashed my hopes of capturing the cascading pools of water in a photo people would ooh and ahh over. After complaining nearly all summer of the stifling heat that seemed to follow us from Greece to Provence, we arrived to gray skies and cold temperatures. After eleven days in nearly 100 F temperatures, I was less than prepared. I didn't even have a cardigan. Thankfully, I always carry a pashmina with me.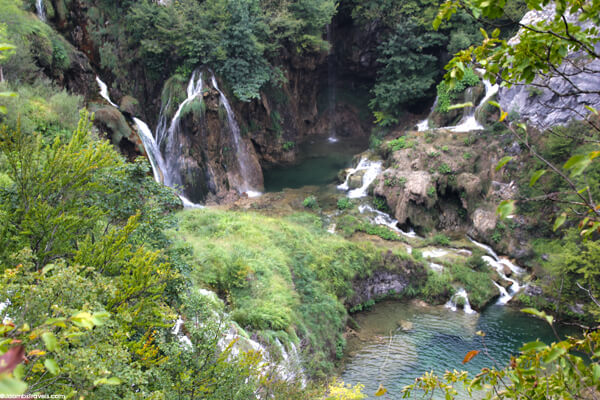 We were visiting the park on a Monday. In September. I figured it would be great because kids had gone back to school and the infamous month-long European holiday had ended. Boy was I wrong! Just as we blissfully walked hand-in-hand over the wooden bridge from the parking area to the entrance to the park, I spotted the line and nearly gasped. And just as I was picking my mouth up off the ground, more tour buses pulled up and began to unload.
Just how long was the line? Well, I stood in line while Tim went and had breakfast. And then we switched while I had breakfast. And then we waited some more.
Once inside the park, I felt like we were in a herd of cattle. There are walkways made of logs that are maybe about four feet wide. It was nearly impossible to pass and so I grudgingly shuffled along behind the hoards of tourists in front of me.
The sun did come out, but it didn't make a difference. The water just wasn't the shade of jade green I'd always seen in photos, the waterfalls were narrow and weak, and the paths weren't well signed to easily decipher the different routes.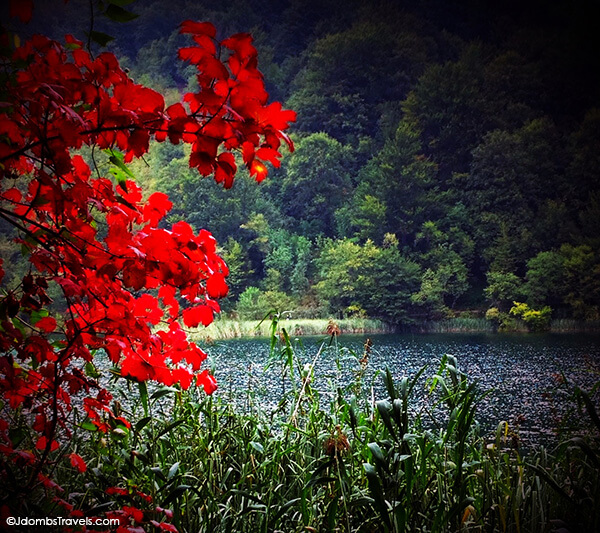 I won't say it wasn't pretty and we enjoyed hiking around, especially when the longest route finally broke us away from the unbearable crowds. But it didn't knock my socks off as I had expected after hearing rave reviews. I guess I just expected more from the #2 destination in Croatia.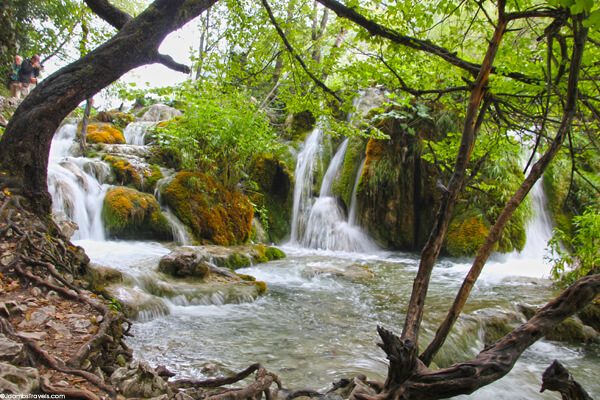 Know Before You Go
Exploring the Park
Where To Stay
There are 1 day tickets for 110 kuna (approximately $20) per adult or 2 day tickets for 180 kuna (approximately $31) per adult. The ticket includes entrance to the park, the bus service, and the electric ferry boat. Credit cards are accepted.
Parking is not included and only kuna is accepted. There is no ATM on site, so come prepared with kuna for parking.
There are number of routes that range from 2 hours to 6 hours.
There are no shortage of guesthouses in the area. We stayed at
House Sebalj
in Grabovac, just 6 kilometers from the park, and our hostess was wonderful. While the room was simple, we did have a private bathroom and wifi. Our hostess offered us cold beers and cheese on her terrace. And she even sent us home with a wheel of cheese upon our departure.
This is a UNESCO World Heritage Site. For more info click here.
You can see all the UNESCO World Heritage Sites we've visited here.
This article contains affiliate links. When you book on Booking.com through our affiliate sites, we earn a small commission at no additional cost to you.