We don't typically play favorites when it comes to UNESCO World Heritage Sites; they're all import and culturally significant. But to be completely honest, sometimes they're also a bit boring and museum-like. And if you're a regular reader here, you know that standing behind a rope just to have a look-see typically isn't our thing. We feel connections when we can interact with a place, which is why we loved the Pont du Gard in Southern France.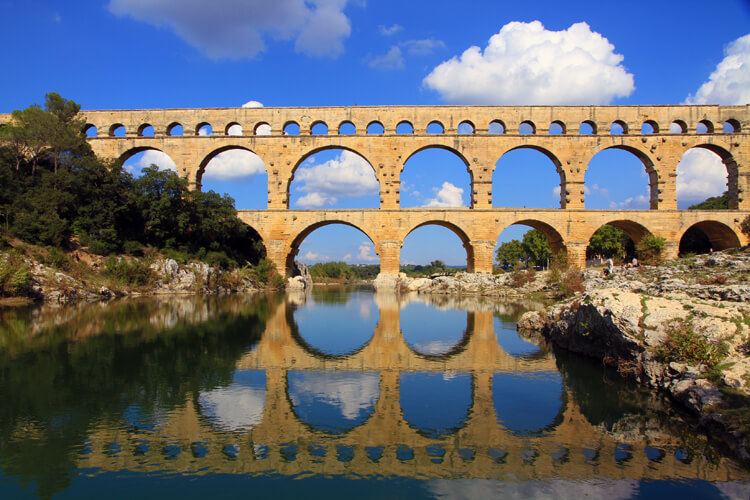 In 1AD ancient Nîmes was a pretty happening place. The bustling and prestigious city of 50,000 inhabitants needed a lot of water for its thermal baths, swimming pools and fountains and running water for its houses. But Nemausus (ancient Nîmes) wasn't located in the most convenient area for channeling water to the city – low plains lay to the south and east making it impossible for water to flow to the city and engineers found the hills to the west too daunting to be a viable water supply route since they would have had to tunnel through them for some eight kilometers. So when in Rome, er, the Roman Empire, you do as the Romans do.
The 49 meter high Pont du Gard was built to channel water from the natural springs near Uzès to the Nîmes Castellum. The aqueduct, the highest Roman aqueduct in the world, supplied Nemausus with around 200,000 cubic meters (about 44,000,000 gallons) of water a day.
Sounds like an incredible engineering marvel, doesn't it? So imagine paddling down the Gardon River, surrounded by the bluish cliffs on either side. Suddenly this imposing stone aqueduct comes in to view, the three levels of arches standing high above the river in all their glory. You stare up in awe as the kayak gently glides through the arches.
This part of Southern France sees some 330 days of sunshine each year and you'll definitely want to cool off by taking a dip in the Gardon River. Swim in the shadows of the Pont du Gard's arches and even enjoy a picnic on the banks of the river. This spot is popular even for the locals to come and enjoy basking in the beauty of the 2000 year old Pont du Gard.
Plan to spend some time wandering the entire Pont du Gard site. You can walk across the entire bridge, taking in the magnificent views of both sides of the Gardon River. The right bank is home to beaches where you can swim and the left bank pays homage to the farmers that once used this land. There is an olive tree that was planted in 908, making it over 1100 years old.
There is also a museum that walks through the construction, how the Roman aqueduct worked and life in the Gallo-Roman town. Several food options are available too, including snack bars and an on-site restaurant situated with a beautiful view of the Pont du Gard and both a la carte and fixed menu options.
Know Before You Go
Opening Hours & Tickets
Kayaking
Getting There
Pont du Gard is open year round from 9am. Check the
website
for closing hours as they vary by season. Admission is €18 per car (up to a family of 5) and includes parking. Visitors entering by foot, bicycle or kayak are €7 per person.
Kayaking is available with
Canoe Callias
from various points with routes varying from 8 to 31 kilometers in length. Rates vary by length of the trip and range from €22 – €35 per person.
This is a UNESCO World Heritage Site. For more info click here.
You can see all the UNESCO World Heritage Sites we've visited here.