With sprawling beaches and medieval towns, stunning wineries, and gorgeous sunsets, Croatia is the type of place that will make you fall in love with it and keep you coming back for more.
Here are eight reasons why we can't get enough of this Balkan beauty.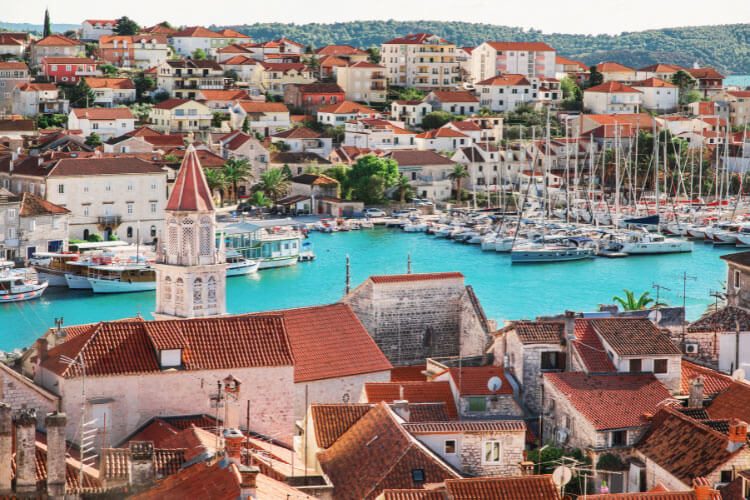 The Architecture
Croatia has a rich history dating back to the 6th century, and it boasts some astonishing architectural assets. The country offers a mixture of styles that include Romanesque, Renaissance, and Baroque.
Porec offers you the Eurphrasian Basilica, which was commissioned in 535 BC and is home to some beautiful Byzantine mosaics. Pula, in Istria, can offer you a spectacularly well-preserved amphitheater, while Split is home to the Diocletian Palace and the archaeological museum.
There are also medieval towns, such as Dubrovnik, or Korcula, and the islands of Hvar and Korcula were also Venetian naval strongholds, and also house the Venetian Arsenal – albeit at different times. 
The Sailing
The coastline is spectacular, it stretches over 1200 miles and is home to 1200 islands. It has beautiful beaches in abundance. Some of the best beaches are only accessible by boat, so finding a yacht charter in Croatia is your best bet.
Vis lies furthest away and offers several enclaves to be explored. From 1950 to 1989 it served as the Yugoslav National Army's base, and because it was off-limits to foreign visitors, it still feels unspoiled.
Another standout to visit is Mljet. This lush haven in the Dalmatian archipelago is home to a treasure trove of sea life that frolic just off the coast. Their two salted lakes – Malo Jezero and Veliko – offer swimmers still waters and relaxation. While the local goat cheese will draw you to the restaurants afterward. 
The National Parks
Croatia is home to 8 national parks, and each one is spectacular. If the idea of hiking, swimming, and adventuring through them sounds like your idea of a good time, you could do worse than starting at Plitvice Lakes National Park, it is Croatia's oldest and is also considered a UNESCO World Heritage Site.
The Food
The food in Croatia is as varied as it is delicious. The obvious allure is the seafood offered up by the Adriatic Sea, from octopus to oysters you will be hard-pressed to find fresher ingredients to use.
It's not just seafood on the menu though, popular dishes worth trying include fritule, a powdered, bite-sized doughnut filled with rum and raisins. Ispod peke, which translates to "under the bell" is a delicious, slow-cooking method that happens under a dome-shaped lid. It is made with either lamb, veal, and of course seafood, and plenty of potatoes.
The Wine
New world wines are producing some amazing quality these days, and Croatia can boast no fewer than 130 native grape varieties. They're managing to produce delicious wines and have managed to win some prestigious awards over the last few years.
The climate is such that Croatia is home to many fantastic wineries. And many of them stick to traditional methods and recipes. And if you're planning on visiting some of the island wineries we would suggest chartering a yacht.
The Weather
The Mediterranean is already known for its beautiful weather, but Croatia is considered one of its sunniest regions.
It is divided into three climate zones by its geography. The north is known for its moderate continental climate – dry, hot summers with cold, wet winters. The central areas, with their mountains, have cool summers and icy cold winters. And along the Adriatic coast, you'll find a more traditional Mediterranean climate.
The Festivals
Let your hair down and your hips sway! Croatia is a popular home for festivals thanks to all those sunny days, and if you have an interest in anything from hip-hop to EDM you'll find a festival that is perfect for you. 
Game of Thrones
Destination tourism is a big trend in 2022, and thanks to the success of the hit TV show Game of Thrones, Croatia has seen people flocking to the country to do walking tours of King's Landing in Dubrovnik, Split and Trsteno.
These don't even begin to describe how pretty and alluring Croatia is. It has so much on offer for every walk of life, from the young and adventurous, to families and kids there is a way for everyone to enjoy this gem. The best way to book a trip and experience it for yourself.