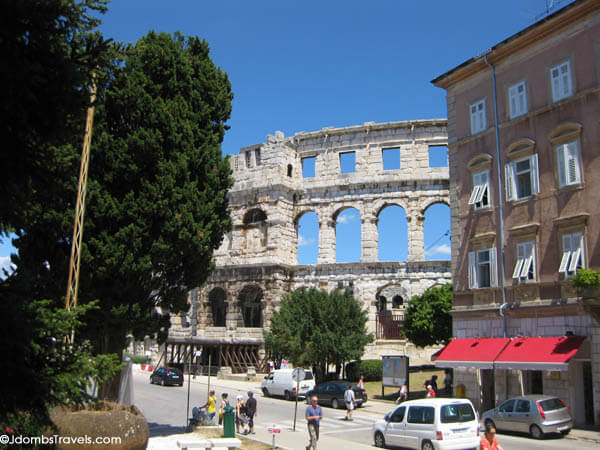 There's a reason Edward Gibbon's The Rise and the Fall of the Roman Empire is the size of a telephone book. The Roman Empire stretched for 2,750,000 square kilometers in its' height. To put that in perspective, the Roman Empire covered an area of what is today 53 countries, from Russia in Europe to Morocco in North Africa and Jordan in the Middle East. The Roman Empire was a nation of warriors, and Romans considered the savage fights they held in their amphitheaters not only entertainment, but training. These amphitheaters were located in every corner of the Roman Empire and more than 230 have been found, including the most famous Colosseum in Rome to the sixth largest surviving one known as Pula Arena in Croatia.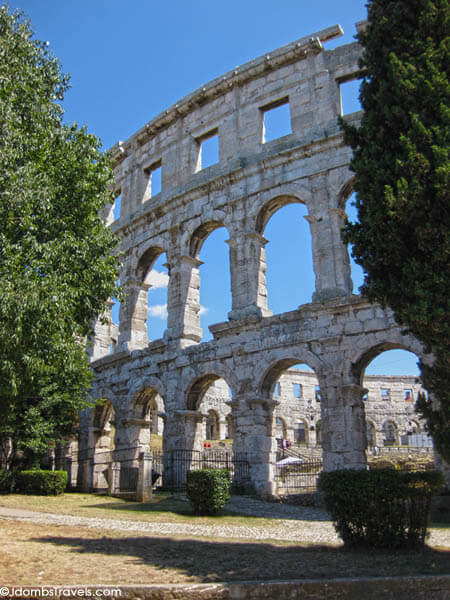 The Pula Arena was built between 27 BC – 68 AD under the reign of Emperor Vespasian and today is the best preserved ancient monument in Croatia. Perhaps Vespasian wanted to outdo himself, because construction on the Colosseum in Rome began just two years later in 70AD. Pula Arena was estimated to hold around 20,000 spectators whereas the Colosseum held between 50,000 and 80,000. There were 15 gates and it also had velarii (large sails) that protected spectators from sun, or more likely rain, since it rains a lot in Europe. Like the Colosseum, it was primarily used for gladiator fights, and in the Middle Ages knights tournaments and fairs took place in it.
There may have been a lot of similarities, except on a smaller scale, to the Colosseum, but we found one distinct difference. There were no hours-long queues for visitors that didn't book a tour in advance and, in fact, we essentially had Pula Arena to ourselves but for a few others that wandered in here and there. There were no ropes confining us to only certain areas; we wandered freely about the Arena.
Today, Pula Arena is used for many concerts. Elton John and Alanis Morissette have even performed there! The Pula Film Festival takes place each July (as you see the Arena set up for in the picture above) showcasing both Croatian and international films. And just last September, two professional ice hockey games were even played in the Arena.
The Archaeological Museum of Istria also houses an exhibition on wine and olive oil production from Istria in the underground section of the Arena.
Know Before You Go
Pula is accessible by train from Ljubljana, Slovenia and Zagreb, Croatia. Nine buses arrive daily from Rijeka or it is easily accessible by car.
Pula Arena is open all year round and has audio guides available in English. Opening times are June 1 – September 30 from 8am – 9pm and October 1 – May 31 from 8:30am – 4:30pm. Entrance is 20 kuna (approximately $1 USD) per person.