Each December Manhattan's biggest department stores reveal their unique holiday window displays. After checking out the holiday window displays at all the biggies from Bloomies to Macy's, I'm officially declaring my favorite of 2013 is Saks Fifth Avenue! The Legend of the Saks Yeti is told through six animated display windows and a 3D light projection spectacular on the facade of Saks Fifth Avenue.
The story of the Saks Yeti goes that he was working in a Russian workshop (in Siberia would be my guess!) and his boss was quite the tyrant. You see, the Saks Yeti was an artist; he made only the most beautiful snowflakes. Yeti's mom encouraged him to find someplace where his unique talent would really be appreciated. Yeti set off, traveling around the world in search of the perfect place to make his beautiful snowflakes.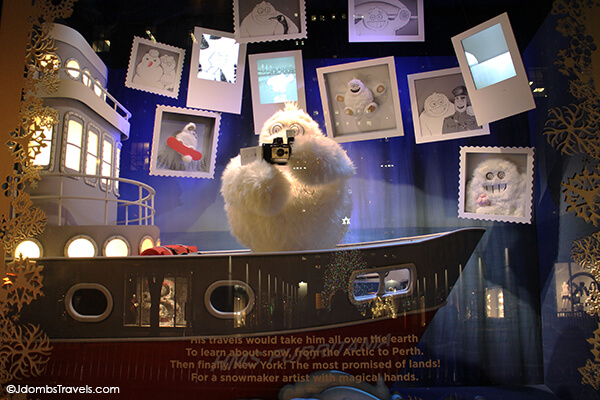 He traveled from the South Pole to Perth, but something was always missing. The rooftop of Saks Fifth Avenue was just right and he now resides there making snowflakes for the entire city. And every 4 minutes nightly from 5 – 10pm, spectators can get a peek into the Saks Yeti's lab, where the flake maker puts on a fun show!
Before you head over to Saks to see the Saks Yeti, you can even create your very own snowflake online and see it displayed in the interactive storybook window displays! Your snowflake, named with your very own Yeti-fied name (mine is J-Cold D'Angelsnow), continues to fall all holiday shopping season long.