I've always loved Christmas. In grade school, I always wrote my annual letter to Santa professing just what a good girl I had been all year long and, please, wouldn't he grant my wishes. My teacher would then send off the letters for the entire class. But where did all our letters go? To The Santa Claus' Main Post Office at the Arctic Circle in Finland!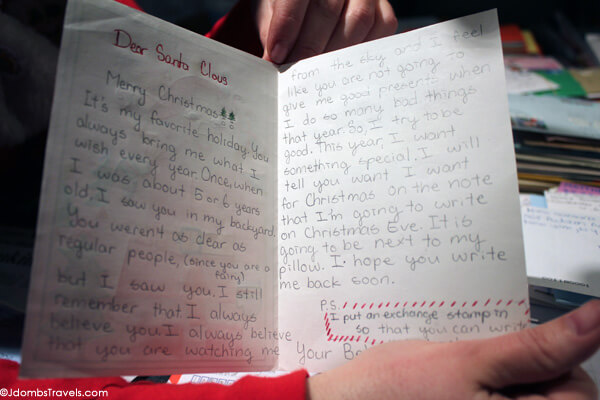 My visit to The Santa Claus' Main Post Office was the highlight of my visit to the Santa Claus Village in Rovaniemi, Finland. I spent the morning with Christina the Elf as she told me all about the letters Santa receives from all over the world and she even let me help out to open a few from children in the United States! The Santa Claus' Main Post Office has received over 15 million letters from 198 countries since 1985. During the months of November and December, Santa receives around 32,000 letters daily. The most letters come from the United Kingdom, Italy, Romania, Poland, Finland, and Japan. Christina and the other elves first sort the letters by country and then open and read every single one all completely by hand.
The Santa Claus' Main Post Office also has its own special Arctic Circle postmark. Each card, letter, or package mailed from The Santa Claus' Main Post Office is stamped by hand with the special postmark. If you're visiting at other times of the year, you can drop your postcards in the red mailbox to be held by the post office and then delivered just in time for Christmas.
Each year Santa tries to respond to as many children as possible. Parents can help Santa out by requesting a letter from Santa. The letter is available in eleven different languages, including English, and the envelop bears the special Arctic Circle postmark and a Christmas stamp.
The fireside room at The Santa Claus' Main Post Office is the perfect, cozy spot to write a letter to Santa and to look at a small exhibition of the letters, packages, and gifts that have been sent to Santa. The longest letter Santa ever received is on display; it was 1,355 feet long and came from Romania.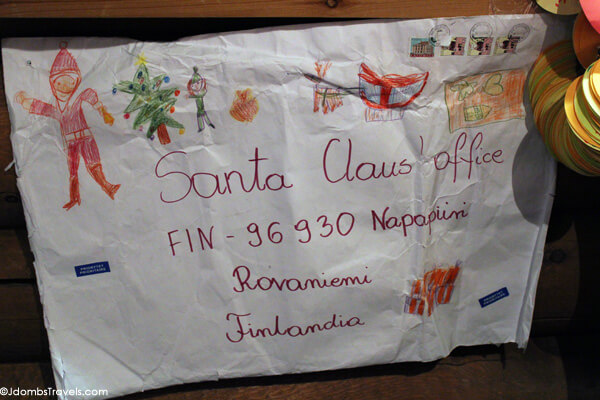 Want to send your own letter to Santa? Write him at:
Santa Claus' Main Post Office
Santa's Workshop Village
96930 Arctic Circle