I've drank beer exactly two times in the last two years: on a visit to the Mack Brewery in Tromsø, Norway and when we stopped in to the Santorini Brewing Company. Not a fan of beer, I never want to be rude when a brewery is taking time out to give us tour and proudly showcase their brews. So it was a huge shock to Tim, when I declared Santorini Brewing Company's Red Donkey was indeed a kick-ass ale!

The microbrewery was opened just over a year ago, in January 2012. On an island known for its wine and in a time of economic downturn, a Serbian brewer, Boban Krunic, an English brewing enthusiast, Steve Daniel, an American, Majda Anderson and a Greek oenologist, Yianis Papadopoulos took a huge chance opening Santorini's first brewery.  Their gamble seems to have paid off because the donkey brews have been met with nothing but rave reviews. I mean, they even turned this non-beer drinker into one!
Their outfit seems deceptively simple, with a small area where our guide explains that malted barley is milled and mashed, creating a liquid that is boiled with hops from all over the world. She sticks her hand in a huge sack and gives us some hops to sniff. Specialized yeasts are added to the primary fermentation process and then  it continues under pressure in the large stainless steel tanks.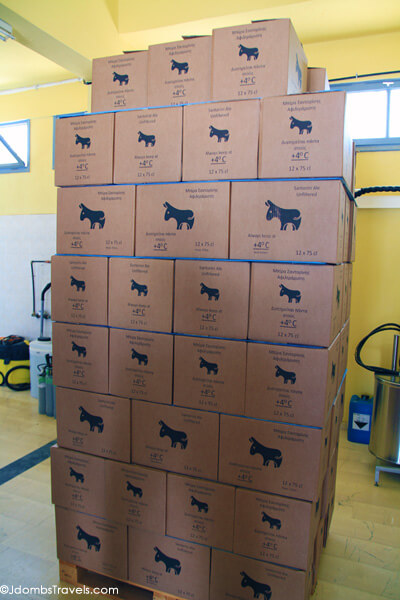 The result is Santorini's first local beer. They're unfiltered, unpasteurized and preservative-free to capture every particle of flavor. Currently, the donkey brews are only distributed locally to restaurants and supermarkets on the island.
Ready to taste, we head to the bar and are first poured Yellow Donkey. It's a blonde brew with a mixture of hops including Aurora and Styrian Golding from Slovenia, Cascade from Oregon, and exotic Motueka from New Zealand. To my unrefined beer palate, it tastes and smells like most beers. Tim liked it well enough to order a Yellow Donkey whenever he saw it on a restaurant menu.
The star of this show, for me anyway, was the Red Donkey, a red beer with a special collection of hops including Aurora and Styrian Golding from Slovenia, Citra from Oregon, and Nelson Sauvin from New Zealand. With tropical aromas and tastes of tropical fruits, I immediately declared I liked it. And when I spotted Red Donkey on the menu at Selene, I chose beer over wine!
The slogan Hip Hoppy Kick-Ass Ale, which appears on special Santorini Brewing Company glasses your beer is served in around the island, technically refers to the Crazy Donkey, the only IPA (India Pale Ale) produced in Greece. It's produced in more limited quantities but has a high demand, so it the hardest of the three donkey brews to find in Santorini. Tim thought it was great and was definitely his favorite of the three.
Santorini Brewing Company is a fun stop if you're visiting the island! They even have a small shop to pick up the quintessential t-shirt, if you're like Tim and have to have a t-shirt from every place you visit.
Know Before You Go
Santorini Brewing Company is open Monday – Saturday from 12pm – 5pm
Take-away beer is available in their shop