Carrie Bradshaw said to Mr. Big, "You're the Chrysler Building!"  New York would be naked without it glistening in the skyline, and HBO sure felt naked to me after Sex and the City aired its' final episode in 2004. I had devoured the shoes, the fashion, and the locations week after week for six years. I was in love with a city I had never even been to. Sarah Jessica Parker certainly had it right when she said in an interview "Manhattan is the fifth lady", because of the characters, it was the one I wanted to know most. I began plotting my Sex and the City Hotspots Tour of New York…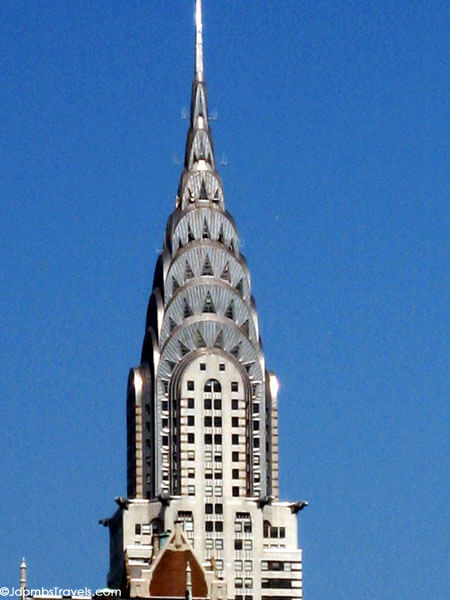 Little more than a year after Sex and the City ended, three girls set out on their first trip to Manhattan looking for labels and, having each already found love, a love of the city. I didn't need a guide book to plan our visit; instead I watched my DVD box set for inspiration. And when I found On Location Tours also had a Sex and the City Hotspots Tour, I knew I definitely get to talk a walk in SJP's Choo's. Tour booked, all I needed was my very first pair of Jimmy Choo's!
My mom, our friend Mel, and I boarded the comfortable bus with a group of other Sex and the City fans. Just in case you don't remember the locations you're about to visit, clips from the series and from the Sex and the City movies play on monitors throughout the bus as you traverse Manhattan from end to end.
I won't spoil your own Sex and the City tour by telling you about all of the locations you'll get to visit, but one of my favorite highlights was posing on Carrie Bradshaw's famous steps. While in the show, Carrie lived on the Upper East Side, the real-life brownstone is actually located in the West Village between Bleecker and West 4th Streets. *Note that "Carrie's brownstone" is privately owned, and the tour can no longer stop for photo ops on the steps. But there are more than 40 other show and movie locations you'll see on your Sex and the City tour.
While in the West Village, we took a walk to the famous Magnolia Bakery where Carrie and Miranda devoured cupcakes while Carrie dished about her new boyfriend Aiden. Bypassing the line that usually snakes around the corner and down the street, we each got to try a delicious cupcake.
On a Magnolia Bakery sugar high, we had time for a little retail therapy in the chic shops along Bleecker Street. We popped in shops like Marc Jacobs, Lulu Guinness, and the surprisingly affordable Patricia Field's (SATC costume designer).
I was with my mom, so I may have blushed a little (or a whole lot) when we visited The Pleasure Chest, the sex toy shop where Charlotte bought The Rabbit. A visit to the Sharper Image, where Samantha went looking to replace her vibrator – er, I mean neck massager – probably wouldn't have been as fun. Though, had we had our fabulous pink cosmos at Onieal's Speakeasy, where the scenes for Steve and Aiden's bar Scout were filmed, first before hitting The Pleasure Chest, I could have at least blamed by red face on the alcohol!
There were plenty of fun stops all around the city and other locations like the gallery that Charlotte worked at, Jimmy Choo, and Tiffany & Co were pointed out from the bus. In all, we saw more than 40 locations from Sex and the City.
And in case you were wondering, after the Sex and the City tour we did visit Jimmy Choo and I got my first ever pair of Jimmy Choo's. It may have been the start of a life-long addiction, because now at least half a dozen of the lavender boxes dot the shelves of my closet!
A Giveaway!
On Location Tours contacted me to invite me on one of their great tours in NYC or Boston. Since I had already been on this fabulous Sex and the City tour, I am giving away 2 tickets for On Location Tours. The tickets never expire and you can use them for any of On Location Tours NYC or Boston tours! Confession time: I was also addicted to Gossip Girl and the Sopranos and On Location Tours has both of these available, plus our friends at Inspiring Travellers did the Sopranos tour and it sounds awesome. Check out all of the On Location Tours on their website.
To enter to win, just use the widget below. You must enter by August 21, 2013 at 11:59pm EST. Winner will be notified no later than August 26, 2013.
Know Before You Go
The Sex and the City Hotspots Tour is $49 per person and can be booked online. It is not suitable for children as this is an X-rated tour just like much of the show!
The Sex and the City tour runs at 11am and 3pm daily and lasts approximately 3 1/2 hours.
Continue your Sex and the City tour by booking tables at restaurants featured on the show like Tao, Asia de Cuba, or Buddakan (where Carrie and Big had their rehearsal dinner). Stay at the Four Seasons (the only hotel in NYC according to Big) and have afternoon tea at The Plaza (where Big had his engagement party with Natasha).
Disclosure: On Location Tours is providing us with 2 tickets for this giveaway. All opinions about their awesome Sex and the City tour are entirely my own and I was in no way asked to write a favorable review for this giveaway.
Would you like to take a Sex and the City tour of NYC?