We've been to the Blue Mosque in Istanbul, but WOW! Just, wow. I don't know that I have the words to do Abu Dhabi's Sheikh Zayed Grand Mosque justice. One of the world's largest mosques (only the mosques in Mecca and Medina in Saudi Arabia are larger), it can hold an astounding 40,000 worshipers and was named after Sheikh Zayed bin Sultan al-Nahyan, the first president and founder of the United Arab Emirates. To truly take it all in and understand the key architectural features, I highly recommend the complimentary one hour guided tour.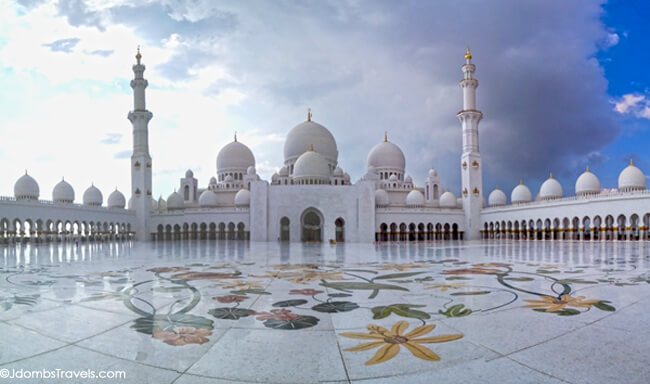 One of my favorite elements of the Sheikh Zayed Grand Mosque is that its design unites the world. Our guide explained that artisans and materials came from all over the world: Italy, Morocco, Germany, Pakistan, Turkey, Greece, United Kingdom, and the United Arab Emirates to name just a few. Here are five of my favorite international design elements:
1. The world's largest hand woven carpet adorns the floor of the main prayer hall and was made by Iran's Carpet Company of wool from both Iran and New Zealand. The hand knotted carpet, made by 1200 women from the Khorasan region of Iran over the course of two years, measures 60,570 square feet and weighs in at 35 tons.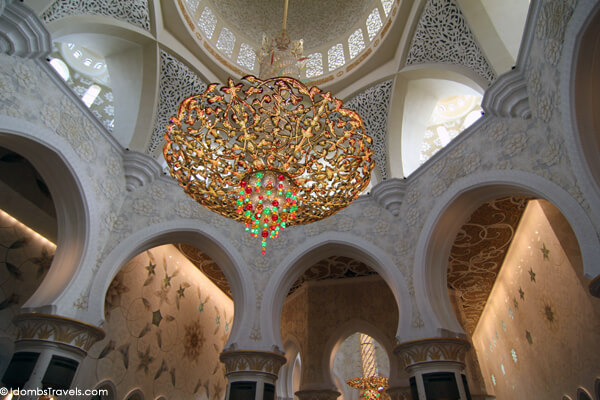 2. Seven 24 karat gold gilded chandeliers, made by Faustig in Munich, Germany, are encrusted with millions of Swarovski crystals from Austria. The largest of the chandeliers is one of the world's largest, measures 10 meters wide and 15 meters high, and weighs 12 tons.
3. There are 96 columns in the main prayer hall decorated with mother-of-pearl and the 1096 columns of the exterior are decorated with over 20,000 marble panels inlaid with semi-precious stones including abalone shell, amethyst, lapis lazuli, mother of pearl, and red agate.
4. The adhan, or prayer clock, was made in London, England and displays the sunrise and sunset times and the five daily call to prayer times. I was fascinated to learn that the five call to prayer times vary slightly with the sunrise and sunset times.
5. The Qibla wall is subtly decorated so as not to distract worshipers from prayer and is inscribed with the 99 names (qualities) of Allah using traditional Kufi calligraphy.
Know Before You Go
Sheikh Zayed Grand Mosque is open to visitors daily, except on Friday until around 2pm when it is open to worshipers only. Visitors must exit the main prayer hall during prayer times.
Complimentary one hour guided tours run Sunday -Thursday at 10am, 11am and 4.30 / 5pm; Friday 5pm and 7.30 / 8pm; and Saturday 10am, 11am, 2pm, 4.30 / 5pm and 7.30 / 8pm.
Visitors are required to remove footwear before entering the main prayer hall.
Dress code for women is long pants or skirts, long-sleeve shirts or tops, and hair must be covered with a scarf at all times while on the grounds of the mosque.
Dress code for men is long-sleeve shirts, long pants, no shorts.
Black abayas are provided to women and white dish-dashas are provided to men who are dressed inappropriately.