I was driving back to Italy last week and drove by a museum in Sinsheim, Germany and was immediately interested when they had a Concorde on the roof of it. It just happened I was headed back to Germany the next week, so I made a point to plan my drive up so I could visit the museum.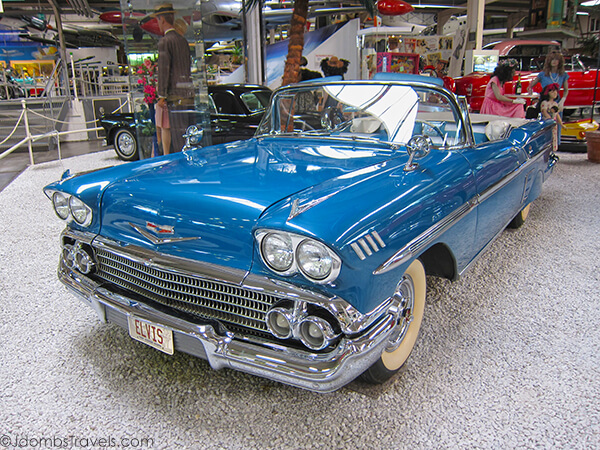 Normally I'm not a fan of museums, but the Sinsheim Car and Technology Museum is a bit different. Aside from the aforementioned Concorde on the roof, there are tons of 1950's classic cars, military vehicles and equipment from WWII, Europe's largest Formula 1 exhibit, and probably 30 planes of various kinds.
I have been a fan of the Concorde since I was a child at the EAA airshow in Oshkosh, Wisconsin when winners of a contest got to go for a flight in one. For those unfamiliar with the Concorde, it was a French passenger plane capable of supersonic flight. For those of you tired of those long transatlantic flights, how does a 3.5 hour flight from New York to Paris at Mach 2 sound? Sadly, the Concorde was retired in 2003 for various reasons. The museum also has a similar aircraft, a Russian TU-144 on display. It is the only other supersonic passenger aircraft ever built.
Okay, so you say cars, planes, and military tanks and vehicles don't interest you? How about trains? There are numerous locomotives from steam trains to speed trains from all different eras. They have many intuitive exhibits that show how things work as well. One of my favorites is the large steam engine that was an electric power station for a paper mill from 1929 to 1961.
The museum is also home to Europe's first IMAX movie theater which opened in 1986. The movies are played in German but as with most IMAX features you're there to see the scenery like adventures in the Grand Canyon, flying through space, or the deep blue sea. Shows run hourly at the theater and are included for only a few euro more than your ticket price for the museum.
I was particularly impressed with the car collection at the Sinsheim Car and Technology Museum . They have over 300 classic cars from Corvettes, 55 Chevy's, a Delorian to one of the first electric cars ever made. It is a 1904 electric car made by the Columbia Automobile Company owned by the Rockefeller Family in New York. It had 20 batteries and could run for about 3 hours with a top speed of 15mph.
Children will love the museum as well. Besides all the cool things and planes on the rooftops you can walk through, you can also ride down the slide instead of taking the stairs down. On top of that, there are some fun rides as well like this ride that will flip you upside down as you control the spin with some handles.
Know Before You Go
Hours: Open daily from 9am to 6pm Monday -Friday and until 7pm on weekends.
Admission: Children under 6 are free, €12 for ages 6-14,  and €14 for adults.
Accommodations: Hotel Sinsheim opened in 2005 and is adjacent to the museum.
Location: Sinsheim is located off the A6 highway 30 minutes from Heidelberg or Mannheim, 1 hour from Frankfurt or Stuttgart, and a 3 hour drive from Munich.
Also consider a visit to their sister museum in Speyer. At Technology Museum Speyer you can find a Russian Space Shuttle, submarines, and a Boeing 747 as well as many other fun exhibits.