We managed to pack a lot into our whirlwind trip around the Stuttgart area. We spent a spooky night at Burg Frankenstein, slept in a car themed hotel, ogled fast cars at the Porsche museum, and ate all things pumpkin at the world's largest pumpkin festival. We had just one afternoon to visit Heidelberg Castle.
Hungry travelers always make for cranky travelers and so our first order of business arriving in Heidelberg was to find food. We spotted Bier Brezel conveniently located right in the center of Heidelberg and close to the funicular to take us up to the castle once we grabbed a quick bite. We shared one of the big, wooden communal tables with another couple and were glad to see that they received their food fairly quickly after ordering. Eying their delicious looking wood fired flat breads and pommes (french fries), we copied their order. Steaming french fries and a frosty mug of beer arrived within minutes, but unfortunately we were still waiting for our flat breads nearly an hour later. After watching other tables that had arrived long after we did receive their order, we started complaining about the wait to the waitress and our flat breads finally arrived. My Brauerfladen Vier Jahreszeiten was thick and perfectly wood fired with plenty of cheese and toppings of turkey, spicy salami, onion, and mushroom. It was delicious (though I'm not sure worth the wait) but Tim's Brauerfladen Heidelberg (a simple flat bread with cheese and spicy salami) was overcooked, really thin, and had just a few pieces of spicy salami on it. He was less than thrilled. Plus the hour and a half spent there, mostly waiting for our food, had cut into our time we had planned to spend at the castle.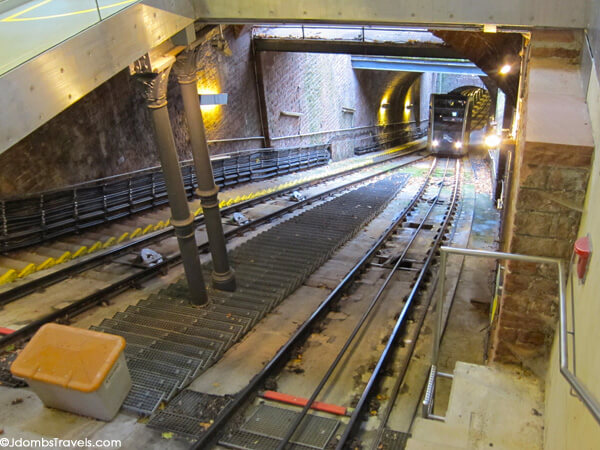 The funicular finally whooshed us up the ruined castle rising up on the rocky cliff high above Heidelberg. The castle is actually a combination of several buildings surrounding  a central courtyard; the various building represent a different period of German architecture.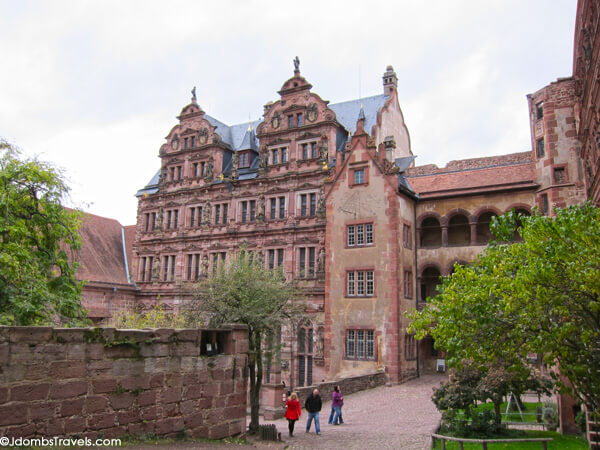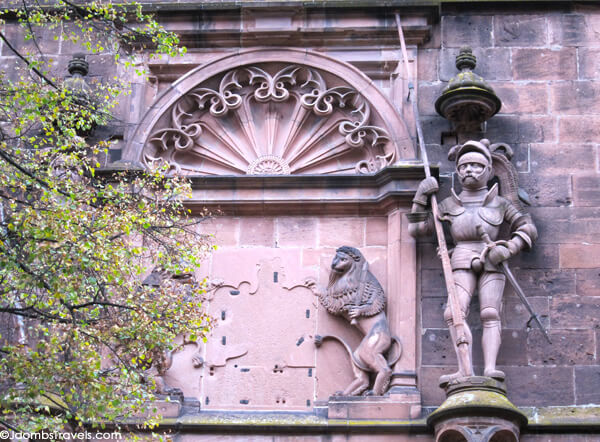 The first parts of the castle were constructed around 1300. It was plundered and burned by the French Army in 1689 and then struck by lightning around 100 years later in 1764. In 1800 Count Charles de Graimberg began the process to conserve the Heidelberg Castle ruins, but around the same time citizens of Heidelberg had started using the red bricks to build homes in the town below. Heidelberg Castle never regained its Gothic glory but the ruins are lovely nonetheless.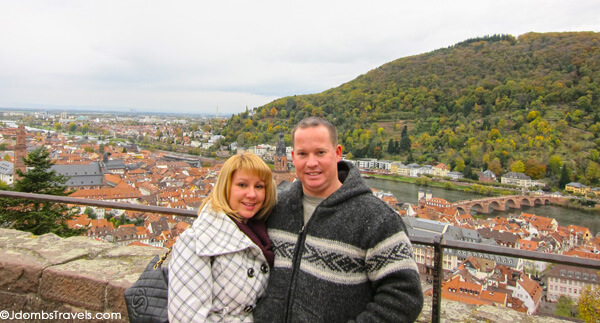 The interior of the castle can only be visited on a guided tour, which we unfortunately didn't have time for after our long lunch. But the gardens, built on several terraces, offered us amazing views over Heidelberg and the Neckar River below. Mark Twain even visited the castle and the beautiful Neckar river supposedly inspired a chapter in Huckleberry Finn.
Living in Italy has converted us to wine lovers and so we were really excited to visit the Heidelberg Tun, the world's largest wine barrel. It was built in 1751 and stands seven meters high, is eight and a half meters wide, holds 220,000 liters (58,124 gallons) of wine, and has a dance floor built on top of it. A staircase allows visitors to climb atop the barrel for a quick dance!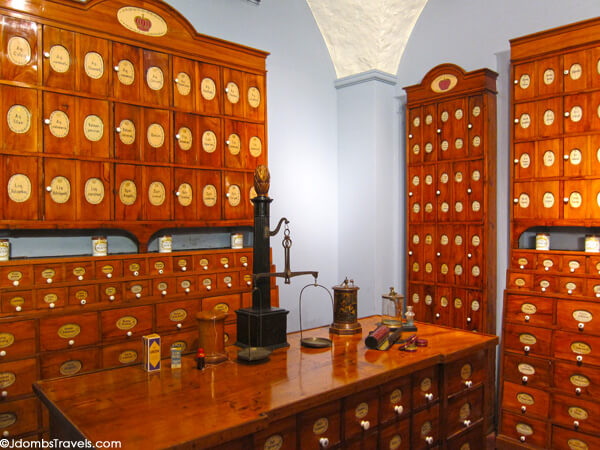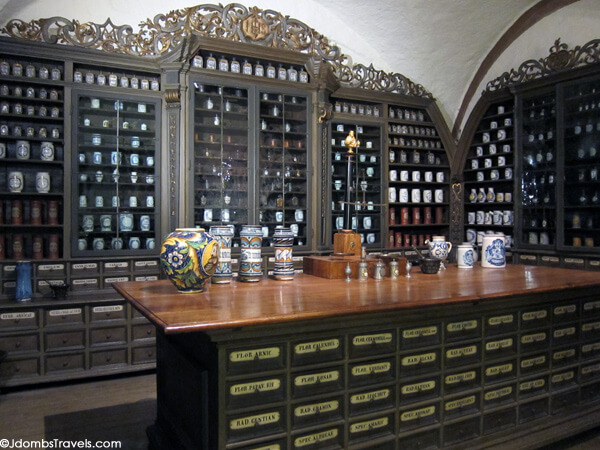 Across from the wine museum, the Ottheinrichsbau building houses the Apothecary Museum. We wandered through the rooms including a complete pharmacists' office and a laboratory with the scents of menthol in the air. The exhibition displays over 1000 raw drugs representing medicine from the 17th to 19th centuries.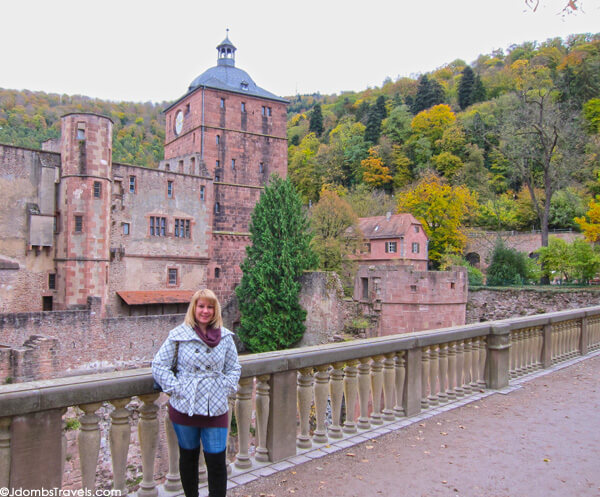 Had we had more time, we would have liked to take the guided tour of the interior of the castle and walk back down along the Burgweg's scenic route.
Know Before You Go
The Palace Courtyard and World's Largest Wine Barrel are open daily 8am – 5:30pm; the Apothecary Museum is open 10am – 5:30pm
The castle interior can only be visited on a guided tour
Admission to the Castle Courtyard, Giant Barrel and Apothecary Museum are €3 for adults and €1.50 for children
Guided tours of the Palace are €4 for adults, € 2 for children, or €10 for a family ticket
There is an onsite Mövenpick Restaurant and café at the castle; eat here if you're pressed for time!