Sometimes traveling near home can introduce you to things you never knew were there. I'm from Erie, Pennsylvania and stopped in my home town to visit with my parents for a few days before heading home to Europe. We were going to head to Niagara Falls but high winds and snow (in May!) foiled our plans for a helicopter ride over the falls and biking through the vineyards at Niagara on the Lake. Instead, we found ourselves exploring the Smethport Mansion District.
Smethport is a historic town in Pennsylvania. Named in honor of and financed by a Dutch banking family, the De Smeths, Smethport was founded in 1807. The town actually has a number of things it is known for, like the Old Jail being the sixth most haunted place in Pennsylvania. As the lore goes, the Old Jail is haunted by Ralph Crossmire, who was convicted of murdering his mother and then hanged there for his crimes in 1893. Old Ralph had threatened to haunt the jail if he was hung and inmates soon began begging to be moved to other facilities out of fear of Ralph's ghost.
Aside from being home to Pennsylvania's sixth most haunted place, Smethport can claim the invention of the first magnetic toys in the United States. Wooly Willy was invented in 1908 and is still in production today. America's first Christmas Store and year round yuletide shop also opened there in 1935, though sadly it closed in 2005.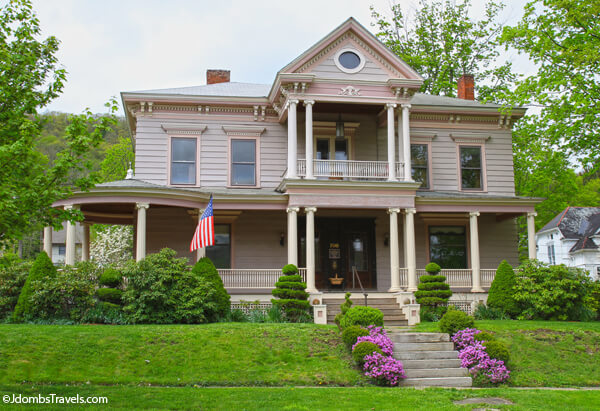 The most notable attraction of the historic town is the Smethport Mansion District. Located along both sides of West Main Street, the architecture of these Victorian mansions is a reflection of the wealth that built Smethport. Some of the mansions are now lovely bed and breakfasts; others are in a state of disrepair. Plans are being formulated by the Route 6 Heritage Community to develop the Smethport Mansion District into a formal historic section of the town. But no matter, the mansions are each beautiful and impressive. A few were even instrumental in shaping Smethport.
The Henry Hamlin Mansion saw the birth of the Smethport Mansion District. It was with the completion of this 1860 Victorian Italianate mansion that the door to development swung open in the 1880s. Architects, stonemasons, contractors, and builders flocked to Smethport to design and create mansions.
The owner, Henry Hamlin, commenced banking in Smethport in 1863 with what became the Hamilton Bank and Trust Company. By 1892, Hamlin was reported to be the wealthiest private banker in the United States.
Henry Hamlin's nephew, Delano R. Hamlin, built his own Victorian Queen Anne mansion right next door to his uncle in 1881.
Henry Hamlin also built a mansion as a wedding gift for his only son, Orlo and his new bride Mirabel Folger. Orlo eventually took over the bank his father started, Hamlin Bank and Trust Company.
The Judge Joseph Bouton Mansion, a Victorian Queen Anne built in 1905, stands on the former location of the Astor House Hotel, which was destroyed in a fire in 1868. The mansion, though, I imagine is as grand today as it was when the all-American McKean County President Judge occupied it. An American flag billowed in the breeze and white Adirondacks rocked on the whitewashed wrap around porch.
It was lovely to stroll down the historic tree-lined street, even on a cold and cloudy day. I would have loved to peek inside some of these beautiful mansions, but tours of them are only available during special festivals in Smethport.