Aqaba's greatest asset is the Red Sea with fringing reef stretching for over 25 kilometers right down to the Saudi Arabian border. The Red Sea Marine Peace Park is known to be one of the most beautiful diving areas of the world due to the amazing combination of sea life, corals, water transparency and nice weather it offers year round.
We booked a full day snorkel tour with Sinai Divers. We were shocked when a yacht pulled up to the pier and were told this was our boat for the day! There were only about 10 guests and about 5 – 6 crew on the yacht so we had plenty of room to enjoy the boat, which had two decks and a full bathroom with hot shower. Lunch was buffet style and delicious.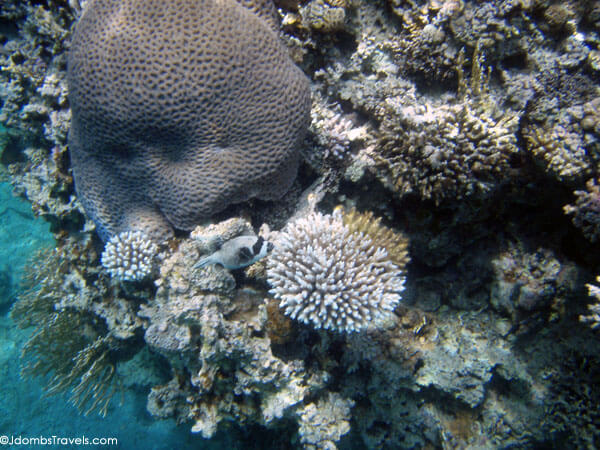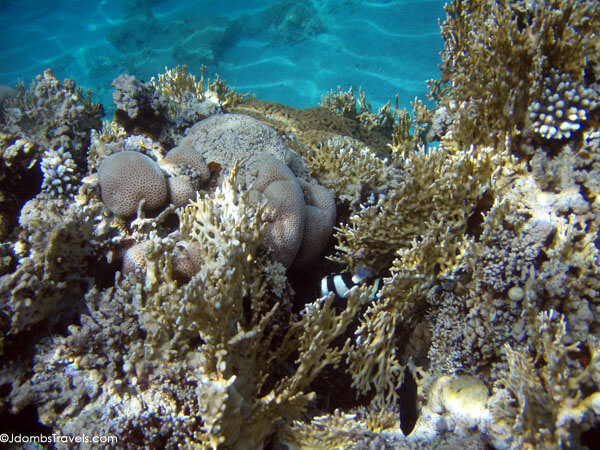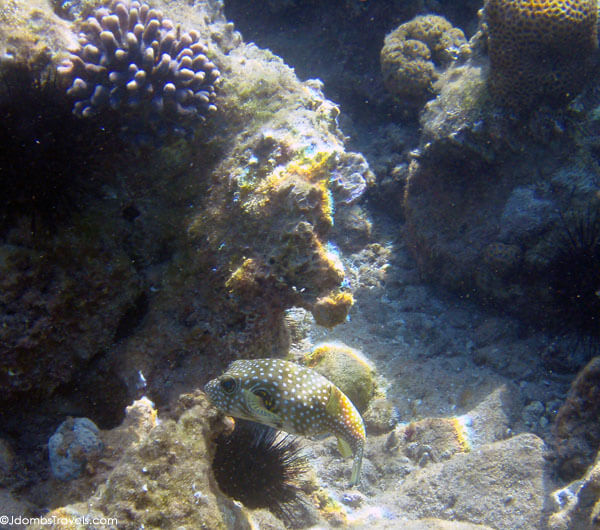 All three snorkel spots were amazing and teeming with unimaginable walls of coral. The water is crystal clear and we could easily see down at least 30 meters. There have been over 130 species of hard and soft corals and over 160 species of fish noted in the area, many of which are only found in the Rea Sea. Masked butterfly fish, goby fish, parrot fish, lion fish, pipe fish, octopus, sea urchins, sea cucumbers, sea horse, clown fish and eels are just a few of the brilliant fauna of we saw. There was also a wrecked tank which many fish had made their home.
Where To Stay
We recommend the Mövenpick Resort & Spa Tala Bay Aqaba. The resort has a private beach, which is extremely nice and there is reef right in front of the hotel, which is good for snorkeling. We saw an octopus in the reef here! The breakfast, which was included, was the best we have ever seen. There was an omelet bar, pancakes, waffles, french toast, various fresh fruits, a whole pastry bar, a selection of local cuisine, and no less than 7 different kinds of juice. Try the green apple – it is delicious!
Know Before You Go
Sinai Divers full day snorkel package is $50 per person. Lunch is not included but can be added for an additional $14 per person.
A variety of dive courses are available. Check their website for the course and certifications types.
Dive and snorkel gear is available for rent.