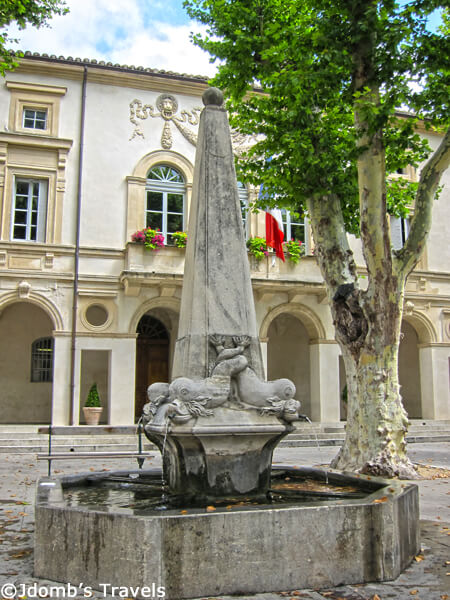 Saint-Rémy-de-Provence is a charming little Provençal town. The 14th century walls still protectively circle the ancient city center and stepping through the old portes is like stepping back in time. Centuries old plane trees tower above the narrow boulevards – the very same plane trees Van Gogh painted during his time in Saint-Rémy-de-Provence. Medieval townhouses line the maze of tiny streets encircled in just a half square kilometer.
We stayed at the 18th century La Maison du Village right in the heart of the ancient city and spent lazy mornings eating macaroons for breakfast in bed. Evenings were perfect for strolling around the crooked little streets and having leisurely meals at little French cafes.
During our days we followed the Circuit Van Gogh through Saint-Rémy-de-Provence, a walking route visiting the sites of 21 of Van Gogh's paintings from his time at Saint-Paul-de-Mausole. We would stand admiring and comparing the scenes before us to those Van Gogh had painted over a century ago. Maybe the plane trees were a little taller and the blue shutters a little more worn, but not a whole lot had changed.
We wandered down the Rue Nostradamus from the Porte du Trou to the Nostradamus Fountain. On Rue Hoche, we visited the very town house where Nostradamus was born in 1503.
Our favorite square was shaded with plane trees in front of the beautiful Mairie, or town hall. The spires of the Saint Martin Church peaked above the medieval townhouses and the sweet smell of the nearby crepe stand wafted into the square.
The town came alive during the day, shopkeepers pulling out their wares into the narrow streets. And then a peacefulness would settle over the ancient city in the evening and we often had the quiet streets to ourselves, the stars twinkling above.
Just like Van Gogh's Starry Night.