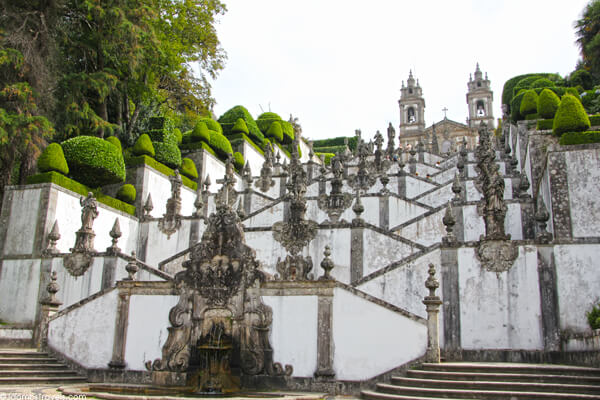 A staircase of dark granite covered in bright white plaster switchbacks up the hillside above Braga, just a short drive from Guimarães in the north of Portugal. This staircase, known as The Sacred Way, leads to the 18th century sanctuary of Bom Jesus (Good Jesus) on top of the hill. Commissioned by the Archbishop of Braga, it has been a popular place of pilgrimage since its completion in 1811 even though there are no visions or saints associated with the sanctuary.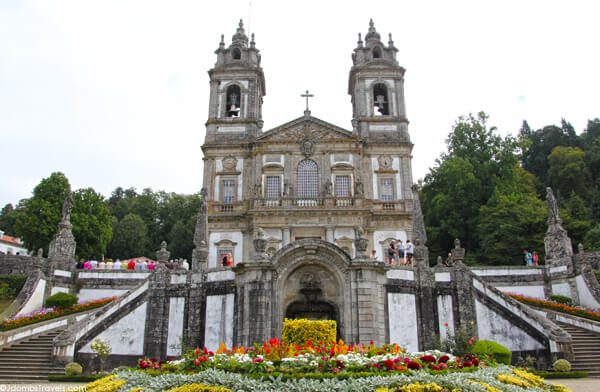 Penitent pilgrims would make the zig-zagging climb up the 577 steps to the Bom Jesus on their knees. (And here I used to groan in grade school when the priest assigned me ten Hail Marys as my penance!) But if climbing up all those steps sounds like too daunting a task, the sanctuary can also be reached by funicular or by car.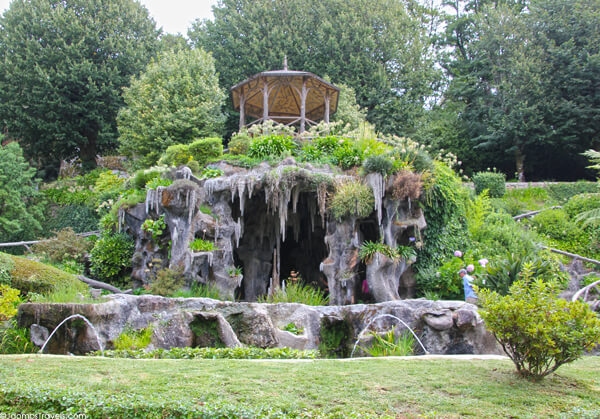 After being dropped off by bus, I began my visit at the top of the hill in the gardens where there is a small grotto and lovely gazebo. Had I had more time, this would have been a lovely area to grab a snack from the nearby cafe and just take in the views.
Inside the twin-towered church, small chapels line the sanctuary and represent the stations of the cross. The stations of the cross culminate on the altar in the Crucifixion, the Three Marys and Pontius Pilate's soldiers looking on.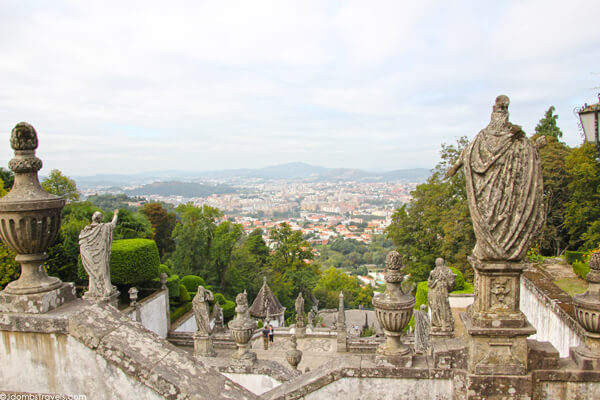 I opted to walk down the stairs instead of up. The staircase has multiple landings, the very top of which has sweeping views stretching all the way from the city of Braga to the beaches of Esposende and Viana do Castelo (which the gorgeous Pousada Monte de Santa Luzia overlooked). A series of allegorical fountains met me on each of the landings. From the top of the staircase going down, the first three fountains represent the virtues, followed by watering spurting out of orifices such as the mouth, nose, eyes, and ears to represent the five senses. Finally, the fountain on the terrace represents the wounds of Christ.
Know Before You Go
The funicular runs daily 8am – 8pm every 30min and is €1 each way.
From Braga bus #2 runs the 5km to the foot of the stairway at Bom Jesus from Avenida da Liberdade, close to the post office at 10min and 40min past the hour.
Thank to you Turismo de Portugal for hosting me. As always, all opinions are my own.