Located at the top of the world, the Spitsbergen Archipelago situated between 74° and 81° north is truly a bucket list destination for adventurers. Somewhere between Norway and the North Pole, these islands are the epitome of raw, unspoiled wilderness. Snow-capped mountains give way to deep fjords. Massive ice sheets are home to the King of the Arctic: the polar bear.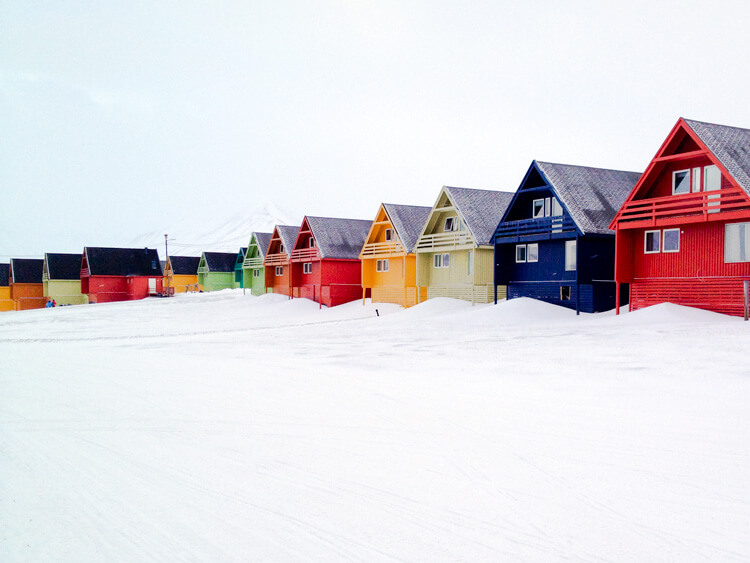 Small-ship expedition cruises are among the best ways to explore Spitsbergen, and Longyearbyen – the largest settlement and administrative capital of the Spitsbergen Archipelago – is the jumping off point for Arctic expeditions.
While you've likely come for the polar bears and other Arctic wildlife like walrus, seals, whales and seabirds, Longyearbyen shouldn't be passed over. As the world's northern most city, Longyearbyen is a fascinating place home to some 2300 hearty residents.
Don't miss these unique things to do in Longyearbyen before exploring Svalbard and the Polar ice edge on a small-ship expedition cruise with Poseidon Expeditions.
Visit the Svalbard Museum
You'll no doubt learn some of the history of Svalbard while sailing around on an expedition cruise, but one of the best places to dip into the fountain of knowledge about this Arctic archipelago is at the Svalbard Museum.
The world's northernmost museum is a journey through Svalbard's history, from whaling in the 17th century to Arctic expeditions, trapping and coal mining. It delves into modern times with Svalbard becoming a place for research and tourism. And of course, the flora and fauna unique to the Arctic and the archipelago are also present here.
As a first stop in Longyearbyen, this cultural and natural history museum will definitely leave you longing to learn more about these unique islands at the top of the world.
Svalbard Museum, open daily from 10am – 5pm.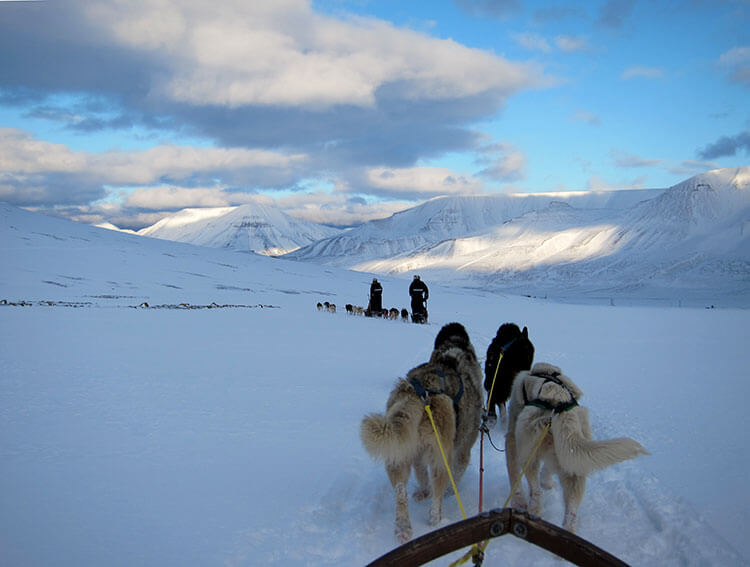 Go Dog Sledding
There's plenty of time for kayaking in the fjords during a small-ship Arctic cruise. But as you'll be visiting wild and uninhabited natural areas around Svalbard, take advantage of the pre-cruise time in Longyearbyen to get out and try one of the most unforgettable Arctic adventures: dog sledding.
Dog sledding in the Arctic dates back to at least 1000 AD when the native people invented this mode of transportation for moving about the Arctic. Dogs have been pulling us for millennia, and going on a dog sledding adventure lets us experience the special bond between sled dog and driver.
Though we visited Svalbard in winter during the last days of the Polar Night, and went on a dog sledding adventure across the stark, snowy white landscape, dog sledding can be done year round.
We recommend going with Svalbard Husky, who we've had the best experience dog sledding with anywhere in the world. Be prepared to get your hands dirty and pitch in. You'll assemble your dog sled team, getting each of your team members from their kennels, harnessing them and getting them hooked up to the sled. After, you also reward your team with their hard earned meal.
In the summer months from July to October when there's little snow on the ground, you can still dog sled on the wheeled carts. The dogs train for the winter months with the wheeled carts, and you learn to drive with a lesson before heading out in the Arctic wilderness.
Svalbard Husky, available year round. Advance booking required.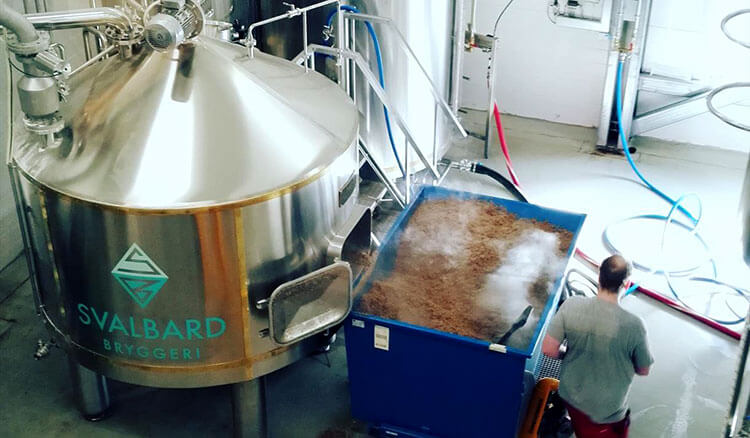 Take a Brewery Tour in the World's Northernmost Craft Brewery
Longyearbyen is a town full of the northermosts. It's home to the northernmost church, ATM, post office, wine cellar, gourmet restaurant and – not surprisingly – the world's northernmost craft brewery. It's Svalbard Bryggeri, or Svalbard Brewery, and you can take a tour there to taste Arctic beer and learn about the brewing process.
It's really something special, as until local coal miner Robert Johansen fought against a 1928 law that prohibited the production of alcohol within the Spitsbergen archipelago, Svalbard had no brewery or distillery of its own. But Robert fought the law, and unlike the song, the law didn't win this battle.
Robert finally was awarded his brewery license and brewed his first batch at Svalbard Bryggeri in 2015. You'll learn that local ingredients are a source of pride at the brewery. Water is essential to brewing beer, and 16% of the water used for brewing the Arctic beer at Svalbard Brewery is thawed ice from the 2000 year old Bogerbreen glacier. They currently brew eight different beers and 94% of their ingredients come from the archipelago.
Svalbard Bryggeri is open Monday, Wednesday and Saturday for brewery tours at 6pm. Advance booking is required and tours can be booked online.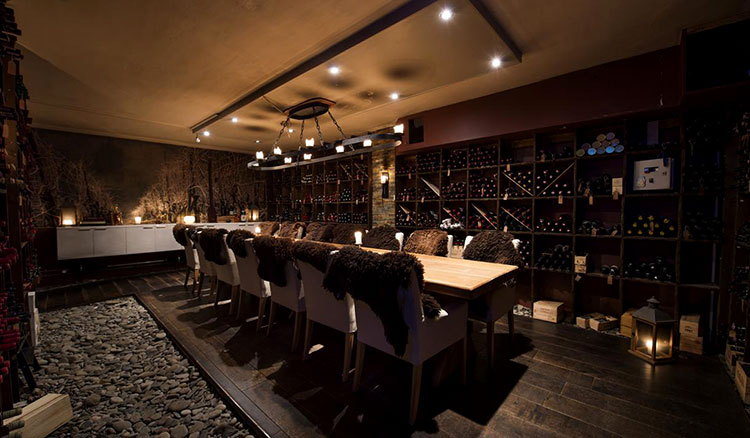 Go Wine Tasting in the World's Northernmost Wine Cellar
Huset is a gourmet restaurant – which we definitely recommend – but there's something else special about this fine dining establishment located at 78° north.
A highlight of Huset, and what initially spotlighted the gourmet restaurant in the '90s, is that it is home to the world's northernmost wine cellar. With more than 15,000 bottles and over 1000 references, Huset's wine cellar is one of the most well-stocked in Europe and among the largest in all of Scandinavia. They've even received prestigious awards from Wine Spectator.
Huset offers personally tailored wine tasting experiences in their famous wine cellar. You might like to taste some of Huset's favorite champagnes from their collection. Or perhaps discovering a range of Rieslings and their unique qualities that come from the part of the world the grapes grow in is right up your wine-loving alley.
Whatever your preference, wine lovers won't want to miss checking this northernmost experience off your bucket list.
Huset is open for wine tastings by request only. Request a wine tasting by email to [email protected].
Dine at the World's Northernmost Gourmet Restaurant
While such a small settlement as Longyearbyen might not seem like the kind of place for a fine dining restaurant, curiously the town is actually home to a number of really good restaurants. Perhaps it's because the long four months of Polar Night give residents plenty of time to hone their cooking skills.
Whatever the reason for a bevy of good chefs congregating in Svalbard is, we can all thank our lucky stars Longyearbyen residents know good food. In fact, one of Norway's best restaurants is actually found here in Longyearbyen. It's Huset, and it's regarded as the "most northerly gourmet restaurant in the world."
Certainly one of the best places to eat above the Arctic Circle and the finest dining experience you'll find in Svalbard, Huset showcases Nordic techniques and local ingredients. The chef collaborates with local hunters and trappers to bring diners local flavors you'll not find anywhere else in the world.
We recommend the Nordic tasting menu, which is either a 5- or 7-course feast of Nordic specialties featuring ingredients sourced from both right on Svalbard and from Norway. The menu changes but some of the dishes we enjoyed most from the Nordic tasting menu were the carpaccio of Svalbard reindeer, Arctic scallops, and reindeer from Lapland.
Huset is open for dinner Wednesday – Sunday from 7pm – 10pm. Reservations recommended.