North Wales is a weirdly wonderful area encompassing both dramatic coastline and soaring mountains stretching from Angelsey to Gwynedd. It's got its own language and culture, a plethora of quirky attractions from the smallest house in Great Britain to the world's largest underground zip-line, a lengthy list of outdoor adventure activities (when the weather cooperates) and a fill of foodie delights. No matter whether you come for the castles or caverns, there's more than enough things to do in North Wales to keep you occupied. If you've only got a long weekend to spare for a visit, scratch the tip of Wales' iceberg with this 3-day itinerary covering some of the best castles, quirkiest attractions and best Welsh food and drink.
Map courtesy of Wanderlog travel planner
Day 1: Puffin Island Wildlife Cruise and Beaumaris
The seaside town Beaumaris is a great spot to begin a 3-day getaway in coastal North Wales. The town is actually located on the island of Anglesey, just off the northwest coast of Wales and connected to the UK mainland by the 19th-century Menai Suspension Bridge.
The town was built up around the moated 13th century Beaumaris Castle, which was built under the direction of Edward I during his campaign to conquer Wales. The castle is actually a castle inside of a castle and is considered to be Britain's best example of symmetrical concentric planning. It was actually never finished because the money ran out, and sits in the state to this very day.
But what really brought us to Beaumaris were the Puffin Island cruises that depart from the town and take you out to the uninhabited island off the eastern tip of Anglesey. It's a Special Protection Area for wildlife, and a bird sanctuary that is home to a colony of 750 pairs of great cormorant.
Also known as Ynys Seiriol in Welsh for Saint Seiriol, who lived there and built a monastery in the 6th century, Puffin Island gets its modern name from the colony of puffins that come to nest from April through September each year. Aside from the puffins, other nesting seabirds like guillemots and razorbills also come to breed each summer. And there's a resident colony of Atlantic Grey Seals that live on a tip of the island.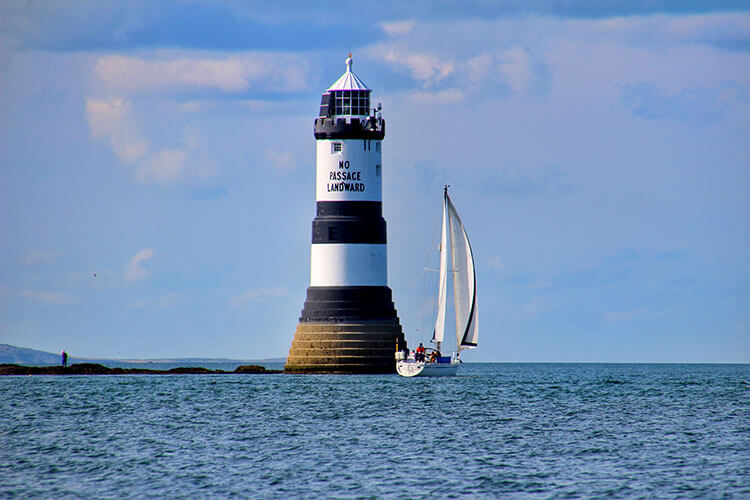 The highlight is Puffin Island, but it's also beautiful to sail along the Anglesey coast past various ruins and the Penmon Lighthouse.
We just happened upon the Beaumaris Food Festival, which is now in its fifth year. It's held the first weekend of September every year on the town green just in front of Beaumaris Castle. With over 100 local and international vendors and the admission proceeds benefiting local charities and causes, it's an event worth planning your trip to North Wales around.
We were big fans of Jaspels Anglesey Craft Cider. Already feeling like Fall in early September in North Wales, I couldn't pass up trying the Autumn Spice.
The Real Thai Pie Company had us coming back for seconds. Run by a husband and wife team that met each other while traveling, they combined their love for Thailand with their British heritage to come up with Thai favorites like massaman curry inside a flaky British pie. You have to try the Thai green curry – seriously best pie we've had yet in the UK.
There's live music and events, along with loads of delicious foods. Drinking cider, sharing portions of the international cuisines and dancing to the live bands kept us entertained well into the evening.
Day 2: Exploring Conwy to Caernarfon
There are around 400 historic castles in Wales alone, but it's the Iron Ring of Castles built by Edward I to encircle North Wales that are some of the most impressive and formidable. Over a period of 12 years during Edward I's reign, he took on what is known as Europe's most concentrated and ambitious medieval building project. To the tune of what would cost around 33 million pounds today, Edward I built the fortresses at Beaumaris, Conway and Caernarfon along with refurbishing Llywelyn's castle at Criccieth.
Start the day in Conwy at Conwy Castle, considered one of the greatest fortresses of medieval Europe.
Construction of Conwy Castle and the medieval wall surrounding the town began in 1283. It's the most impressive of all the Welsh castles with the well-preserved eight towers that you can climb for views over Conwy and to the mountains and sea beyond. It's from these towers that you have the best perspective of the 21 towers connected by the high wall that seems to billow like a curtain surrounding Conwy.
The formidable castle isn't the only attraction in town. Conwy is home to the smallest house in Great Britain as recognized by the Guinness Book of World Records. It was built in the 16th century and a man who was 6′ 3″ tall lived there. He couldn't even stand up straight. He was actually taller than the house even is wide.

He was forced to leave by the council, who declared the house too small for human habitation.
The family still owns it, but no one lives in it. When it's open, you can have a peek inside for a small fee. And even if it's not open to have a look inside, it still is worth wandering down to for a photo op.
Before leaving Conwy, have dessert before lunch and pop in to Parisella's Ice Cream Parlour. The company was started by Italian born Domenico Parisella in 1949 after his family emigrated to Wales and is still run by the Parisella family to this day. They only use locally sourced Welsh milk and cream and make the ice cream in the traditional Italian method. You simply can't leave Conwy without having a scoop or two.
Dylan's at Menai Bridge is worth the slight detour for lunch. The restaurant sits right on the water's edge and is famous in North Wales for their locally sourced seafood right from the Menai Straights. They're particularly known for their world famous Menai mussles, which were sadly already sold out. But the sea bass tacos and calamari and chorizo pizza we shared were so good that we quickly forgot our disappointment over the mussels.
Dylan's is a super popular restaurant so it's best to book a reservation in advance.
When you think of Wales, vineyards probably never even come to mind. But there are actually more than a dozen thanks to all the invaders bringing their cultural influences to Wales with them. Pant Du Vineyard and Orchard is a great choice to visit since the family-run farm produces both wine and cider.
Owners Richard and Iola Wyn Huws purchased the 17th century farm located on the slopes of Nantlle Valley in Snowdonia in 2003. They simply had a passion for wine, especially after traveling to New Zealand, and decided to experiment with planting vineyards on the farm. They planted eight different grape varietals and the Rondo grapes seems to do the best in the wet and windy climate of Wales. The Rondo vines produced their first grapes in 2010 and Pant Du's first wine was ready by the summer of 2011. Pant Du's Rondo 2010 even won a United Kingdom Vineyards Association (UKVA) bronze medal in 2012, which is impressive for a first time winemaker.
With their various grape varietals, Pant Du went on to produce their first rosé in 2012 and added white wine in 2013. We tasted all three wines, plus their own spring water bottled straight from a spring they discovered on the farm. All of Pant Du's wines are very light. White has apple notes, the rosé strawberry notes and the red is full of red berries.
They also have orchards with 2000 traditional Welsh cider apple trees, 700 of which are the once almost extinct Bardsey Apple variety, and produce cider from them. Their pure craft cider is made in dry or medium dry styles and is fruity and delicious. We came for the wine and went home with the cider.
Finish off the afternoon with a visit to Caernarfon Castle.
There were actually fortresses and castles of sorts here since the Roman Empire, which is in part a theory of why Edward I selected Caernarfon to build one of his Iron Ring of Castles. Apparently Edward I loved legends and tales, and was obsessed particularly with the tales of King Arthur. He also loved the story of how a Roman fortress came to be on this spot.
According to the tale, the Roman Emperor Magnus Maximus has a dream one night of a beautiful girl in a faraway land. He was so enamored with the girl from his dream, that when he awoke he sent his messengers out all across the Roman Empire to find her. She was Elen, daughter of the cheiftan of Caernarfon. Magnus Maximus set out to meet her, and they were set to marry. Ellen refused to leave Caernarfon for Rome though, so they ruled the Roman Empire from Caernarfon. The tale also claims Magnus Maximus sent for soil from Rome, and he built his fortress in Caernarfon upon it.
The tale is mostly fiction, though has some basis in fact. Magnus Maximus did marry Elen Luyddog Caernarfon in 356 and he overthrew the British to become the Emperor of Britain during his rule of the Roman Empire from Caernarfon. He was significant in Welsh history for his ancestry into several British princely dynasties.
The construction of Caernarfon Castle under Edward I drew inspiration from the Roman Empire and specifically from Constantinople. It's thought that his design, which is distinctly different from the designs at Beaumaris and Conwy, was symbolic. The 13th century castle bears a striking resemblence to the 5th century walls of Constantinople. Climb the walls and towers to decide.
Day 3: Zip World Caverns
Wales is also home to the world's largest underground zipline and any adrenaline junkie shouldn't miss it. Deep in the mountains of Snowdonia, the Zip World Caverns zipline course is located inside of Llchwedd Slate Caverns.
It's actually not just a single zipline, but rather an entire complex with an exhilarating series of 15 ziplines, one person rope bridges and via ferratas. Not for the faint of heart, it often appears there's just a sheer drop in to a void of darkness.
There are miles and miles of caves beneath Snowdonia and many of the natural caves you pass through on the Zip World Caverns adventure are more than 10 million years old. Other caverns were created when it was at one time a slate mine, and miners once upon a time worked in the tunnels by candlelight.
It's completely safe and the type of harness and carabiners you wear are impossible to detach from the course until you reach the very end. You also wear a helmet and spend about 20 minutes going through a training course before you're released on to the course.
Since the zipline course is inside the caverns, it's an excellent activity no matter the weather outside. The caverns are a consistent 10°C (50°F) year round, so be sure to dress for slightly chilly temperatures. Pants and closed-toe shoes are required and trail shoes with a bit of traction are best since the damp slate can be a bit slippery.
It takes around 2.5 hours to complete the course. The onsite cafe serves Welsh specialties with a modern twist, and the homemade pies are perfect for warming up after the adventure.
Where to Stay in North Wales
Did you love the movie The Holiday as much as we did? Did it also kind of make you want to swap homes for a week or two with a foreigner? There's no shortage of charming large holiday homes in Wales perfect for selecting as your base to live out your real life version of The Holiday.
Renting a country manor house is great for stays of at least a couple of days or when traveling with friends or family. With multiple bedrooms, amenities like a full kitchen and often luxury amenities such as a swimming pool, privacy and the choice of some superb locations, you can't go wrong with a house as a choice of accommodation.
Know Before You Go
Getting There
Puffin Island Cruise
Zip World Caverns
Manchester is the most convenient airport to North Wales and it is about a 2 hour drive to North Wales. North Wales is best explored by car.
Puffin Island cruises operate from April through October and last 90 minutes. Well behaved dogs are welcome onboard the boats and we brought our dog, Emma, who loved it.
Zip World Caverns is best booked in advance to ensure your preferred day and time is available. Adventures are available at 9:30am, 11:30am, 1:30pm and 3:30pm.

This article contains affiliate links. When you book on Booking.com through our affiliate site, we earn a small commission at no additional cost to you.