Tuscany is known for its dramatic landscapes and hilltop towns. Quite literally the embodiment of Tuscan hilltop towns, San Gimignano is the one that simply must be on your Tuscany itinerary. Known as Italy's Medieval Manhattan with its skyline of fourteen stone towers rising dramatically from the Tuscan countryside, San Gimignano is a unique sight to behold. No matter whether you visit on a day trip from Florence to San Gimignano or linger a few days, you'll find there are plenty of things to do in San Gimignano.
So what shouldn't you miss in Medieval Manhattan? From a day trip by vespa to a cooking class in San Gimignano, you'll definitely put visiting San Gimignano on your Italy bucket list.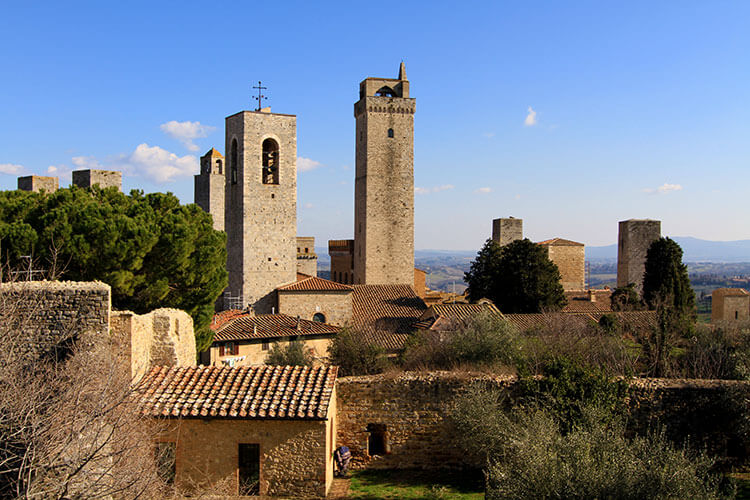 1. Climb the Torre Grossa
Once in Medieval Manhattan, the absolute must of San Gimignano things to do is to climb to the top of the Torre Grossa. These days you can climb (or take an elevator that whisks you up) to the world's tallest skyscrapers from One World Observatory in NYC to Dubai's Burj Khalifa. But it's not too many places that you can visit the top of a 13th century "skyscraper".
Originally there were 72 towers of San Gimigano, some as tall as 50 meters. Each tower was built by San Gimignano's patriarch families in a competition and display of their wealth. Seven of the remaining towers stretch up under the Tuscan sun around Piazza del Duomo.
Torre Grossa is the tallest of the remaining San Gimignano towers. It stretches up under the Tuscan sun at 54 meters (177 feet) in height and dates from 1298. It's the only torri de San Gimignano that is open to the public. Don't miss the climb to the top of Torre Grossa for views over the picturesque countryside.
Admission is €5 and is included with the combo ticket for the Museo Civico.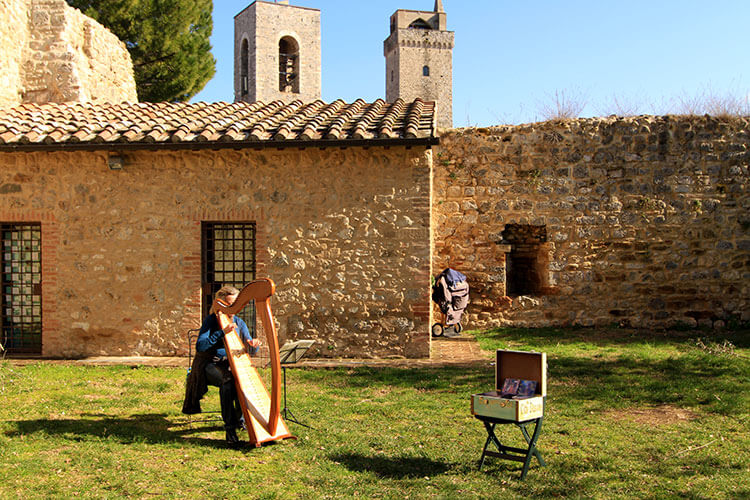 2. Explore La Rocca di Montestaffoli
Walk up the hill from Piazza delle Erbe to La Rocca di Montestaffoli, the ruins of the 14th century fortress above the town. Lovely olive groves provide a bit of shade from the sun and a great place to enjoy salami on a baguette while taking in the views of the rolling Tuscan hills and the towers rising from the town center. Roving musicians like the harpist plucking out classical tunes during our visit and artists set up their easels and paint.
In summer, there is an outdoor cinema. Can you imagine watching a movie on a hilltop Tuscan town?
And you can even learn more about Tuscany's best known white wines at the Vernaccia di San Gimignano Wine Experience, the San Gimignano wine museum. This is one of the newest attractions of the medieval village and a must when it comes to what to see in San Gimignano.
Vernaccia di San Gimignano Wine Experience is open daily from 11:30am – 7:30pm. Admission is free and wine tasting is available for a small charge.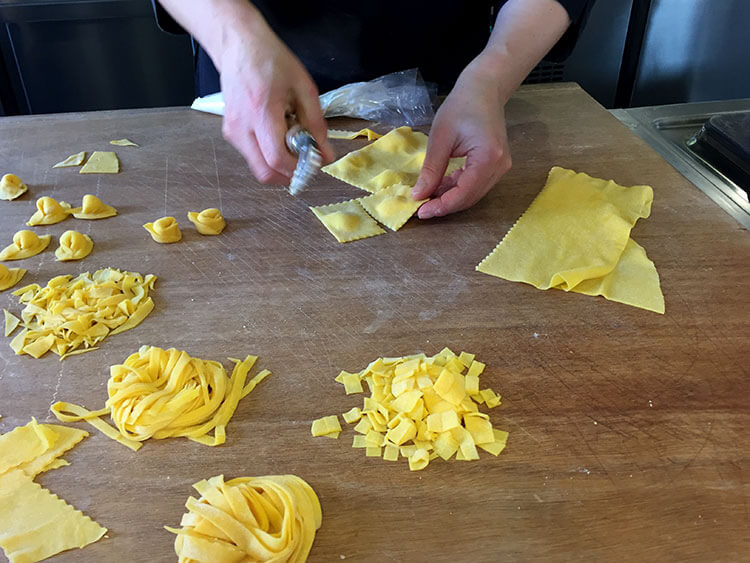 3. Take a Tuscan Cooking Class
There's plenty of souvenirs you can bring home to remember Tuscany, and if you read on you'll see that Toscana leather, wine and olive oil are all things we also enjoy bring back home. But one souvenir that will bring back memories of your time in Tuscany for years to come are the techniques and recipes you can bring home from a cooking class in San Gimignano. What better than to reminisce over days spent on a vespa and drinking wine with hilltop views than over homemade pasta you learned to make on your trip?
There's a lovely winery just a couple minute's drive from San Gimignano that offers cooking classes where you can learn to make three types of pasta with their sauces. After the fun cooking class, you enjoy the meal before having a tasting of wines and olive oils produced on the estate.
The San Gimignano Pasta Making Class is available daily for a minimum of 2 people and includes lunch or dinner of the pasta made during the class. Advance booking required.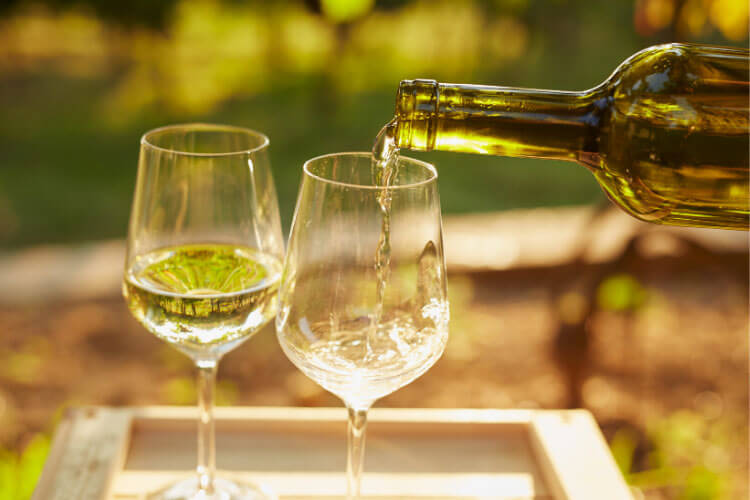 4. Drink Vernaccia di San Gimignano
When you think of Tuscany, you probably think of Chianti. But the vineyards around San Gimignano produce the white wine grape Vernaccia, so famous it was even mentioned in Dante's Inferno.
Vernaccia di San Gimignano is a crisp white wine with citrus fruit flavors. Enotecas dot the medieval streets and you can even get a glass to go, which you can take to one of the many panorama viewpoints to enjoy while gazing over the stone Tuscan farm houses and rolling green hills.
If you want to learn more about Vernaccia, visit the Vernaccia di San Gimignano Wine Experience located at La Rocca. It's a full multi-media experience center where you can discover the history and culture of this wine unique to San Gimignano. You can even pre-arrange more in-depth seminars with sommeliers.
Or you might like to book a wine tour in one of the wineries in San Gimignano. San Quirico Winery is located just 3 kilometers (2 miles) from the center of San Gimignano. You can tour the winery, learn about the vinification of Vernaccia di San Gimignano and taste four different vintages with salami, cheese and bruschetta.
Another renowned San Gimignano winery is Tenuta Torciano and you can visit to learn about Tuscan wine making for a tasting with either light snacks or lunch or dinner. Here you'll taste the famous Vernaccia di San Gimignano along with Chianti Classico and Brunello di Montalcino.
San Quirico Winery is open daily for wine tours. Advance booking is required and you can book online. Tenuta Torciano is open daily for wine tours. Advance booking is required and you can book online.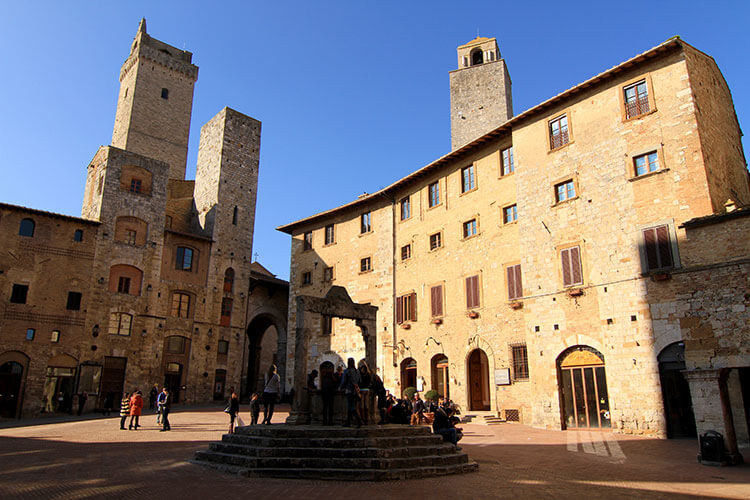 5. Try the Best Gelato in San Gimignano
The world-famous Gelateria di Piazza is right in the center of Piazza della Cisterna and is the best gelato in San Gimignano. The gelateria offers a variety of creative flavors like saffron or pink grapefruit with sparkling wine. You'll easily recognize it because there is always a line out the door.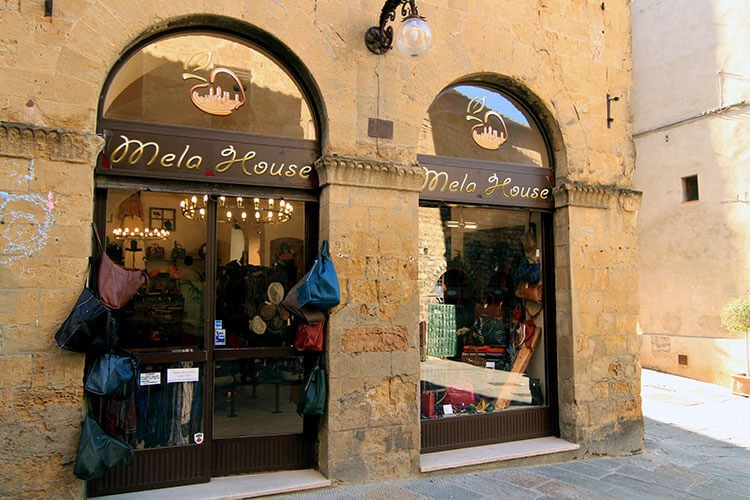 6. Shop for 100% Toscana Leather Goods
Shops and boutiques built right into the stone walls line the alleys of San Gimignano. You'll find specialty food, wine, leather and ceramic shops in the medieval Tuscan hill town.
But one of my personal favorite things to shop for in San Gimignano is leather handbags and goods. Rooting out true authentic Italian leather at the San Lorenzo Florence leather market is no easy feat these days, and you sadly can't be assured you're getting the real deal unless you know what to look for. Not to mention that authentic fine Italian leather can be found in smaller villages like San Gimignano for much less than in nearby Florence.
Two shops worth checking out if you're on the hunt for artisanal made leather goods are Mela House and Le Torri Leather Goods. Both stock products from regional artisan leather makers. Just remember that when it comes to true handcrafted Toscana leather, it is not inexpensive.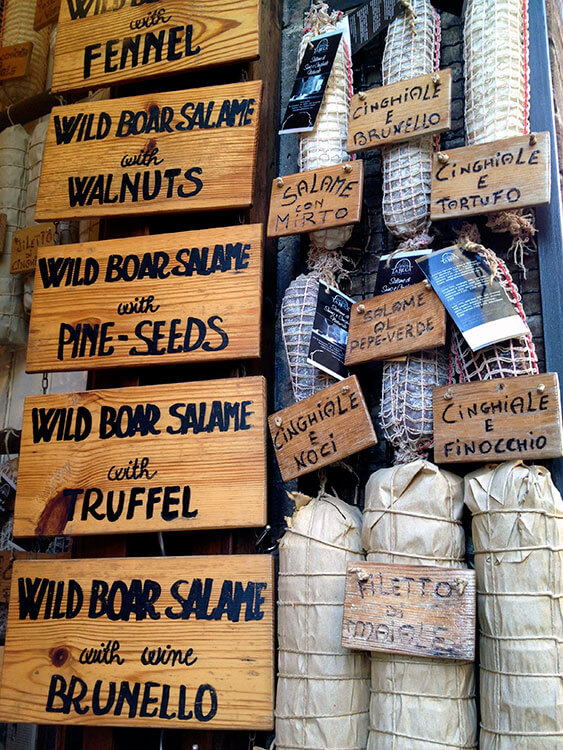 7. Buy wild boar salami
If San Gimignano is the epitome of Tuscan hill towns, then the wild boar is the one animal that most represents Tuscany. Cinghiale, as wild boar is called in Italian, are quite literally everywhere. They breed like rabbits and are incredibly destructive to farms and vineyards with their uprooting of grubs. So wild boar are hunted in Tuscany with sheer pleasure, and consumed as a delicacy.
You'll find cinghiale on the menus everywhere from delicious cinghiale ragus on pasta to the wild boar salami sold at gourmet shops all throughout San Gimignano and Tuscany. To come on a Tuscany holiday without trying the cinghiale is practically a sin, because it's as oh-so-Tuscan as a glass of Chianti.
If you're unsure about eating wild boar, which we assure you is absolutely delicious and not at all gamey tasting, pop in to one of the San Gimignano shops selling local wild boar sausage. You'll find it even comes with red wine, truffles, fennel or pine seeds and is thinly sliced and served on a crusty baguette drizzled with olive oil. Shop owners are likely to offer a taste.
Or just do as the locals do and grab a salami baguette, a bottle of Vernaccia wine and head up to La Rocca for a picnic lunch.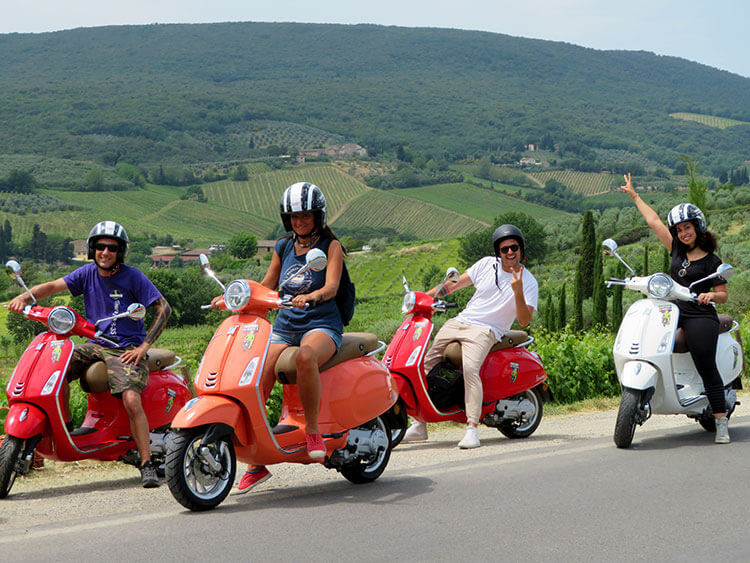 8. Explore San Gimignano on a Vespa
If you're trying to cram a lot in to your Roman Holiday like we did on our first whirlwind Rome-Florence-Milan trip, then a Florence to San Gimignano day trip is the perfect way to see the hilltop town. But don't just hop on a bus tour with 50 strangers. Instead, do Tuscany up in style – on a vespa with Tuscany on Wheels!
We love experiences and this Florence to San Gimignano tour combines a little Italian adventure on a vespa with a visit of the medieval town and even lunch and wine tasting in San Gimignano at a local winery. You'll have time to visit Medieval Manhattan, taste the famous gelato of a world-champion gelateria and enjoy an authentic Tuscan meal for lunch in a beautiful local winery.
Of course, a highlight of the day tour is the wine tasting and olive oil tasting. Hope you left a little room in your luggage, because you'll definitely want to bring some wine and olive home from your trip.
The Tuscany Vespa Tour from Florence is available daily and includes lunch. You can ride double with a partner. You must be 18+ to drive and a driver's license is required, as are long pants and closed-toe shoes for both drivers and passengers. Book in advance online.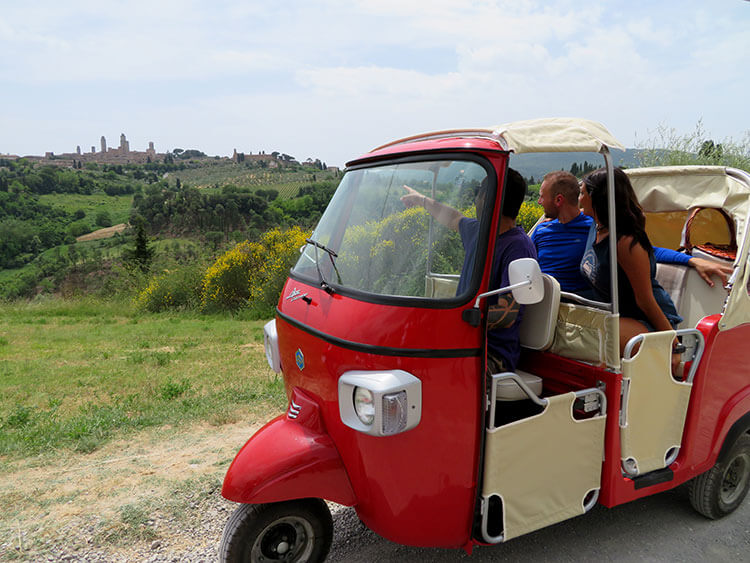 9. Explore San Gimignano by Tuk Tuk
If the thought of driving a vespa in Italy scares the bejesus out of you (because let's be honest – I let Tim do any and all vespa driving!), then the very same Florence to San Gimignano day trip in a Piaggio tuk tuk might just be for you. Instead of driving your own vespa, a guide does all the driving for you so that you can sit back and enjoy the passing Tuscan countryside.
Just like with the vespa tour we mentioned already, you have time for visiting San Gimignano. The guide will give you a map and make some suggestions of what to do in San Gimignano during your free time.
Then you head off to a local winery for lunch, wine tasting and olive oil tasting.
The Tuscany Tuk Tuk Tour is available on Monday, Wednesday and Friday and includes lunch. There's a maximum of 2 passengers. Book in advance online.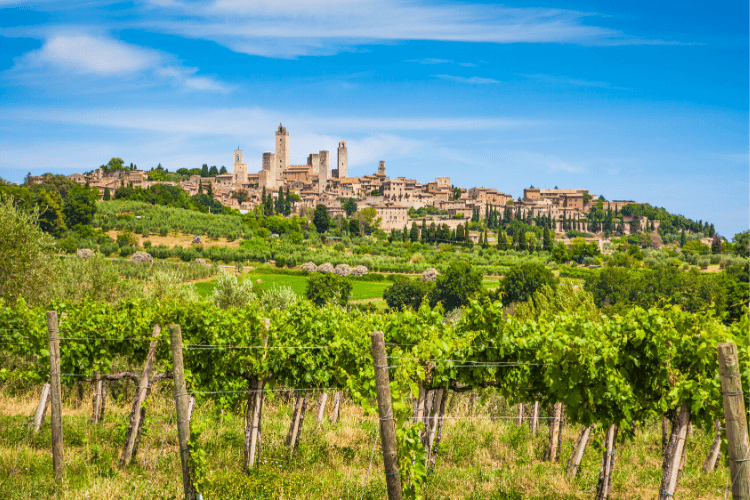 10. Have dinner overlooking San Gimignano at an Agriturismo
Agriturismo Taverna di Bibbiano looks directly at San Gimignano with outdoor tables on the edge of a hillside planted with a lavender field. There's hardly a more romantic spot to sip on wine and have dinner while watching the sun set over the towers.
The menu changes regularly based upon what ingredients are in season, as everything comes fresh from the farm. We dined on a pear salad drizzled with balsamic glaze and Tuscan meatballs in a Chianti sauce accompanied by grilled stuffed tomatoes. We sipped a bottle of Chianti as we watched the sun slowly dip behind the hills. A warm chocolate and pear tart was a sweet finish to our perfect little meal.
So what's an agriturismo anyway? In Italy, it is a farm that is open to guests to experience the slower, rural lifestyle of Italy. Agriturismi (plural of agriturismo) usually serve food to guests prepared from raw materials produced on the farm, often have at least one room where guests can stay, and many have relaxing pools. And no, they won't put you to work gathering eggs for your breakfast. The most work you'll do while staying at an agriturismo is deciding which book to read while lounging poolside.
Know Before You Go
Getting There
Where To Stay
San Gimignano does not have a train station and is really best visited by car. Renting a car in Italy is quite easy and it's our favorite way to get around.
But if the Italian driving experience is a little too adventurous for you, you can get to San Gimignano by bus from Florence in around 1 hour 30 minutes. The BusItalia Nord (formerly SITA) bus company departs from the Santa Maria Novella bus depot and takes you to Poggibonsi. From there you catch the local bus to San Gimignano.
Who doesn't want to stay in an actual castle? Located about 30 minutes from San Gimignano in the village of Strove, we enjoyed looking out from our
Castel Bigozzi
tower window over the rolling hills and vineyards, getting up for morning runs through the vineyards and just relaxing in the Tuscan countryside. The castle has a pool, free wifi, and breakfast is included. It is even dog friendly.