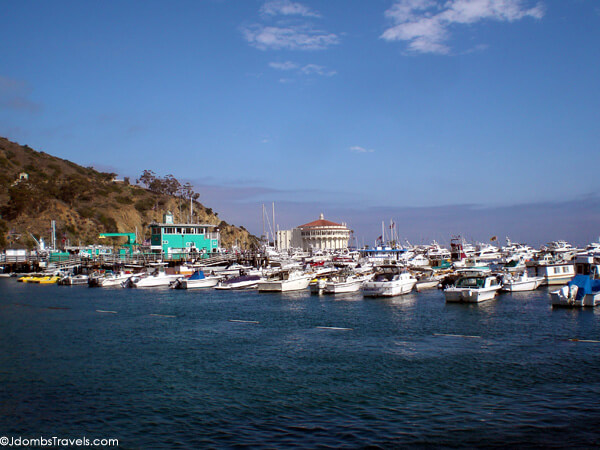 Located just 26 miles across the Pacific from Los Angeles, Santa Catalina Island is an easy-to-reach getaway that felt worlds away from the hustle and bustle of California. Known as LA's leisure isle, lounge-on-a-beach travelers we are not. We like an active holiday and some adventure is a requirement. Ever the short-break travelers, we spent a long weekend on the island and put together these 10 things to do on Catalina Island:
1. Off-road into the island's interior
Avalon is where it's at. Golf carts are zipping up and down the streets, tourists are pouring in and out of shops and restaurants, and the harbor is bustling with boats. We escaped it all and headed for the hills, literally, on a Cape Canyon Tour. We off-roaded in style through the Middle Ranch Canyon and Cape Canyon in the heart of Catalina Island's interior. It's a treat to spot some of Catalina Island's wildlife like the American Bald Eagle fly and the Catalina Island Fox roam.
Cape Canyon Tours depart Avalon daily at 9:30am and cost $115 for adults and $102.50 for children. 10% of the proceeds go toward supporting the Catalina Island Conservancy. Book online.
2. Spot flying fish
Flying fish aren't a myth! Flying fish self-propel themselves out of the water and use their wing-like fins to glide in the air. They're best spotted at night and boats take passengers out to look for flying fish by candle-powered searchlight. We had a great time watching the flying fish leap out of the water and fly in front of the boat. And we even got to see the sea lions asleep on the rocks just offshore at the east end of Catalina Island.
Flying fish can be spotted May – October. The boat departs Avalon at 8:45pm Monday, Wednesday, Friday, and Saturday and at 9:30pm Tuesday, Thursday, and Sunday. $28 per person. Book online.
3. Snorkel the giant kelp forests
Santa Catalina Island has been voted the World's Healthiest Marine Environment and while I didn't think the water was all that warm (the water temperature varies from 55F – 72F), the giant kelp forests were worth being cold. The water is incredibly clear with visibility from 40 to 100 feet and abundant marine life. The orange garabaldi are a bright spot amongst the kelp forests and definitely not shy.
Lover's Cove Undersea Garden has been a protected marine sanctuary for many years and is easily accessible just past the boat landing via a two minute walk from Avalon. Snorkeling gear and wetsuits are available onsite.
4. Take a dive on Nautilus submarine
If the water is a little too cold for you, Nautilus submarine kept us warm and dry as we took another look at the Santa Catalina Island's sea life. There's even a "torpedo" system that allows passengers to feed the fish from inside the submersible.
Nautilus departs from Avalon multiple times daily starting at 10:45am. Tickets are $34 per adult and $25 per child ages 3 – 11. Book online.
5. Visit the Wrigley Memorial and Botanical Garden
William Wrigley Jr. lived on Santa Catalina Island from 1861 to 1932 and was instrumental in the history of the island. He brought numerous improvement projects to the island and his memory is honored with the Wrigley Memorial and Botanical Garden. The memorial was built in 1934 by the same Chicago architecture firm that built Chicago's Buckingham Fountain. It's a 30 minute hike up to the memorial through Avalon Canyon from the center of town.
The Wrigley Memorial and Botanical Garden are open daily from 8am – 5pm. Admission is $7 for adults, $3 for children and students with ID, and free for active duty military and their families with ID.
6. Hike Catalina Island's 37 miles of trails
Trails wind up hills and down into valleys giving hikers spectacular views of the 43,000-acre Nature Preserve of the Catalina Island Conservancy known as Catalina's "Interior." You may even spot Catalina Island's famous buffalo herd. Though not native to the island, the buffalo were supposedly imported to Catalina Island in 1924 for the silent film version of Zane Grey's Western tale, The Vanishing American. When hiking, be careful not to get too close to the herd, especially if there are babies amongst the herd.
A hiking permit is required and can be obtained for free online or from the Conservancy House in Avalon, the Wrigley Memorial & Botanic Garden, Nature Center at Avalon Canyon, the Airport in the Sky, and the Visitor's Center at Two Harbors.
7. Try a buffalo burger at DC-3 Gifts & Grill
Located at the Airport in the Sky, the DC-3 Gifts & Grill not only has a patio overlooking amazing views of the west side of the island, it also serves up a delicious buffalo burger. The buffalo meat comes from free-range buffalo right on the island and much leaner and healthier than beef. It's a must when visiting Santa Catalina Island!
The Wildlands Express offers regular service between Avalon and the Airport-in-the-Sky.
8. Take a romantic midnight stroll
The oceanfront promenade is practically deserted late at night and all glistening lights from the buildings and boats make for quite the romantic midnight stroll. Stop and sit on a bench along the promenade and listen as faint strands of music from the bars float across the night air.
9. Catch a Movie in the Historic Avalon Theater
Catalina's world-famous icon is the historic Catalina Casino with its Art Deco murals of mermaids, a 1929 pipe organ, and big screen that still shows movies. The theater drips of old Hollywood glitz and glamor while showing today's biggest blockbusters. And imagine our surprise as an aerial shot of Catalina Casino appeared while we were watching a movie in the Avalon Theater in the Catalina Casino!
Movies are shown nightly at 7:30pm. Tickets are $15 for adults and $13 for children ages 2 – 11. Check the schedule at the theater to see which movie is playing.
10. Cool off with a giant waffle cone
There are many places to get a sweet treat in Avalon, but the waffle cones at Antonio's became a daily (sometimes multiple times per day) tradition. The rainbow sherbet was especially refreshing after scorching days under the Catalina sunshine.
Getting to Catalina Island
Getting to Catalina Island is easy. It's just 75 minutes by ferry from Newport Beach on the Catalina Flyer. It departs Newport Beach at 9am and returns from Avalon at 4:30pm. Check-in is one hour prior to departure. Round trip tickets are $70 for adults, $53 for children ages 3 – 12, and $6 for infants – 2 years of age.
There are several other ferries from Long Beach, Huntington Beach, San Diego, and Dana Point, but we found the Catalina Flyer to be the fastest and easiest to get to.
Visitors to Catalina Island can also arrive via helicopter in just 15 minutes from Long Beach and a round trip ticket is $250 per person.