Tobogganing is a very traditional sport in Südtirol. The multiple world champion and Olympic winner, Armin Zöggeler, is the most well known toboggan driver of Italy and comes form the little village of Foiana, near the city of Merano. So when we arrived to Merano 2000 via what certainly felt like the world's largest cable car and saw people of all ages whizzing down the mountain on the curving toboggan track, we headed right to the ski shop to rent toboggans of our own. No way were we passing up tobogganing at Merano 2000!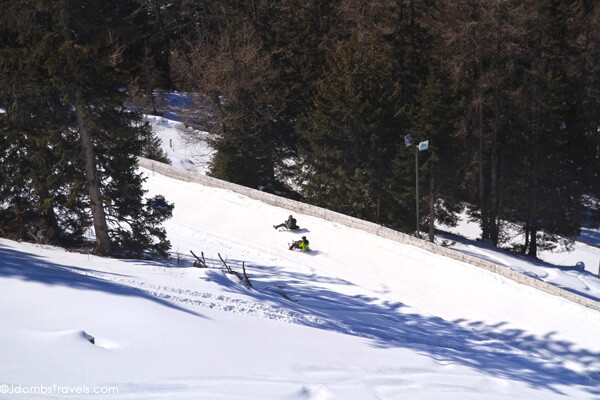 The toboggan track starts at the summit station at Piffing and twists and turns down the mountain for 3 kilometers until it reaches Falzeben. A sign in Italian, German, and English gives a brief rundown on safety and how to "drive" your toboggan. We, of course, paid no attention to said sign and I hopped on my toboggan first. I giggled like I was five as I went bouncing down the snowy track to the first turn. It didn't take much for the toboggan to pick up speed and I was digging my feet into the snow to gain some control.
A couple twists and turns down the mountain and Tim came whizzing by me, hopping off to snap some pictures as my toboggan caught air over some of the humps. Pulling the cord to the left, I tried to steer. Probably should have read that how to sign…
Tobogganing at Merano 2000 was so much fun! Once you reach the bottom, an enclosed ski lift carries you back to the top to do it all again.
We also tried the Alpine Bob, Italy's longest bobsled track. The alpine coaster is open year round and gave us an adrenaline rush as we whipped around the twists and turns, descending over one kilometer. A hand brake allows you to control the speed and warning signs let you know when to break around the turns.
Know Before You Go
Merano 2000 is reached via cable car from Merano-Naif.
Alpine Bob is €4.50 for 1 ride or €20 for 5 rides. Children 4 – 10 years old ride free with an adult. Children under 4 are not permitted.
Alpine Bob is open Monday – Friday from 1pm – 4:30pm and Saturday and Sunday from 10am – 4:30pm.
Toboggans can be rented for €6 for the day from the ski shop at Merano 2000 (or bring your own!). A half day sled lift ticket is available for €24 or single rides are available for €7.50.