Just about an hour from Venice sits a beautiful Italian city along the Adige River. A decade ago when we first moved to Italy, Verona was hardly more than a setting in William Shakespeare's Romeo and Juliet and a city often overlooked on most traveler's Italy itinerary. Though there's actually little evidence that the star-crossed lovers ever existed, romantics now regularly make the pilgrimage to follow in the the footsteps of Romeo and Juliet. But there's a lot more to Verona beyond Juliet's now famous balcony. Though we've been to Verona countless times, Walks of Italy makes it incredibly easy to eat up the best the City of Love has to offer with a Verona day trip from Venice perfect for your first visit.
Verona in a Day
A compact city, it's easy to cover all of the Verona attractions in a day trip from Venice. Walks of Italy, one of our favorite small group tour companies for their Italian expertise, makes a day trip from Venice to Verona easy. They whisk you off from Venice in a comfortable vehicle and you arrive at one the most stunning viewpoints over Verona, which is often missed by most tourists visiting on their own.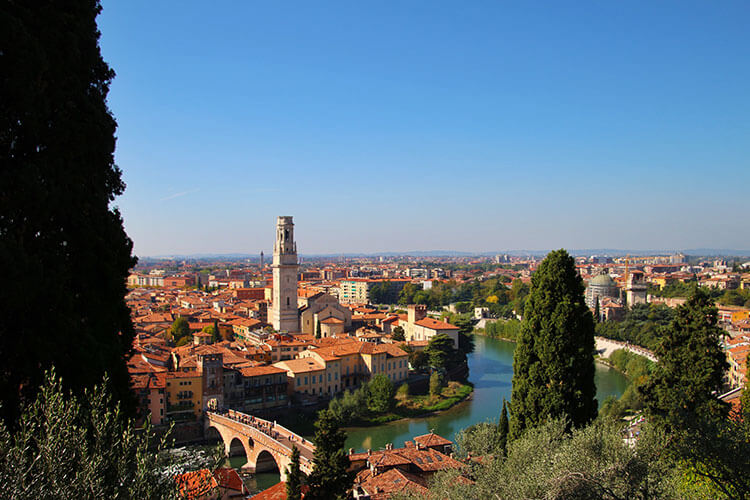 In inhabited since Roman times, the Castel San Pietro sits high on a hill strategically overlooking Verona and offering the most magnificent view of the city. It's almost always crowd-free, with the exception of knowing Veronese that come to enjoy a drink away from the tourists.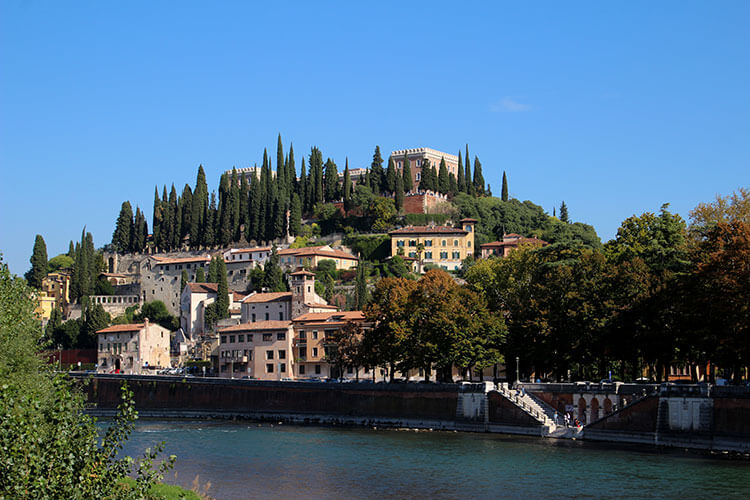 The original fortress, which now is nothing more than some ruins, was built by Berengar of Friuli during his reign as King of Italy sometime around 887. It was destroyed during barbarian invasions, and Castel San Pietro was built atop the ruins by Gian Galeazzo Visconti in 1398. That fortress dominated the hill over Verona for 400 years, until the French destroyed it in 1801. The castle we see still standing today, which isn't open to the public, was a much more recent addition when it was built by the Austrians in 1851.
Not only is Castel San Pietro the perfect starting point for a Verona tour because of the stunning view over the ancient stone bridge, the historic Verona city centre and the Adige River, but also because it's representative of Verona's fascinating history dating back to ancient times.
It's here that the Verona walking tour begins as you head down the hill toward the city walls that once completely surrounded the City of Love.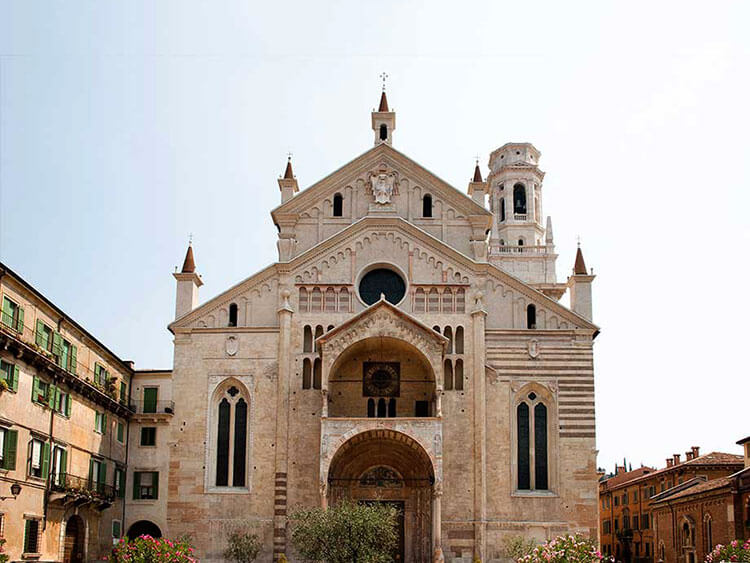 Once inside the historic centre, the first stop is one of the must-see Verona sights: the massive complex of the Verona Duomo. It dates back to 380AD, though that original cathedral quickly proved too small and was ultimately destroyed by an earthquake. A larger cathedral was built on the site from the 8th – 9th centuries, once again to be badly damaged by another earthquake in 1117. The current cathedral we see today was once again reconstructed on the same site between 1117 – 1138, and the Gothic style of the interior came later from a remodel in 16th century.
On to Piazza delle Erbe, it's a bustling scene with its market stalls selling everything from fresh produce to tourist trinkets, and simply must be included as one of the best things to do in Verona. Named for Verona's old herb market, this piazza has been used as a marketplace for 2000 years. The fountain in the middle of the piazza, which is often hard to see because of the market stalls surrounding it, was erected in the 14th century as a homage to Piazza delle Erbe's long history as a marketplace.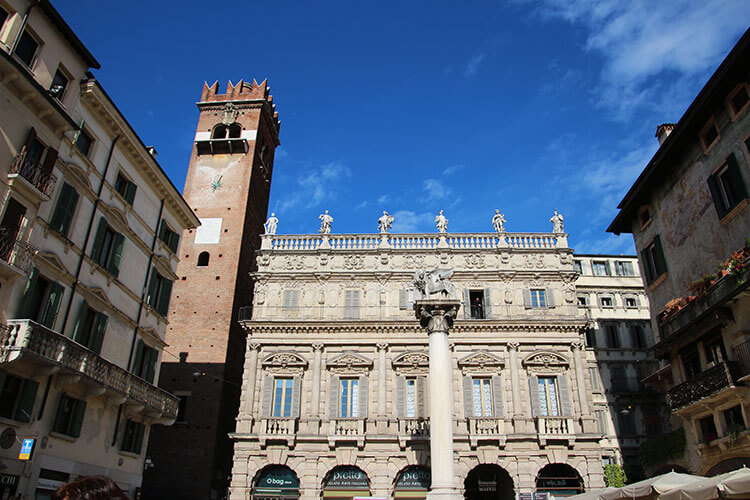 It's such a busy piazza, that it can be hard to absorb all the details. The Walks of Italy guide points out some details, like the Baroque Palazzo Maffei at the north-western end of the piazza. It's easily the most striking building on the piazza with its ornate facade and six statues of the Greek gods of Hercules, Jupiter, Venus, Mercury, Apollo and Minerva looking down upon the Veronese. In triumphant column topped with the Venetian lion rises up just in front of the palazzo, signifying Verona was once part of the Venetian empire.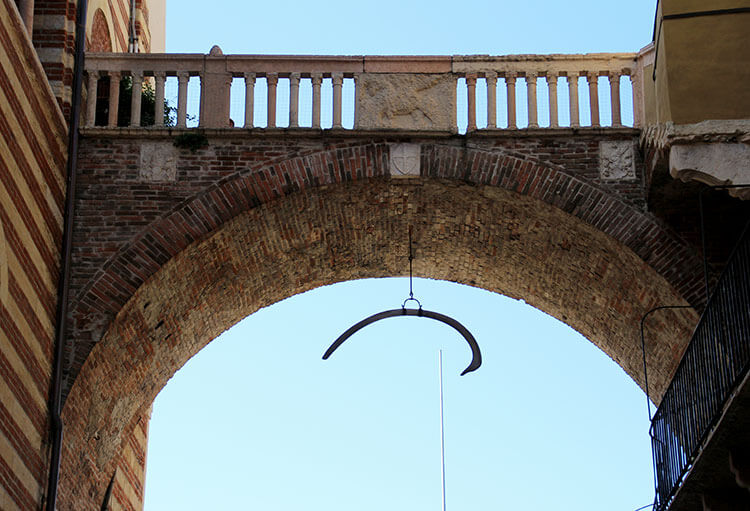 Before leaving Piazza delle Erbe, there's one last often overlooked detail the guide points out. Curiously, there's an ancient whale bone that dangles from an iron chain from the Arco della Costa…and it's been hanging there since the 17th century.
Of course, there's a legend associated with this whale bone. It's said that it will fall upon the first person to pass beneath who has never told a lie. And even though everyone including Popes have passed beneath that whale bone, it has remained hanging in place. I guess there's only one conclusion if the legend is indeed true: we're all liars.
Even how the whale bone came to hang from the arch has some tall tales. Some believe it's a fossil from the Lessini hills outside of Verona, others believe it to be a relic from the Holy Land brought back by Crusaders. One tale even says it was a slick marketing ploy by the pharmacist who opened up shop on the corner of the piazza. At that time, it was believed that there were medicinal properties in powder from ground up whale bones. How did it really get there? We'll probably never know for sure.
What we do know for sure is that the whale bone is suspended from the Arco della Costa, with its suspended bridge atop the arch. This bridge connected the former city hall with the magistrates' quarters, and was used by magistrates and judges to give them a passageway to avoid petitioners in the street below. That's likely where the legend and association of the whale bone with truth stemmed from.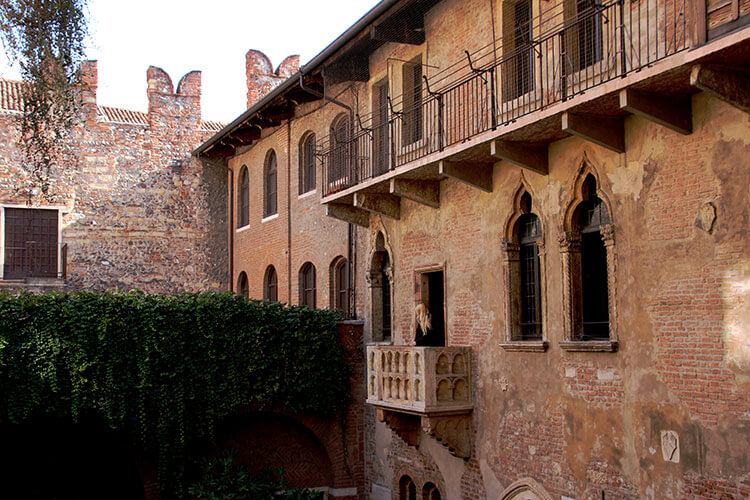 Of course, the highlight of a day in Verona for many is seeing Juliet's balcony. It's clearly among the top things to do in Verona as the excited chatter can be heard well before you even reach even reach the door of the supposed Capulet's house.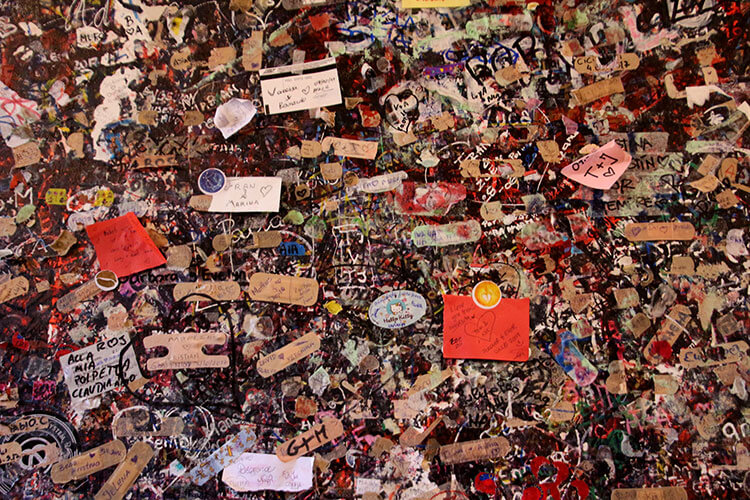 The walls of the arched tunnel in to the Capulet's courtyard is wallpapered with the notes of lovers from around the world. If you want to stick your own up on the wall, come prepared with it. Even on a quiet day in Verona, Juliet's house can become a madhouse. Some bus tours make a quick stop to see Juliet's balcony alone.
In the courtyard there's a bronze statue of Juliet Capulet, and you'll see her right breast gleams a shiny gold. Much like visitors have rubbed the foot of the bronze statue of Saint Peter in Rome's Saint Peter's Basilica, visitors rub Juliet's right breast for a bit of luck with love. Ironic, since Juliet herself was anything but lucky in love.
To actually go out on Juliet's balcony, you have to enter the house. Juliet's house, which formerly belonged to the Capello family, was purchased by the city of Verona in 1905 and is a small museum that has just a few costumes from the time period of Romeo & Juliet. It costs just a few Euros to enter the house.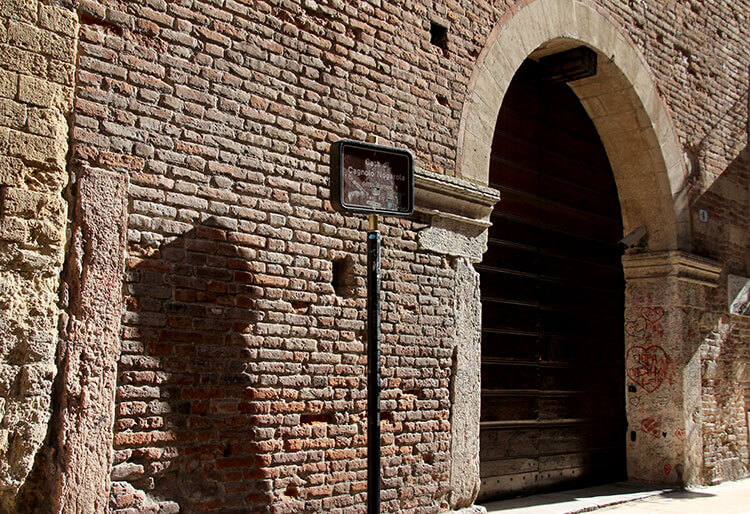 We also see Romeo's house, though there's far less fanfare that over at Juliet's. It's not open to the public, and nothing more than a sign marks the spot of the house.
Though the Capulets and the Montagues never actually existed, the Della Scala family was a very real and prominent family in Verona. In fact, the Scaligeri, as the family members were known, ruled Verona in the 13th and 14th centuries. It was also during the Scaligeri's reign that Romeo and Juliet supposedly lived, loved and died. And while you might now find much about the Della Scala family in museums, their legacy lives on through some of the beautiful castles erected under their rule throughout the Veneto, like Marostica and Soave.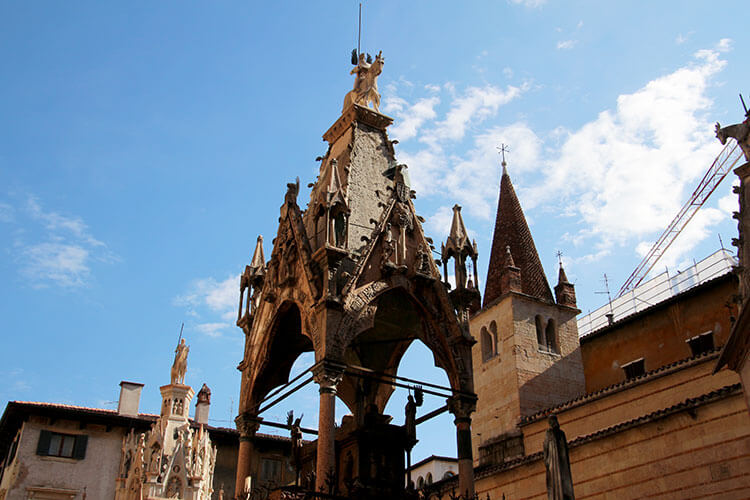 The ornate tombs of the most important family members are right in the centre of Verona, located in the courtyard of the church Santa Maria Antica. And you don't even have to enter the church or courtyard to appreciate them. Often overlooked by tourists rushing to the attractions in Verona like Juliet's balcony or the Arena di Verona, it's worth stopping to admire the Scaligeri tombs.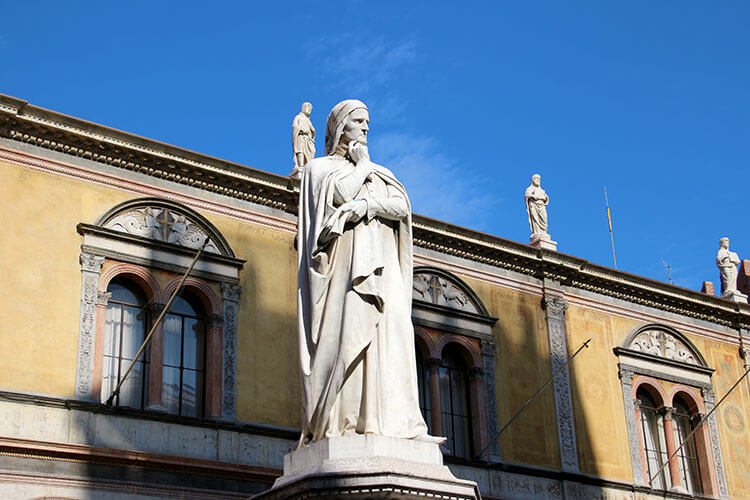 The tombs are located close to Piazza dei Signori. It was once upon a time Verona's main piazza, and was surrounded by the Della Scala family palaces. A statue of Dante Aligheri looking rather pensive stands prominently in the center of the piazza, as a homage to the fact that Dante lived here in Cangrande's residence from 1312 to 1318.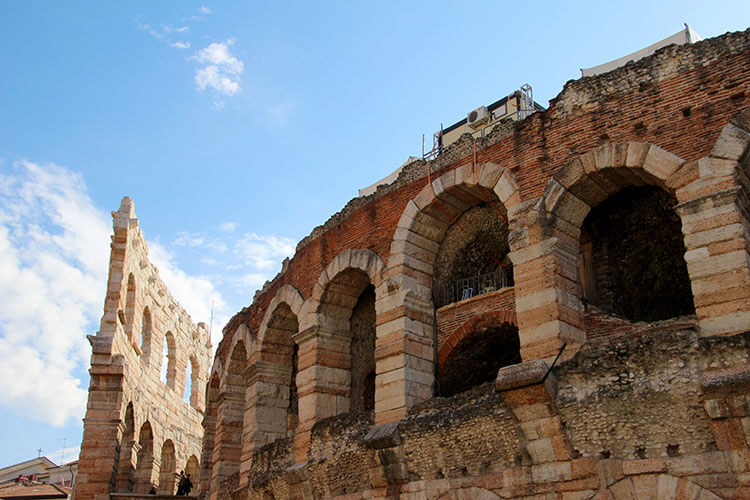 And no Verona day trip would be complete without a visit to the Arena of Verona. The Walks of Italy Verona sightseeing tour includes entry in to the Arena, which is simply one of the things to see in Verona that cannot be left out.
With Walks, you skip-the-line and visit inside of Arena di Verona while learning all about the history and secrets of this monumental structure.
The Arena di Verona is actually older than the Colosseum in Rome. Built in 30 AD (the Colosseum would follow with construction between 70 AD – 80 AD), it held 30,000 spectators and is the third largest amphitheater in the world. It's actually still in use today, primarily for the summer long Verona Opera Festival every year.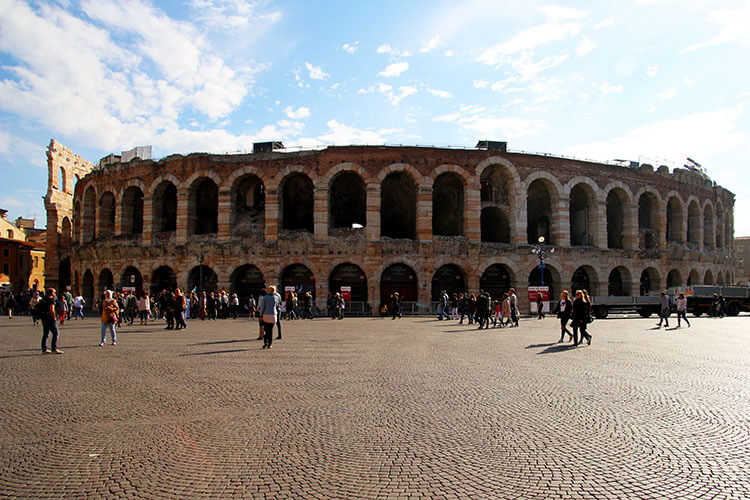 Much like the facade of Rome's Colosseum, the Arena di Verona's facade also was once covered in marble. Pink and white marble from Valpolicella composed the outer ring, which was almost completely destroyed in the same earthquake of 1117 that nearly reduced the Verona Cathedral to rubble. It was quarried and reused to build other buildings. Though it suffered damage, it's best preserved ancient amphitheater left today. And far less crowded than the Colosseum in Rome.
Though this is a full day tour to Verona, lunch isn't included. And that's not a bad thing. There are many delicious places to discover in Verona, and we much prefer having a bit of time on our own to eat where we enjoy.
The other great thing about this Walks Verona day trip from Venice is that Walks provides you with a train ticket back to Venice. You can stay after the tour for as long as you like to explore some sights you might want a bit more time at, to do some shopping at some of Verona's many stores, or even stay to see an opera at the Arena di Verona if you're visiting from June through September.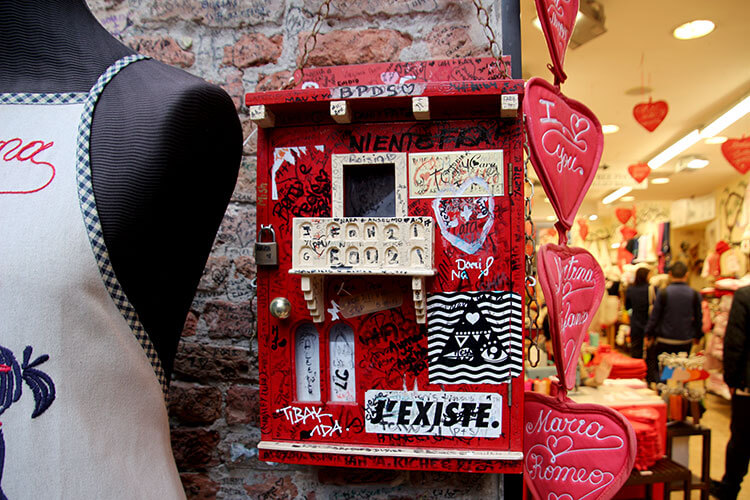 Romeo & Juliet in Verona
Once upon a time two teenagers fell hopelessly in love at a ball. Romeo famously professed that love to the girl he fell in love with at first sight one night as she appeared on the balcony of her family home.
It's a famous Shakespeare story, but much debated and unlikely that Romeo and Juliet actually ever existed. So how exactly did a small town in Italy's Veneto become the setting of one of the most tragic love stories of all time?
Verona was immortalized in Shakespeare's famous story featuring the lovers Romeo and Juliet. But as with many of this other works, he often drew inspiration from popular oral stories. He also seemed to have an affinity for Italy, setting a third of his plays in Italian cities like Rome, Verona, Venice and Padua. He even wrote another play set in Verona, The Two Gentlemen of Verona, before he wrote Romeo and Juliet.
Romeo and Juliet was inspired by the poem, The Tragicall Historye of Romeus and Juliet, written by Arthur Brooke in 1562. Brooke wasn't even the first to tell the tale, as his poem was inspired by even earlier Italian published works telling the story of Romeo and Giuletta and the feud between the Montecchi and Capelletti families. These very names were even mention by Dante in The Divine Comedy (Purgatorio, Canto VI, v. 106) published back as far as the 1300s when he lived in Verona, though Dante never mentioned anything about these two being lovers.
Juliet's house, located at 23 Via Cappello, was a real house inhabited by the Cappello family and does date back to the 13th century. Cappello is a sister name to the fictional Capelletti in Romeo and Juliet. You might be disappointed to learn that the famous balcony of Juliet's house wasn't added until the 20th century, though.
Even so, Verona has become the hometown of Romeo and Juliet. People have flocked from all over the world to the City of Love, making Verona the fourth most visited city in Italy, just to walk the streets where these medieval lovers supposedly lived and loved.
Juliet's house also became the subject of the movie Letters to Juliet, since it has received more than 5000 letters every year since 1930. Every single letter received is personally responded to by a group of volunteers known as the Juliet Club. You can even leave your letter in the special red mailbox in the courtyard of Juliet's house.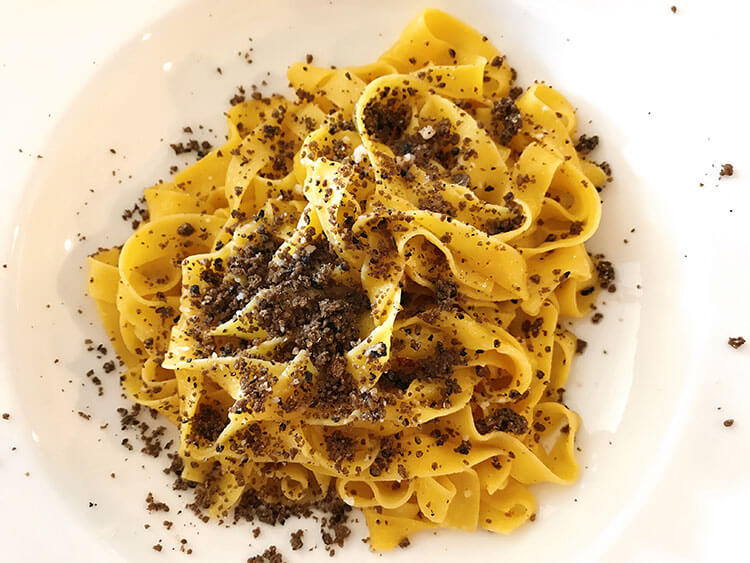 Where to Eat in Verona
Verona has no shortage of restaurants seeming spilling out of every side of every piazza. But just like in other popular Italian cities, you need to know what to watch out for in order to find a the best restaurants in Verona.
First, knowing what the regional cuisine is like helps you decipher a tourist menu from a good, traditional restaurant serving local and seasonal ingredients. When in Verona, some typical dishes that are excellent to try are:
risotto alla radicchio: rice is widely grown in the Veneto, and radicchio is a typical red cabbage grown in the Veneto
bigoli: every region of Italy has a type of pasta that they're known for, and bigoli (think a really thick spaghetti noodle) is typical in the Veneto
gnocchi: the potato dumplings are also traditional in the Veneto
pasta e fasoi: a traditional Veronese dish, this is not the pasta e fagioli a la Olive Garden – but it is delicious and particularly the thing to try if you're traveling to Verona in winter
taglioni black truffles from Lessina
wild boar ragu (cinghale): a typical ragu that is delicious and well worth trying
beef cheek braised in Amarone wine – a very typical main course braised in the famous wine of the Valpolicella
horse meat: if you're feeling a bit adventurous, horse meat is very typical on menus in Verona (Tim has had it, but I won't personally try it because I had horses while growing up)
cod or lake fish
polenta: a porridge of boiled cornmeal served various ways and practically with every main course
Now that you know what to eat, a few recommendations for restaurants in Verona: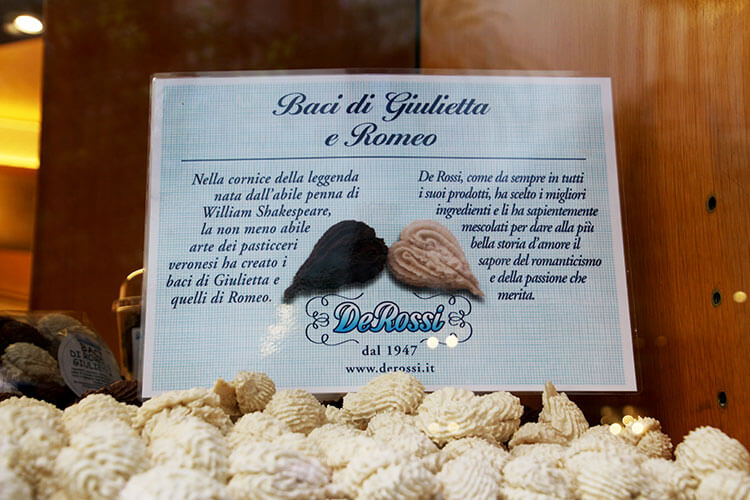 For dessert, especially if you are a Romeo and Juliet fan, try to the Baci di Giulietta e Romeo (Juliet's kiss and Romeo's kiss). While this isn't a traditional Veronese dessert and instead was born out of Verona's modern day dedication as the hometown of these lovers, these little hazelnut and almond cakes are a delicious addition to Veronese fare.
The essential ingredients are almonds and hazelnuts, then depending on whether it is the "kiss" of Romeo or Juliet, they are also flavored with either cocoa or coconut. A ganache filling of either chocolate or vanilla sticks to the two cakes together.
Know Before You Go
It's easy to get from Venice to Verona by train and takes just 1 hour. No advance booking is needed, but you can check train times and book a ticket on
TrenItalia
.
Shop This Post
This article contains affiliate links. When you shop on Amazon or book on Walks through our affiliate sites, we earn a small commission at no additional cost to you.