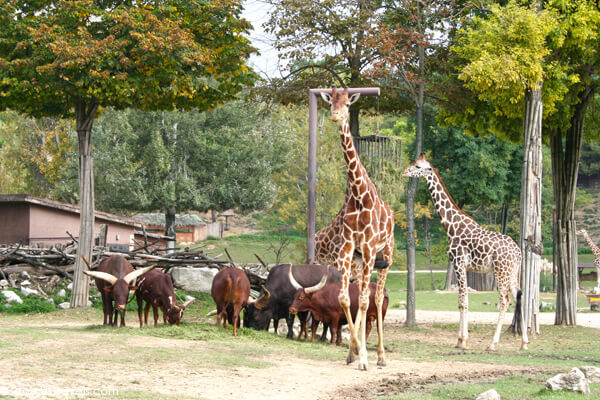 I absolutely love all animals. When I was a kid, my dad worked with the Pennsylvania Game Commission and we fostered a variety of animals from fawns to rabbits and even a raccoon that became my childhood best friend. And when we weren't fostering animals that needed care before being released back into the wild, my mom and dad were taking me to the Erie Zoo where I learned about animals from faraway lands and saw my very first polar bear. I even vividly remember our visit to the African Lion Safari near Toronto, a self-drive through game reserve where giraffes and zebras stuck their heads right in our car windows with us. So I was very excited to learn about the Verona wild animal park, a similar self-drive game reserve right here in the Veneto region.

Parco Natura Viva actually has two parts, the self-drive safari and a traditional zoo. Our drive through the savannah began with herds of African cattle like Cobo Defassa, ox, elands, and giraffes walking around and right in front of our little Honda Civic. I love watching the giraffes in particular, their long necks craning to pluck leaves off the highest branches.
Driving into the lion area was like that scene in Jurassic Park when the jeep pulls up to the really tall gates and Jeff Goldblum says "What do they have in there? King Kong?"  We pulled up, waited for the tall metal doors to swing open, pulled in to a holding area with another set of doors in front of us, and again waited for the doors behind us to swing closed.
A pride of lions lounged atop some rocks in the sun, just staring at us as we sat an watched. Luckily, we visited the park on a fairly quiet day and could sit and watch the animals for a bit. A cheetah was just as curious about us as we were about the lions and came to check us out.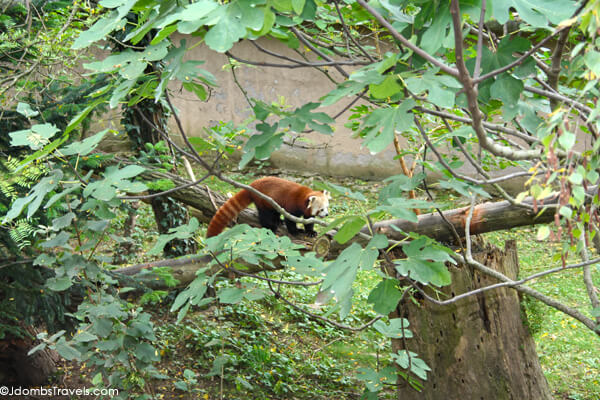 In the wildlife park, we enjoyed watching the red pandas run and play, the tiger decide if he wanted to retrieve his ball from the water, and the speckled bears climb the trees.
Hours & Tickets
Getting There
Tips
Parco Natura Viva is open daily March – December from 9am – 5:30pm with the safari park open from 10am – 3:30pm.
A daily ticket for both the safari and wildlife park is €20 per adult and €15 per child.
Parco Natura Viva is situated between Bussolengo and Pastrengo. Set GPS coordinates to 45.477764, 10.792532
There are several restaurants located in the wildlife park or pack a picnic lunch.