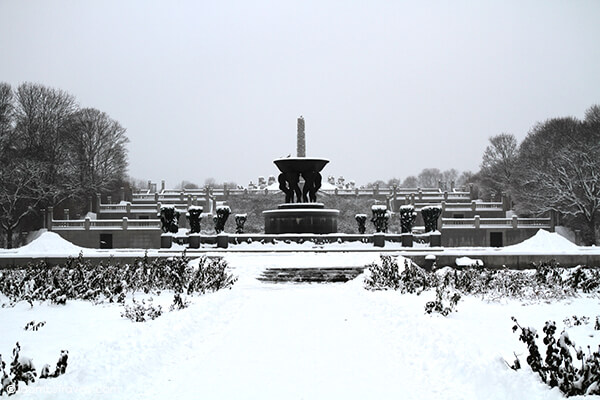 We visited Oslo for a quick two days last March on our trip to the High Arctic with Visit Norway, but unfortunately missed out on one of Oslo's must see attractions: Vigeland Park. So when we found ourselves back in Oslo for just 24 hours en-route to Iceland, we knew we just had to make a visit. And what a visit! Under a blanket of fresh snow and with more snow coming down, we had a spectacular morning enjoying the sculptures, throwing a few snowballs at each other, and making snow angels.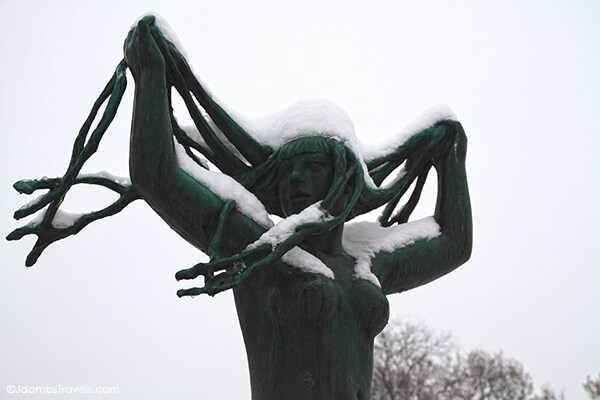 Designed by Gustav Vigeland, the park features 212 bronze and granite sculptures. A central bridge lined with 58 statues links the entrance of the park with the famous fountain, originally intended to stand in front of the Parliament of Norway.
We picked our way up the snow covered steps, not actually being able to see the steps at all, to the Fountain. The Fountain (Fontenen), fabricated from bronze, is adorned with 60 individual bronze reliefs and suggests that from death comes new life. It portrays children and skeletons in the arms of giant trees and leads to the Monolith Plateau.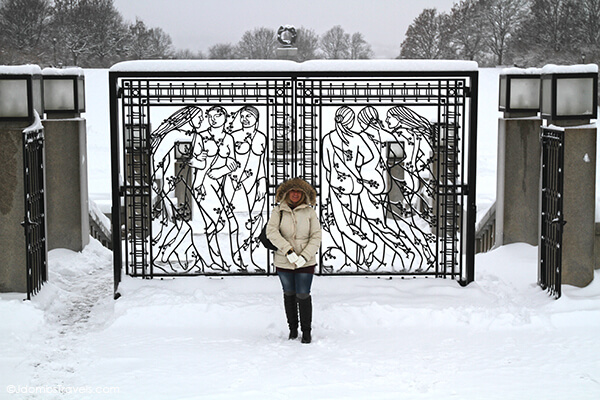 Gustav Vigeland was least known for his wrought iron works, but intricate wrought iron gates guard entrance to the Monolith Plateau.
Carved from a single piece of stone, the Monolith totem soars toward the sky, marking the highest point in the park. The groups of figures surrounding the totem, 36 in all, represent the circle of life. We particularly liked a group that appears to be engaged in conversation while looking on toward a beautiful snow-capped house in the distance.
Beyond the Monolith, the snow was even deeper and we could only reach the sundial, looking on from there to the Wheel of Life at the top of the hill.
While we couldn't see all the details of the sculptures clearly under the snow, Vigeland Park was a fantastic way to spend our morning in Oslo!
Know Before You Go
Vigeland Park is open 24 hours and entrance is free.
Take bus 20 and tram 12 to the Vigeland Park. All westbound lines (T-bane) to Majorstuen station.
Use of public transportation is free with the Oslo Pass. Oslo Pass is available for 24, 48 or 72 hours. The 24 hour Oslo Pass is 270 NOK, the 48 hour pass is 395 NOK, and the 72 hour pass is 495 NOK and includes a mini cruise.