Bordeaux's La Cité du Vin may have been all the rage since it opened in 2016, but wine lover's take note. There's an even larger museum of wine and wine culture, and it's located in Spain's most famous wine region: La Rioja. While Spain sometimes flies under the radar compared to neighboring France, the Vivanco Museum of the Culture of Wine is reason enough alone to put a wine themed trip to Spain on your bucket list.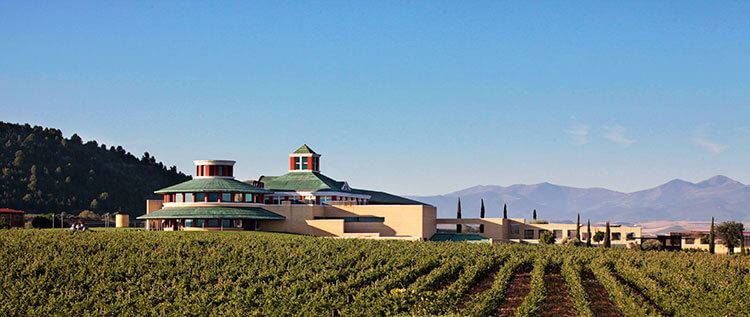 Vivanco: a Winery, a Museum and an Experience
Set in Northern Spain in arguably the country's most celebrated wine region, Vivanco is majestic with its window to the Cantabria Mountains. The vines of La Rioja span out from the winery/wine museum in every direction. Even if you're not a wine lover, you'll certainly appreciate the setting.
Vivanco is more than just another wine museum. First and foremost, Vivanco is one of Rioja's leading wineries. It's a family winery currently managed by winemaker Raphael Vivanco Sáenz, with over 100 years of history spanning four generations.
But it was Raphael, who really fell in love with wine and wine making during his years studying in Bordeaux, that took Vivanco beyond just a winery. His passion for wine lead to creating an entire cultural experience centered around all things wine, and the inauguration of the Vivanco Museum of Wine and Culture in 2004.
Today, Vivanco is a destination itself: a leading winery in Rioja, one of the world's top wine museums, a fine dining restaurant, and an experience center for wine tastings and wine courses.
Vivanco es mucho más que Experiencias from Vivanco on Vimeo.
Vivanco Museum of the Culture of Wine
Wine has a history stretching back some 8000 years. The Egyptians made wine the drink of royalty, the Greeks made it the trademark of the Mediterranean civilization, and the Romans elevated wine making to a level of sophistication comparable to today.
The 4000 square meter Vivanco Museum of the Culture of Wine (Museo de la Cultura del Vino) is dedicated to the history and evolution of wine. A permanent collection spanning five rooms houses an impressive collection curated by the Vivanco family of over 2000 wine-themed objects from the chalices of Ancient Egypt and Ancient Rome to wine jugs designed by Picasso.
You'll also find a collection of some 3000 different types of corkscrews alone in every size and shape. Surely, Vivanco has the world's best collection.
The interactive displays transport you to the four seasons in the vineyard, for a look at every stage from the very first bud burst to trimming the vines back after harvest. One film even shows the actual fermentation in the tank, bringing to life what you only ever imagined before.
The museum goes beyond wine making and the tools. It connects all the facets of wine. You'll see how a cooper makes barrels, how glass blowers make wine bottles and understand how man and wine are intrinsically linked through the objects and interactive displays.
The Garden of Bacchus, named for the god of wine, is home to some 220 varietals of grape vines from all over the world. A garden truly fit for Bacchus, or any oenophile.
Vivanco Winery and Wine Tourism
Of course, the real gem of Vivanco is their family winery. The Rioja terroir is legendary and Vivanco's 300 hectares of vines are planted across the appellation. Their various grape varietals thrive in just the right conditions at Vivanco's various wineries, with the diversity of terroir across Rioja lending unique characteristics to each grape variety.
Since 2001, Raphael has melded together the traditional and a century of family knowledge with modern wine making technology. The entire winery itself was built underground, which is actually quite practical for achieving the desired temperature and humidity throughout the entire wine making process from harvest time. Aesthetically, the underground winery preserves the landscape, as well as gives Vivanco more parcels for planting vines.
While the grapes themselves are handpicked in traditional methods, one of the most modern and unique techniques Vivanco uses in their wine making is a cold room where the grapes are cooled for 24 hours after harvest to reach 3°C. Vivanco calls this cold maceration, and they've found that the cools helps the grapes to retain their colors and aromas better.
They also utilize gravity-fed vats, which helps to keep the grapes more fully intact as they enter the tanks. Without the need for pumping, the skins are less damaged and the wine created really has the grapes' full potential.
Like many of the top Bordeaux châteaux, Vivanco uses small wooden vats for fermentation. Wood helps the exchange of oxygen through its pores, acts as a thermal insulator and helps to ultimately slow down the fermentation process so the fruit is fully felt in the wines.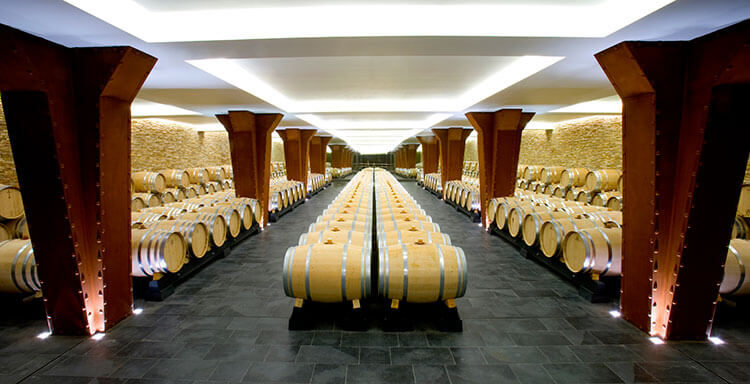 Some of Vivanco's wines like the Reservas and limited productions also age in French oak barrels.
The guided visit of the impressive modern winery ends with a tasting of a selection of Vivanco's wines in their shop.
There are also various Vivanco experience packages you can book that all include guided visits of the winery and museum, then either include a wine pairing lunch or wine pairing tapas. They also offer a variety of courses to help you increase your wine knowledge.
There's even something for the little ones that aren't quite old enough to be wine aficionados just yet. If you're visiting with your family, head to Vivanco on Saturdays when special children's activities and workshops take place from 11am – 1pm.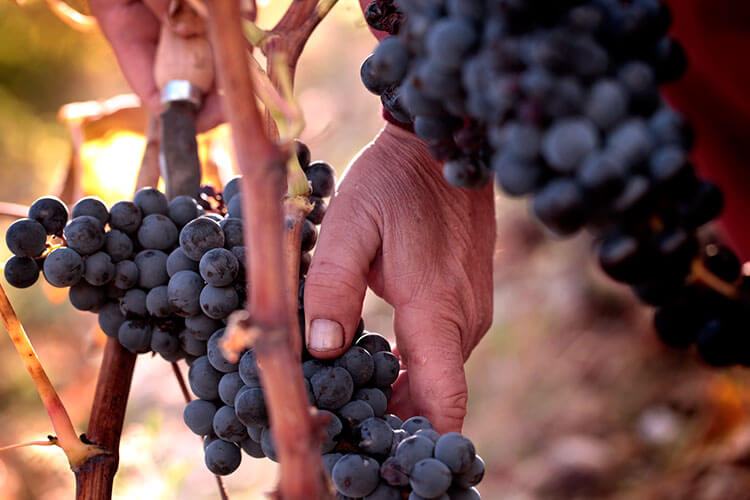 And if you've ever wondered what it's like to harvest grapes, Vivanco also has an experience where visitors can help take part in harvest. You'll learn to hand pick and cut the grapes from their vines while collecting them in small bushels.
Vivanco Restaurant
There's nothing better than sharing a delicious meal…except when that delicious meal has the perfect wines paired with it. Wine has a long history of being a staple of the dinner table, after all. And no visit to Vivanco would be complete without a delectable finish in the glass-paneled restaurant with panoramic views of the vineyards.
Vivanco offers an a la carte menu as well as seasonal pairing menus and even a gastrobar where you can enjoy tapas for something a little lighter. Their menu highlights the best local and seasonal products of the Rioja. The menu has a focus on not only on pairing dishes with their wines, but also highlights wine as an ingredient in the cooking.
No matter if you choose one of the multi-course menus or simply enjoy some tapas with wine in the gastrobar, you won't be disappointed at Vivanco.
Know Before You Go
Getting There
Visits and Tasting
Vivanco is located 35 km from Logrono, the capital of La Rioja. The closest airport is Bilbao Airport and trains connect Logrono with cities like Barcelona and Madrid. Vivanco is best reached by car from Logrono.
Reserve your
Vivanco experience
in advance. You can choose from various experience packages from an unguided museum visit to a guided winery and museum tour with a gourmet wine pairing meal.