The blessing of a vineyard is a centuries old tradition and the oldest winery Arizona winery doesn't leave their grape growing to chance. Dr. Gordon Dutt was a soil scientist at the University of Arizona and established an experimental vineyard on the Babacomari Ranch back in 1973. The success of that vineyard and the quality of the wines the grapes produced led Dr. Dutt to plant a commercial vineyard in 1979. As perfect as the soil was for growing grapes, he had the first blessing of Sonoita Vineyards just in case.
Sonoita Vineyards officially opened in 1983 with their first vintage production and 35 years later the tradition of the blessing of Sonoita Vineyards carries on each spring. These days the blessing is a full fledged festival in which the public is invited to a day of wine tasting, food and wine pairing, and horse carriage rides around the relatively undiscovered area of Arizona. I was thrilled to take part in this unique event!
Admission included a souvenir wine glass, four wine and food pairings, and six tickets to taste any of the winery's wines in three tasting areas set up around the estate. I started my tasting with the 2010 Sonora Rossa, a dry rosé composed of 50% Colombard, 46% Syrah, and 4% Malbec. Not typically a fan of rosé, I like the crisp acidity and fruit characters enhanced by pizza with artichoke tart spread.
I found the Angel Wings, a semi-sweet blush from Mission grapes to be just too sweet for my liking and paired with a key lime tart with bittersweet chocolate sauce. And while I do enjoy the spectacular colors of Arizona sunsets, Arizona Sunset, the wine, was another just too sweet for me.
I absolutely loved the 2008 Sangiovese, a dry medium bodies red with rich flavors of cherry, blackberry, and dark chocolate. It had a nice velvety finish and paired deliciously with a spicy apple and garlic jam quesadilla.
As much as I wanted to find a white I liked, especially on such a hot Arizona day, it was the reds that stole my heart. My absolute favorite was the 2008 Arizona Syrahaz, a dry full bodied wine with a toasty oak finish. I liked this wine so much I used 5 of my 6 tickets for a full glass.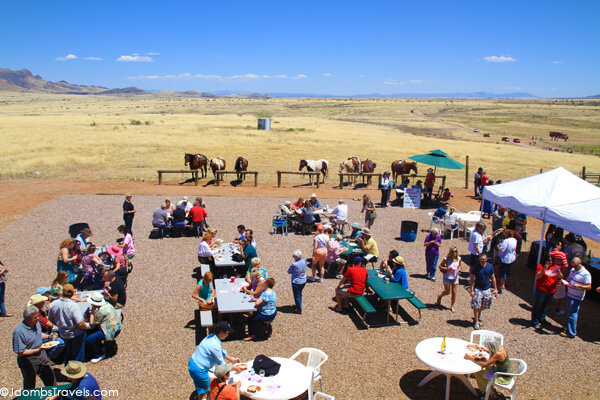 What a fun day of country music, cowboy boots, barbecue, and wine all set in front of the rolling grasslands and scenic mountain ranges of Southern Arizona!
Know Before You Go
The Blessing of the Sonoita Vineyard Festival takes place annually in April. Check their website for festival dates.
Admission to the festival is $15 and includes a souvenir glass, wine and food pairings, and tastings. Catered barbecue lunch by Steak Out and Prairie Chicks is an additional fee.
Or stop by Steak Out, just a few minutes from Sonoita Vineyards, to enjoy their full menu.