Let us introduce you to Hungarian wines and Gábor Nagy, owner and wine sommelier of Faust Wine Cellar in Budapest. We met Gábor in 2010 when we first visited Faust Wine Cellar and were so pleased he invited us (and Emma) to stop by for a tasting when we were in Budapest just before Christmas.
Faust Wine Cellar is part of the vast labyrinth system winding beneath Buda Castle. The inhabitants of the castle carved the labyrinth out of the chalk stone to provide an escape route during a siege in the middle ages. Faust Wine Cellar offers a wide selection of Hungarian wines from the country's best wine growing regions as well as traditional fruit brandies called pálinka.

Hungarian wines are tough to find, hard to pronounce, and delicious to drink! The history of Hungarian wine actually dates back to Roman times, yet outside of Hungary, only the dessert wine Tokaji is widely known. Gábor and his wife Barbara travel all over Hungary's 22 wine regions (and throughout Europe) to find only the very best wines to supply their cellar with.
We love tasting at Faust Wine Cellar because of Gábor's knowledge. As he pours each new bottle in our glasses, he sets it on the table and points out on the wine regions of Hungary map exactly where it came from. On our latest visit, we had a 6 wine tasting, 3 whites and 3 reds, with some special Christmas varieties. The tasting has the option to "call back" (have another glass) of your favorite wine at the end. Or if you're lucky, Gábor has something special he'll pull out for you to taste!
We first cleanse our palette with a glass of pálinka and then began with the whites. First up,  Móri Sauvignon Blanc 2009 (Bozoky Winery) from the Mór region is a dry white with fruity character. It's great well chilled as an apertif or also goes well with salads, vegetables dishes, and fish. Next, Gábor notes that the "John's Bless " Tokaji Furmint (Bene Winery) is a personal favorite. Made from a grape of the same name in the Tokaji region, is an early budding, late ripening variety and is particularly susceptible to noble rot. It's characteristics are slightly dry and clear with scents of apricot and a hint of honey. We brought home 2 bottles of "John's Bless " Tokaji Furmint (Bene Winery).
On to the reds, the Egrikék 'Blue from Eger' 2007 (Winery of Ferenc Tóth) is a medium-bodied red with scents of cherry and raspberry. Szekszárdi "Prison Guard" 2009 (Németh János Cellar), a Cabernet Sauvignon-Merlot blend, followed. We finished off with Szekszardi "John's Bless" 2006 (Hetényi Winery) which is a sweet, fortified red and bought one bottle. We really liked the Szekszárdi "Prison Guard" 2009 (Németh János Cellar) and wanted to purchase a bottle to bring home, but a limited number were produced and none were available for purchase.
Faust Wine Cellar is such a romantic and relaxed setting and you will leave with a rich understanding of Hungarian wine with Gábor's kind guidance.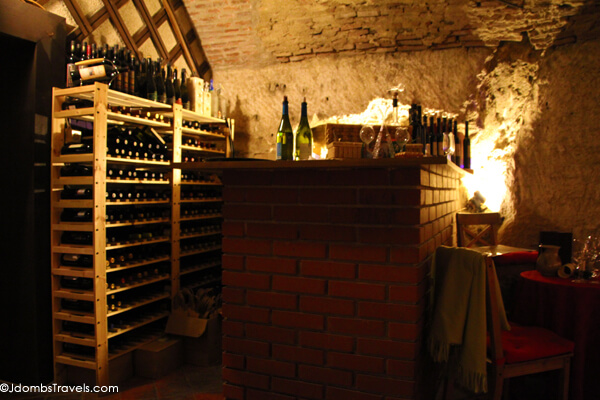 Know Before You Go
Faust Wine Cellar is located at 1014 Budapest, Hess András tér 1-3. It is beneath the Hilton Hotel Budapest; enter through the lobby and follow the signs down several staircases.
Faust Wine Cellar is open Monday – Sunday: 2-9 pm; closed on Tuesdays and Wednesdays.
A 6 wine tasting is €17 per person. The tasting comes with seltzer water and 3 pieces of Pogácsa, a savory scone with cheese on top.