Traditionally Finns are not wine drinkers; they prefer beer with a family meal or they drink Vodka (supposedly about 1 liter per person per week!). Perhaps the un-enthusiasm for wine has to do with political reasons. In Finland the company Alko Oy has a monopoly over beer, wine, and spirits. Beer and spirits can be sold in supermarkets, but wine can only be sold to the public at an Alko shop. Another reason Finns likely prefer beer and spirits to wine is that Finland's climate is not suitable for growing grapes. So wine must be imported from other wine producing countries like Italy, Chile, or France. That is until a select few berry farmers started producing Finnish wine from the varieties of Arctic berries.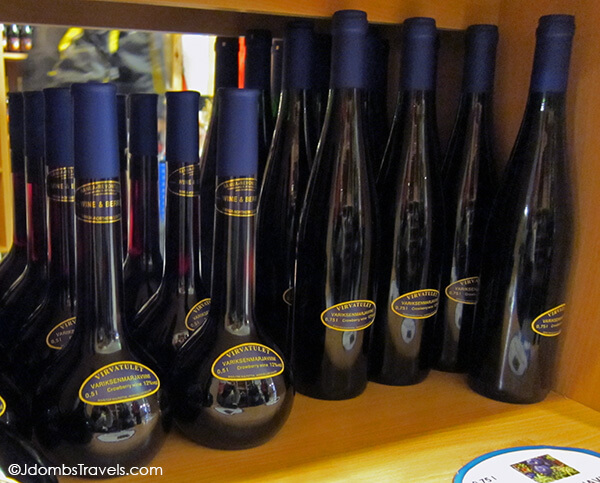 Finnish wine comes in red, white, and sparkling and is produced from Arctic berries like lingonberries, blueberries, and cloudberries. The Finnish law Everyman's Right makes it easy for Finnish wine producers to gather the amounts of berries needed since the law gives everyone the right to collect natural products like berries and mushrooms, no matter who the land belongs to.
In the small village of Ranua in Finnish Lapland a Finnish wine producer has set up a small shop where he sells his berry wines, called Virvatulet. I actually discovered him on my first trip to Finnish Lapland in 2011 and was more than excited to pay him another visit. Most of the berry wines are sweet, especially the cloudberry wine, which is a perfect dessert wine (think a raspberry or blackberry that is bright orange in color and only grows in swampy areas of the Arctic).
My personal favorites are the red lingonberry wine, blueberry wine, and rhubarb wine. The lingonberry wine is a dry red with around 12% alcohol. Lingonberries are plentiful in the forests and are a staple in Scandinavian food. So, it's no surprise that the lingonberry wine pairs nicely with game meat like a reindeer filet, elk steak, or bear meat.
Rhubarb wine is a white wine – so white that we almost couldn't tell the difference between the rhubarb wine and our goblets of water. Slightly sweet, it has a higher sugar content than the lingonberry wine with 35 grams of sugar per liter. Rhubarb wine pairs nicely with a cream based soup like reindeer and morel mushroom soup or with fish such as salmon or white fish.
Unfortunately, Finnish wine is somewhat hard to find. Some Lappish restaurants like Restuarant Nili in Rovaniemi and Sokeri-Jussin Kievari in Oulu serve Finnish wine. Virvatulet Finnish wine can also be purchased directly from the wine maker in Ranua, easily reached in about 1 hour from Rovaniemi or Kemi.
Know Before You Go
Virvatulet has a shop just outside the Ranua Wildlife Park and is open daily from 11am – 4pm and 10am – 6pm from June 15th – August 15th
Virvatulet Finnish wine is around €12 – €14 per bottle