Grape phylloxera, a type of parasite, destroyed most of the grapes in Europe in the late 19th century. The phylloxera plague came about when English botanists introduced American vines, which were partially resistant, in the 1850s. Vineyards in Britain were quickly devastated and the epidemic moved to mainland Europe wiping out most of the European grape growing industry. Santorini's grapes went unscathed by the plague because, as it turns out, the volcanic soil is a totally inhospitable environment for the parasite to survive in. Wine has been produced on Santorini since ancient times and since the island's grapes escaped the phylloxera plague, that makes it one of the world's oldest wine regions!
Santorini's wine industry was once a thriving business, with Santorini wines widely exported throughout the Mediterranean and Europe. The wine was so prized that uninterrupted trade of the wine continued when the Ottoman Turks captured the region in 1579 even though their Muslim faith strictly forbids alcohol. Sadly, due to more profitable tourism moving in as the jet set began to flock to the sun-kissed Greek island, many winemakers gave up the trade and today just 9 wineries  (there were once more than 40!) remain on Santorini.
So when we were invited to learn more this unique wine region on a Wine and Food Lovers Tour, we couldn't wait to delight our taste buds with sweet Vinsanto and delicious Greek food! Our first day on Santorini couldn't have been better. We were whisked off first to Boutari Winery, which actually has six wineries throughout Greece and one in France. Boutari is a modern winery opened in 1989 with a lovely vineyard overlooking the sea and was the perfect spot to get our first lesson in Greek wine making techniques.
On Santorini, the most common type of grape is called Assyrtiko and the grapes are grown in a special way. The reason that they look like bushes on the ground instead of the typical vines standing in rows like we normally see is that the vines are "molded" into baskets. It doesn't rain from April to November on Santorini, so the basket is key to capturing the morning's moisture and the grapes grow inside the basket thriving off the little water they get from their deep roots and the micro-climate created inside the basket.
After a short tour to Boutari's barrel room, it was time for my favorite part of any wine tour – tasting! As with any tasting, we began with the whites. Our favorite of the whites was the 2007 Kallisti Reserve, made from 100% Assyrtiko grapes and oak barrel aged for 7 months to give it an elegant and fruity taste. It was wonderful with the famous Santorini tomato paste we spread on toasts and nibbled along with cheeses and salami.
The highlight of the tasting was our very first taste of Santorini's famous Vinsanto. It's a naturally sweet wine from sun-drying the grapes for 7 – 15 days, a slow vinification process, and a minimum of 24 months of aging in oak barrels. Due to its amber color, you might be surprised that it is made from white Assyrtiko grapes! The color comes from the sun-drying and aging process. And the longer it is aged, the darker the color. It's served in a small glass, often a shot glass, because it is rich and only drank in small amounts.
Having seen a more modern winery, we moved on to Santorini's oldest winery, Gavalas Winery. We had fun visiting the old stomping room and seeing the great lengths that were taken to make wine in the old days. The barrel room is historic and some Vinsanto has been aging in the Russian oak barrels for 45 years!
We tasted comparable wines to that which we tasted at Boutari, beginning with a 2011 Santorini, the most typical type of wine you'll find on the island. I personally didn't like the very tart taste of the 2010 Nikteri, but I liked how it got its name. In the old days, the wine was fermented at night because the temperature was cooler and so it was called Nikteri, meaning night wine. As primarily red drinkers, a pleasant surprise for us was the 2011 Xenoloo, a dry red. It's aged in French oak for 12 months and has a rich, nutty bouquet. We could totally see ourselves drinking it with the goat and rabbit we had had on Folegandros.
We didn't get to try the 45 year old Vinsanto, but we did try a younger Vinsanto. It's still made in the traditional way by foot pressing the grapes and then aged in the old Russian oak barrels in the barrel room. This Vinsanto had a distinct smell of figs and was just the right amount of sweet.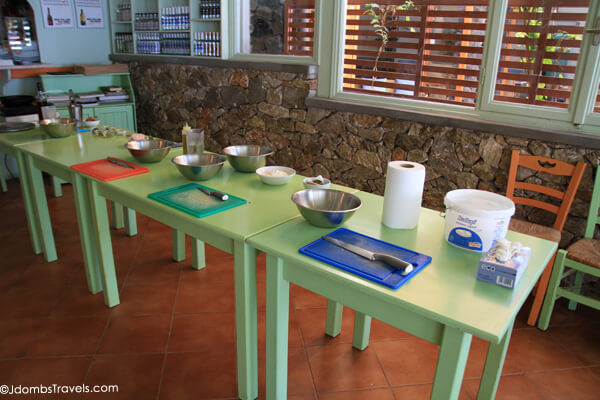 Happily full of wine, we were off to cook our own lunch in a Greek cooking class on Kamari Beach. We diced Santorini tomatoes and mint for tomato fritters, made a simple yet delicious Greek salad of tomato, red onion, bread, and feta, and braised pork in Vinsanto wine all under the direction of a Greek chef (and while drinking more wine!).
Our wonderful Santorini wine and food tour ended with our new group of international friends sharing the fruits of our labor family style on the beach. None of us could think of a better way to spend a day on Santorini!
Know Before You Go
Your own Santorini wine and food tour can be booked with The Winerist and costs €120 per person. All tastings and food are included.
Round trip transportation to/from your hotel in a comfortable air-conditioned mini bus is included and the tour lasts approximately 6 hours. This tour is suitable for cruise ship passengers as well.
Our Santorini wine and food tour was made possible by The Winerist, a website for wine travel made simple. As always, all opinions are entirely our own.