There are exactly two places in all of Arizona where you can stand on a glass platform and peer hundreds of meters deep into a nearly black abyss with water flowing at the bottom. The first is at the Skywalk at the Grand Canyon and it will cost you $75 to do it with hundreds of other tourists also vying for a spot. The second, Audrey Headframe Park, is on the outskirts of Jerome, is free, and I was one of two visitors.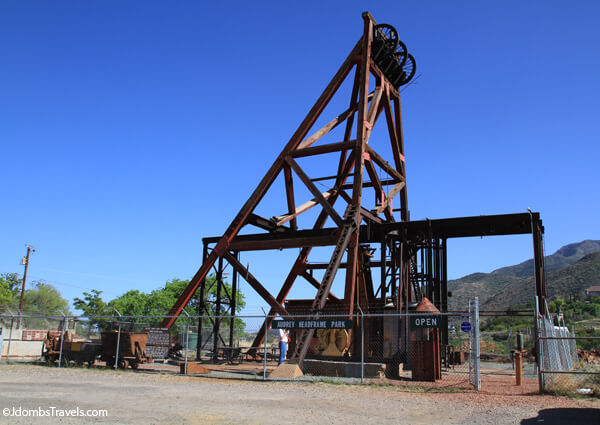 A headframe is the structure built atop a mine shaft that supports all the equipment like pulleys and cables to raise and lower ore cars. The Audrey Headframe was built in 1918 in the height of mining in the Billion Dollar Copper Camp over the Little Daisy Mine, which plunges 1900 feet into the Earth. Named after the mine's superintendent's adopted daughter, the Audrey Headframe is Arizona's oldest and largest still-standing wooden headframe. Its' wooden beams support a three-pulley system that was used to hoist cargo cages.
I stood on the glass platform and peered down into the Little Daisy Mine shaft. Specially designed mirrors and lighting help to illuminate the shaft, the water seepage from the mountain springs glistening under the sunlight far below. Unfortunately, with the sun nearly directly overhead, the light made taking a picture down into the shaft impossible.
The Little Daisy Mine was spectacularly profitable. During 1916 alone, it produced $10 million worth of copper, silver and gold; $7.4 million of which was profit. The mine eventually produced more than $125 million worth of ore and paid more than $50 million in dividends.
Interesting mining artifacts surround Audrey Headframe Park. The cable winch car was used underground; if something needed to pulled anywhere in the tunnel system connecting the Little Daisy Mine and Edith Mine, this little car would be moved to the spot and its wheels were locked in place. The cable was then attached to the object that needed moving and the winching process would pull the object to the spot.
The little building behind the Audrey Shaft is the Childs-Irving Hydroelectric Power Plant. It was opened in 1909 when the project founders realized they could use the millions of gallons of water passing below to produce hydroelectric power. Three turbine driven generators produced a total plant capacity of 4500kW. The plant supplied Jerome and was so efficient, it was used up until 2004. It was only finally taken offline for environmental considerations. It remains for visitors to peek inside at the generators and as a National Engineering Landmark, one of only two in the entire state of Arizona.
Know Before You Go
Audrey Headframe Park is open daily from 8am – 5pm.
The park has a picnic table, which is shaded by the headframe and perfect for a scenic picnic lunch.
To reach Audrey Headframe Park, follow Douglas Road from Jerome toward the entrance of Jerome State Historic Park.