If you're like us, travel planning is half the fun. Searching for where to go literally opens up a world of possibilities. And I personally get a thrill out of finding the best way to get there, the perfect hotel and planning my itinerary with all the things I absolutely love doing to get to know new destinations – I'm looking at you winery and food tours!
Planning and booking your own trip isn't for everyone. There's a ton of research and preparation to do before any trip. Fortunately, the internet has come a long way from the days of my early 20s when only the most basic travel planning websites existed. With ever improving technology and a whole bevvy of game-changing travel planning websites, it's now easier than ever to plan to trip of your dreams.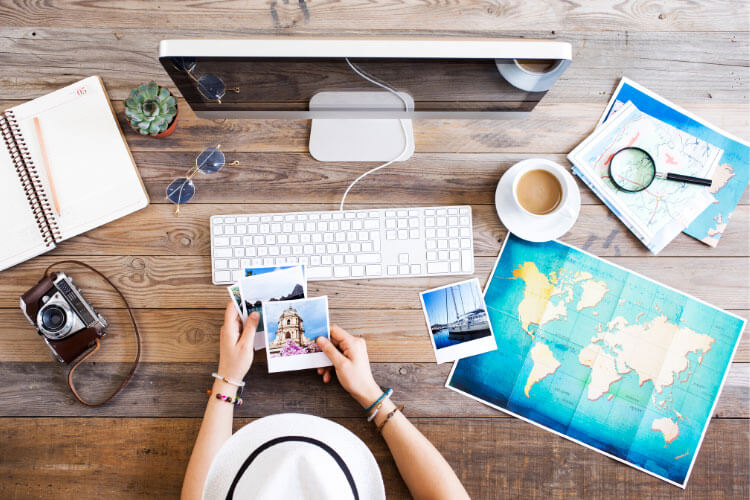 With very few trip exceptions, I've spent my last 20 years scouring the internet as I planned and booked trips around the world from road-tripping around Iceland to planning my own multi-park safari in Kenya. Always on the hunt for only the absolute top and most trustworthy travel planning resources available, here are six I use religiously.
1. Kayak
Kayak is one of the world's largest flight aggregator sites, allowing you to compare flights from hundreds of sites all in one spot. Kayak offers a lot of great tools to help you find the best route and best price for your flights. You can use Kayak to set price alerts for certain routes, use their Best Time to Travel tool to find out the best time of the year to travel to specific destinations to secure the most affordable price, or use the Explore tool to see all the prices on routes from your home airport.
While we personally don't recommend using a third-party site to actually book the flight because changes and cancellations are notoriously much more difficult – if not impossible – when dealing with third party over the airline direct, Kayak is well-worth using as a travel planning tool before you're ready to book.
2. Booking.com
Booking.com is one of the largest travel sites in the world and a respected leader in the travel industry. It's our own go to site when looking for and booking accommodation around the world.
This popular platform offers a range of options from hotels and resorts to vacation rentals and holiday apartments for any budget. We particularly like the various filters like star-rating, pet-friendly, parking, location and even preferences like a balcony or air conditioning to easily narrow down the accommodation options to our specific needs.
You can read traveler reviews of their stays right on site. And one of our favorite features is the ability to search for accommodations that allow you to cancel free of charge up to a stipulated date. In this day and age of travel uncertainty, the ability to cancel for free fairly last minute is almost a necessity.
3. Viator
With accommodation sorted, we next like to plan our activities. While you may want to leave some flexibility in your itinerary to be spontaneous, most tours, attractions and museums require advance booking. Viator, a TripAdvisor company, is the world's largest marketplace for a variety of tours, excursions, and other activities from day tours to even multi-day organized trips. Activities on Viator include everything from walking or winery tours to must-see sight entry tickets and off-the-beaten-path excursions. There is quite literally something for everyone no matter your interests.
Viator isn't a tour company itself, but rather a marketplace for local tour companies to list their activities in your destination. Think of it like a Yellow Pages of tours and excursions.
Just like Booking, you can use a variety of filters to narrow down your activity search. And as a TripAdvisor company, customer reviews of the individual tours and activities are pulled in right from TripAdvisor.
4. Safety Wing
Safety Wing is one of the few modern insurance companies that aim to make it easier for customers to buy insurance.
Insurance is an integral part of your to-do list whenever you are planning to travel. Many insurance providers have a travel duration requirement, but Safety Wing doesn't, which makes it a great option for those who love to travel spontaneously.
The most interesting thing about this provider is that they offer coverage for scooter and motorbike rides as well. Additionally, they have a very clear pricing structure, and children under 10 can be insured free of charge.
5. AirWander
Did you know that adding a stopover can save you money on your next flight?
If you haven't thought about adding layovers to your itinerary, you might be surprised to know that you could be missing out on significant savings. AirWander is the ultimate flight stopover search engine, both helping you to save money with flight stopovers and see more of the world in one trip.
The user-friendly interface is packed with features. Not only can this website save you money by predicting possible stops, but it can also suggest the most efficient routes for you.
6. TripIt
Once you start booking everything, you have to keep it all straight and in one place. TripIt is my go-to app for keeping hours of travel planning organized in a flash. Like magic, TripIt searches your email for booking confirmations and compiles it all in to one nice and neat itinerary.
With the TripIt Pro plan, which I cannot live without, you even get extra features like flight tracking. I have quite literally been alerted to delayed and cancelled flights thanks to TripIt hours before the airline even reached out. I also love that as soon as I switch my phone off airplane mode, connecting gate and baggage claim carousel information is popping up on my screen before I've even stepped foot off the plane.
Travel planning can be a tedious task that can quickly go from exciting to frustrating as you try to juggle different travel destinations, figure out the best time to travel, find the best deals, and decide what to do when you get there. These travel planning websites will make trip planning easier for you.