Picture it. In the heart of Kenya just eight luxe tents sit perched on an escarpment overlooking the vast Laikipia plains in the shadow of snow-capped Mount Kenya. Down below, wart hogs chase each other around the watering hole. Giraffes munch on the leaves of thorny acacia trees. Elephant trumpets echo up to our tent as we watch one of the greatest shows on our planet from our deck.
We're at Loisaba Lodo Springs, an ultra-private luxury safari experience recently opened in what is becoming one of East Africa's best safari regions. The posh safari camp is one of a total of only three boutique camps located in the entire 57,000 acre Loisaba Conservancy. Between both the safari experience and the number of year round resident animals, Loisaba easily gives Kenya's most popular safari park, the Masai Mara, a run for its money.
For a far less crowded experience, those in the know head to Kenya's Loisaba Conservancy. Even at the height of high season, there might be a total of a dozen safari vehicles out and about in the entire park. It's pretty unlikely you'll even encounter other visitors except back at the tented camps – which is why the conservancy is a favorite of celebrities and even royals Prince William and Kate Middleton are known to be regular visitors.
Loisaba Conservancy is easy to reach with daily flights from Nairobi to Loisaba airstrip is just around one hour. And with new tourism offerings inside the conservancy and an easy-to-obtain visa for Kenya, this East Africa safari destination has never been more accessible.
Loisaba Conservancy
Loisaba Conservancy sits within the Laikipia plateau, an area of more than 2 million acres of ranch land and private conservancies stretching from the Great Rift Valley to Mount Kenya in Northern Kenya. The Laikipia plateau is an ancient wildlife corridor, and while this area is filled with cattle ranchers, many have torn down their fences to once again freely let the wild animals roam and migrate.
These days the Laikipia plateau is teeming with wildlife. It's thanks to conservation efforts like those of the Loisaba Conservancy, which help educate the communities and give them the resources to peacefully coexist with the wildlife.
Both a wildlife conservancy and a working cattle ranch, Loisaba Conservancy got its start in the 1970s thanks to the vision of the Ancilotto family. The Ancilotto family leased the land to an investor and local Kenyans in 1997, and the Loisaba brand was born. Finally in 2014 and thanks to donations, The Nature Conservancy and Space for Giants helped to facilitate the transfer of the land ownership and Loisaba companies to the Loisaba Community Trust.
The Loisaba Community Trust's mission is to be a catalyst for community development and a hub for wildlife research. They work tirelessly to ensure Loisaba Conservancy is an ecotourism destination that many generations to come will have still have to enjoy.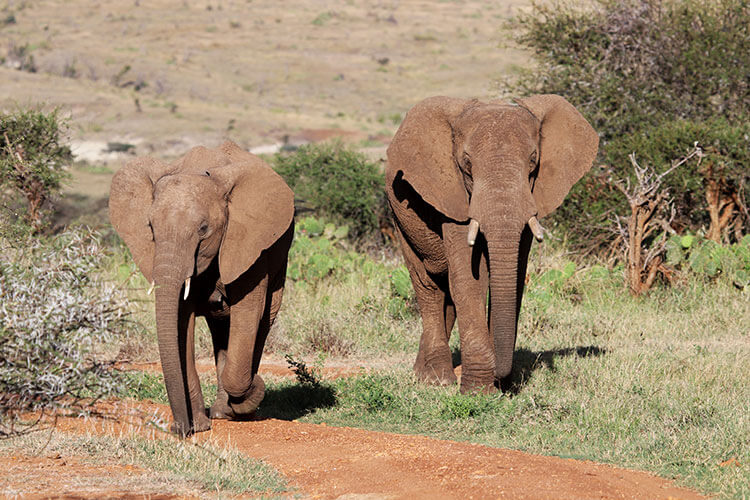 Loisaba is currently home to four of Africa's Big Five: the lion, leopard, elephant and Cape buffalo. The Laikipa plateau is also home to Kenya's second largest elephant population after the Tsavo Conservation Area and is an important elephant movement corridor. And there's plans to introduce rhinos to the wildlife conservancy in the future.
Just about every animal you find in the Masai Mara is also present in Loisaba Conservancy…and then some. It's in Loisaba Conservancy that you'll find some animals found almost no where else. They're known as Kenya's Northern Five, and are all extremely endangered. From the blue Somali ostrich to the mickey-mouse-earred Grevy's zebra, you'll definitely come home from your trip to Kenya having seen some unique wildlife.
It's probably pretty unlikely you'll see them, but there's even a rare black panther and her cubs that were spotted living in Loisaba Conservancy thanks to the San Diego Zoo Global's camera traps. It's the first sighting in a century, and the staff at the Loisaba Conservation Center were thrilled to share the camera trap footage with us upon our arrival to the airstrip.
Beyond the wildlife in Loisaba Conservancy, the landscape itself is spectacular. There's even a spot that looks like a real life Pride Rock, making Loisaba feel like you've been dropped in to The Lion King. Dare we say that the landscape here is our favorite out of all the safari destinations we've visited.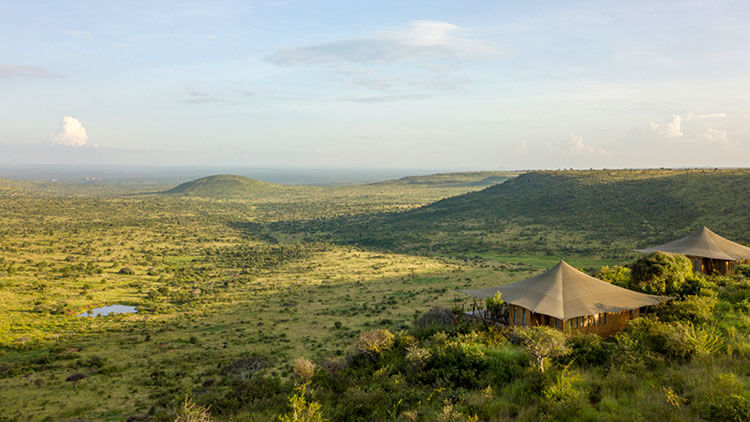 Loisaba Lodo Springs: An Ultra-Private Luxury Tented Safari Camp
Until 2017 the entire Loisaba Conservancy had just one camp: their famous Loisaba Starbeds. Each night the handcrafted four-poster beds are wheeled out on to raised wooden platforms for guests to sleep under the starry night sky.
Next came the 12-room Loisaba Tented Camp, also located high up on the escarpment.
And in 2019, the trio of camps was completed with Loisaba Lodo Springs. Named for the spring water source near the camp, it's the epitome of luxury in Loisaba Conservancy. There's just eight individual tented rooms, with each assigned their own guest ambassador and personal safari vehicle with field guide throughout the stay.
All three camps are managed by Elewana Collection, who is known for their exceptional collection of boutique luxury safari camps throughout Tanzania and Keyna. We traveled on our very first safari experience on the Elewana SkySafari and have stayed at 9 of their 16 camps. We can confidently say Elewana offers some of the best with both unique accommodations and service when it comes to a luxury African safari.
Main Guest Areas
Reception sits at the very top of the hillside, with the main lodge where breakfast and dinner are served sitting below it. There's a lounge area with cozy couches inside where you can enjoy a glass of wine or a cocktail, and a deck where you sit out looking at the stars in the evening.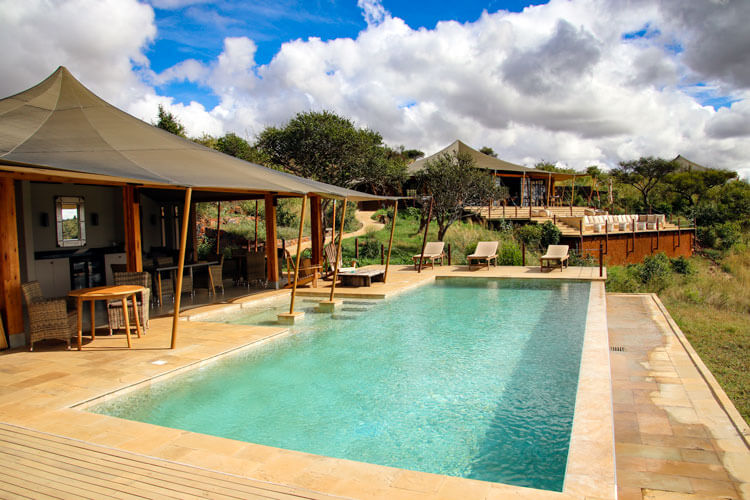 There's an infinity pool with a never-ending view over the Laikipia plains and all the way to Mount Kenya. The pool area has changing rooms for guests, and lunch at the camp is typically served poolside.
Elewana guests definitely don't go hungry. Breakfast is served in the main lodge and the menu offers a selection from eggs to fruit-topped pancakes. A daily selection of homemade breads, fresh fruit, smoothies, juice and coffee or tea are served, along with your a la carte order from the menu.
Lunch at the camp is presented family-style with the chef preparing a cuisine-themed lunch. It begins with a soup of the day, followed by the family-style dishes, and finishes off with a dessert. We had feasts that included dishes like samosas, Asian noodle salad, various salads like cucumber and tomato salad and sesame teriyaki beef.
Dinner is served in the main lodge in the evening. Guests have a choice from the daily menu and dinner includes a starter, main course and dessert along with wine, beer or cocktails.
The Tented Rooms
Each of the individual tented rooms are more like tent-topped villas, which fan out from the multi-level main guest area. The tented rooms are extremely spacious with fixed walls and floor-to-ceiling glass windows that open up on to your own deck. The decoration is simple with a smattering of antiques and repurposed vintage decor.
The wildlife viewing from the tented rooms themselves is fantastic with herds of giraffes and elephants moving through the forest below the escarpment. The only thing that's missing is a pair of high-powered binoculars or a spotting scope.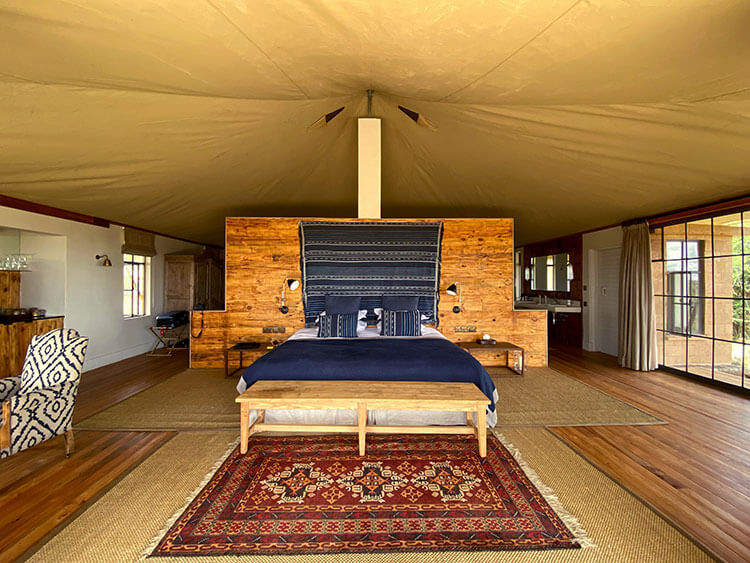 The king-size bed is situated so that you go to sleep star gazing and wake-up to the soft pinks and golds streaking the sky behind Mount Kenya. There's also a sitting area, a small writing desk, and an in-room bar with coffee, wine, beer and soft drinks. A few snacks are also always waiting like homemade potato chips and trail mix.
The bathroom is massive with a double vanity and the biggest rain shower you ever did see. It's so spacious you could probably wash a hippo in it. A hairdryer is provided, though it is small and low wattage. A water jug is provided for water for brushing your teeth.
It can get cool in the evenings in the bush, and upon returning from dinner we'd find our bed being warmed up with hot water bottles. This was particularly welcome in Loisaba, where it was quite a bit cooler than it had been in Meru National Park and the Masai Mara.
As with all of the Elewana Collection camps we've stayed at, laundry service is provided. Laundry service is really invaluable when packing for an African safari, as bush flights have a strict 15 kilograms (33 pounds) per passenger policy.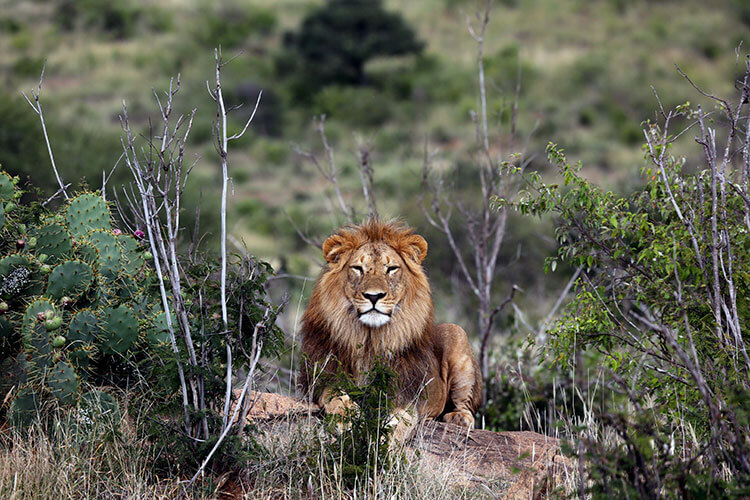 Loisaba Lodo Springs Activities
Game drives are certainly the highlight at Loisaba Lodo Springs, with Loisaba Conservancy home to high concentrations of wildlife. But there are a number of other activities that guests can also do from horseback riding through the bush to fly fishing. Guests can even go on camel rides, which is a traditional form of transport in Northern Kenya, or try out mountain biking along Loisaba's trails.
Game Drives
With Loisaba Conservancy home to all of Kenya's Northern Five like the Grevy's zebra, wild dogs, cheetahs, leopards and a large population of lions, game drives rival those of the Masai Mara or Tanzania's Serengeti. Each tent is assigned their own private safari vehicle and field guide for the stay.
Our guide was Festus, a local Samburu who's knowledge of the culture, flora and fauna is unmatched. He wanted to know what we hoped to see, which for me was hyenas, big cats and giraffes. But Festus also made sure to educate us and find particularly the Kenya Northern Five, as they're special and unique to this part of Kenya.
As for the hyenas, we love seeing them. Hyenas are misunderstood and get a bad rap, with a lot of people having the impression that hyenas are nasty scavengers thanks a lot in part to The Lion King.
Personally, we love hyenas. They're actually incredibly intelligent. Studies of Kenya's spotted hyenas by Michigan State University have even shown that they are smarter problem-solvers than chimpanzees.
Hyenas have really complex family structures, living in clans of up to 90 members. They recognize the hierarchy of clan members, and it's actually the females that serve as head of the hyena clan. They even fight with, and then reconcile with clan members just as people do.
Festus knew of a hyena den, and we went to check if we'd spot the hyenas three times. The first two attempts were unsuccessful as hyenas are nocturnal hunters, and probably resting up for their night hunts when we tried around sunset two evenings in a row.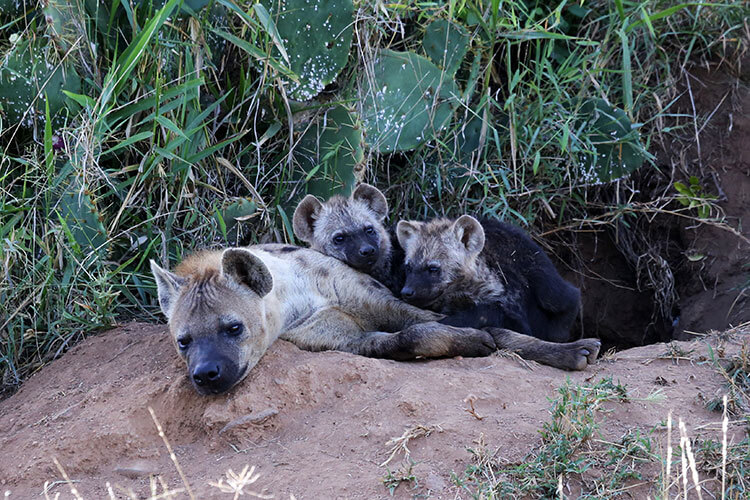 The third time's the charm, as they say. Our leave-at-sun-up game drive on our final morning was definitely worth it. We found the den active, and even saw a mother nursing her two-month old hyena pups.
Hyenas might be one of Africa's Ugly Five, but there's no denying that a hyena pup is pretty adorable. After climbing all over their mother to nurse, it was playtime. It was one of our favorite game drive sightings.
Our absolute best sighting at Loisaba Conservancy came on our first morning game drive. We were ambling about looking to check off Kenya's Northern Five, when Festus heard something interesting on the radio. And then we were rushing.
One of the very few other vehicles out and about in the conservancy had spotted a well-known leopard named Stephanie. She was last seen pregnant. But on this morning she was spotted with two tiny leopard cubs in tow. It was likely Stephanie's very first outing with the cubs since they were born, as leopards move around to different dens as the cubs age.
We searched the area where Stephanie had been spotted for over an hour, patiently waiting in various spots to see if she'd hidden the cubs in the bush. Eventually our persistence paid off and we were rewarded with at least 20 minutes of a rare sighting of a mother with young cubs.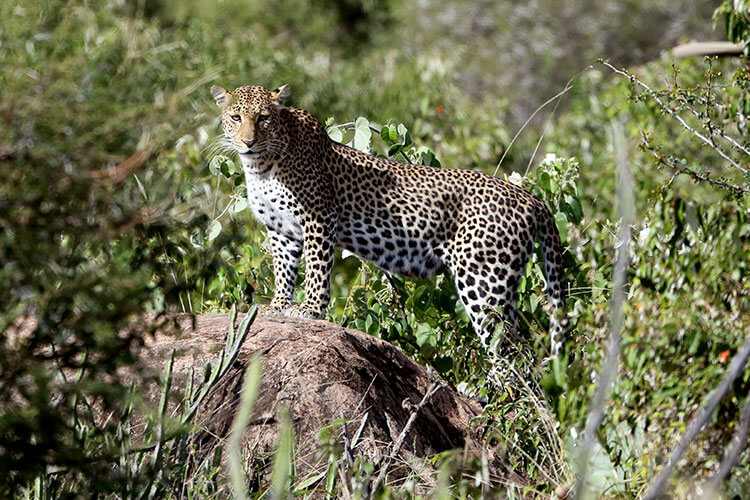 Suddenly Stephanie was moving through the thick bush with the cubs bouncing along after her. We watched as she took them to a spot to hide them, probably while she went to hunt for a meal. One cub seemed to follow its mother's instructions, while the other defiantly ran after Stephanie.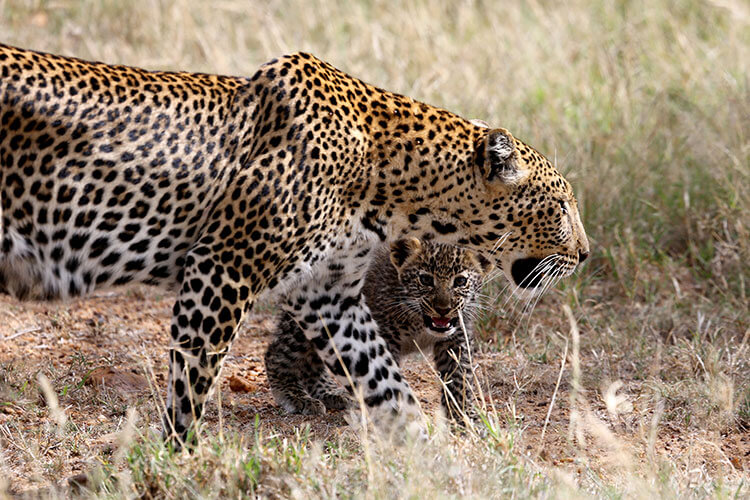 Mom picked the cub up by its head as it let out little mews of protest. Finally she led the cub back to where she'd instructed the other to stay put. As all three disappeared into the rocks and bush, we hated to leave them behind. But it was time to move on.
Kenya's Northern Five are Reticulated giraffe, Grevy's zebra, the beisa oryx, the gerenuk and the Somali ostrich. Festus worked hard to make sure we found and checked seeing them all off.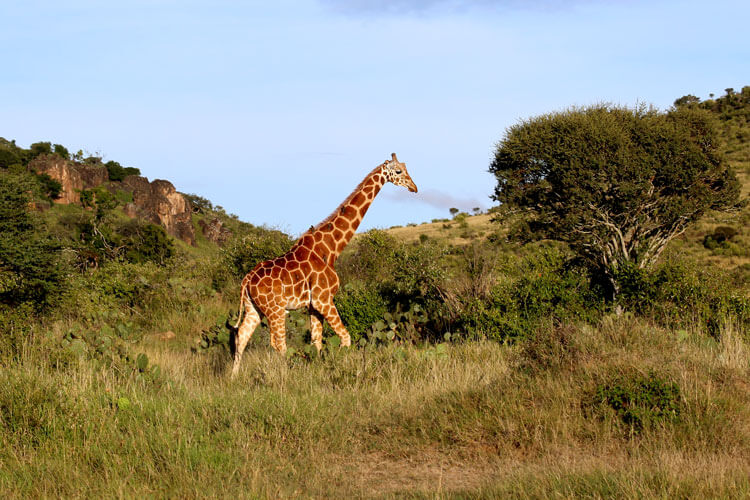 The Reticulated giraffe were the animals of the Kenya Northern Five we saw most commonly. Giraffes seem to be everywhere in Loisaba, and they're always a favorite of mine to watch.
The Grevy's zebra was the first we spotted after arriving at the Loisaba airstrip on our mini game drive to camp. They're distinct from other species of zebras because of their Mickey mouse shaped ears and their stripes. Sadly, only around 2000 total Grevy's zebras remain on earth.
Gerenuk are pretty shy and proved the most difficult of the five to find. Without Festus, we might not have even noticed the lone male on the plains.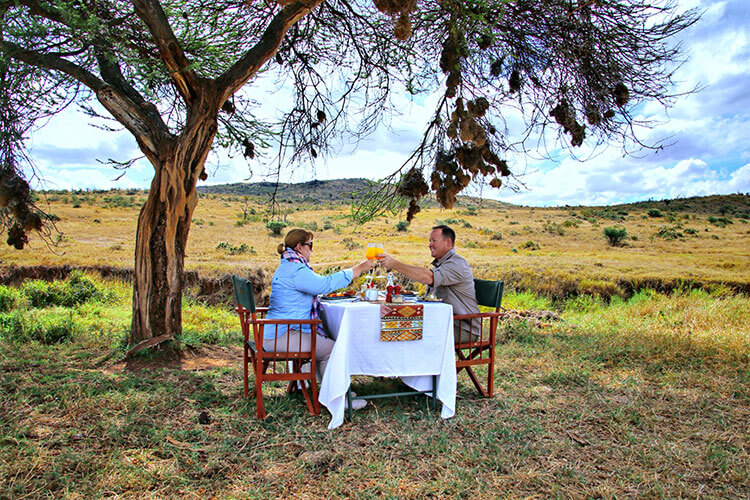 Private Bush Breakfast
Loisaba Lodo Spring's bush breakfast is a seriously impressive feast and our favorite of any bush breakfast we've had on our many safaris.
As we came over a hill in our Landrover, we could see the breakfast site set-up. From a distance, we could spot a few tables and at first I thought some others from our camp or maybe the Loisaba Starbeds and Loisaba Tented Camp were joining us.
But when we arrived, we found this special bush breakfast was all just for us. The various tables made up a few stations, like a hand washing station, another for our tea, coffee, juice and champagne, and yet another set up with our breakfast buffet. The team even brought a portable cook top to cook the hot foods on site.
Fresh fruit kabobs, cereal, mini quiche, breads, charcuterie and cheese, samosas, donut holes with a trio of sauces for them, bacon-wrapped sausages and fruit smoothies made up the breakfast buffet. Coffee, a mint tea made with mint leaves from the camp, juice and champagne were all available for us.
We dined on the perfect breakfast – and went back for seconds of the samosas, donut holes with chocolate sauce and bacon-wrapped sausages – under the shade of a tree.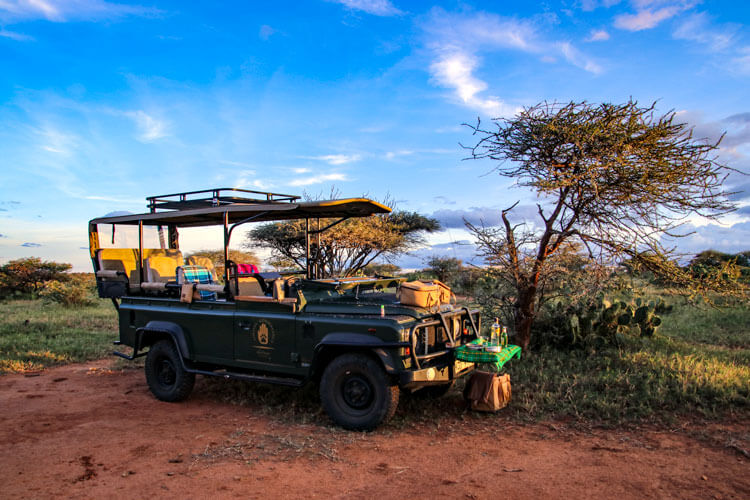 Sundowners in the Bush
Days on safari are long ones – albeit, exciting with all the wildlife to see – with game drives beginning typically before sunrise. A tradition since the colonial days, safarigoers toast the day with sundowners as the sun finally dips below the savanna.
It's basically happy hour in the bush, and the classic safari sundowner is the gin and tonic. G&Ts were the perfect way to mask the unpleasant bitterness of quinine powder, which Colonialists and British soldiers used to combat malaria. But these days anything goes when it comes to sundowners, and our dedicated team made sure our Landrover was stocked with our favorite tipple.
We spent two nights at Loisaba Lodo Springs, and our first night we found a herd of elephants grazing. While the elephants preferred the nearby trees to munch on, we had snacks with G&Ts in hand.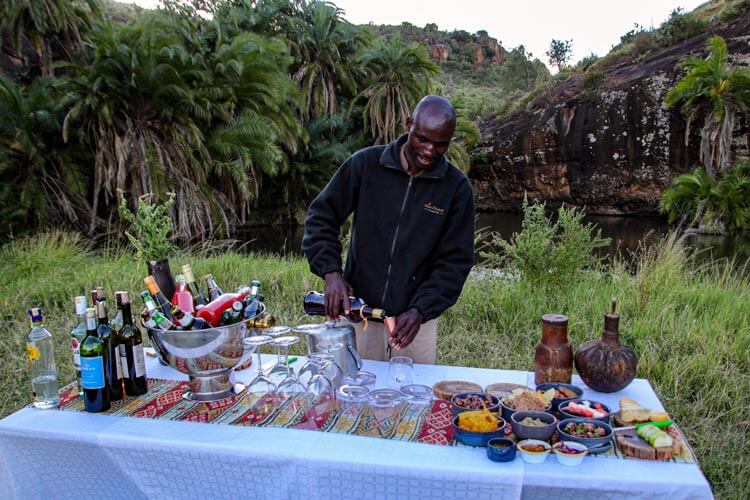 Our second night was a happy hour party alongside a waterfall at an oasis in Loisaba Conservancy. The other guests all came together for a drink and a buffet of snacks like chips, guacamole, Kenyan cheese from Brown's Cheese, cookies and beef skewers. The team practically brings the whole bar and everything from juice and soda to beer, wine and spirits like Amarula are available.
As dark fell, fireflies light up the night around the fire. It was a great final sundowner of our week-long safari at Elsa's Kopje, Mara Sand River and Loisaba Lodo Springs.
Visit With the Anti-Poaching Team and Sniffer Dogs
Conservation is the heart of everything Loisaba Conservancy does. And part of that is ensuring poaching doesn't happen within the park. A dedicated anti-poaching team which includes the tracker dogs Warrior, Machine, Nanyokie and Memusi and their handlers work tirelessly in Loisaba Conservancy.
One of the things you can do in Loisaba Conservancy beyond game drives is to spend a few hours with the team. You learn about the team's daily training activities and see them in action with an anti-poaching demonstration.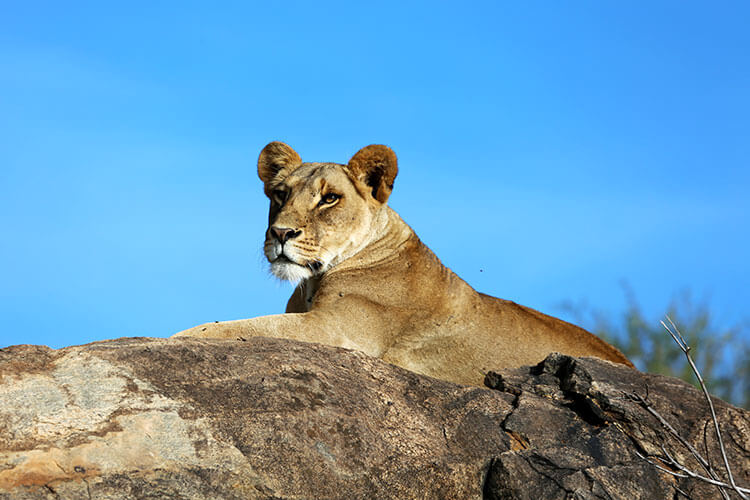 What's Included at Loisaba Lodo Springs
Loisaba Lodo Springs is the best of the best when it comes to Loisaba Conservancy camps. It's nearly a fully all-inclusive African safari when you choose the Game Package. The per night rate is $1000 per guest per night and includes:
accommodation
all meals and drinks including alcoholic drinks (excluding champagne, private cellar wines and spirits)
transfers to and from Loisaba Airstrip
laundry service
wifi
all guided game drives in the Loisaba Conservancy
bush breakfast
camel riding
horseback riding
sniffer dogs experience
There are a few exclusions from the per night rate at Loisaba Lodo Springs, including the Loisaba Conservancy fees:
Loisaba Conservancy fees, currently $100 per person per 24 hour period
Samburu community visits
mountain biking with guide
gratuities
Loisaba Conservancy welcomes children on safari, with children under 12 free of charge, children aged 12 – 17 sharing with an adult at a cost of 50% of the adult rate and children 12 – 17 in their own room at a cost of 75% of the adult rate. Loisaba Lodo Springs does have triple rooms available.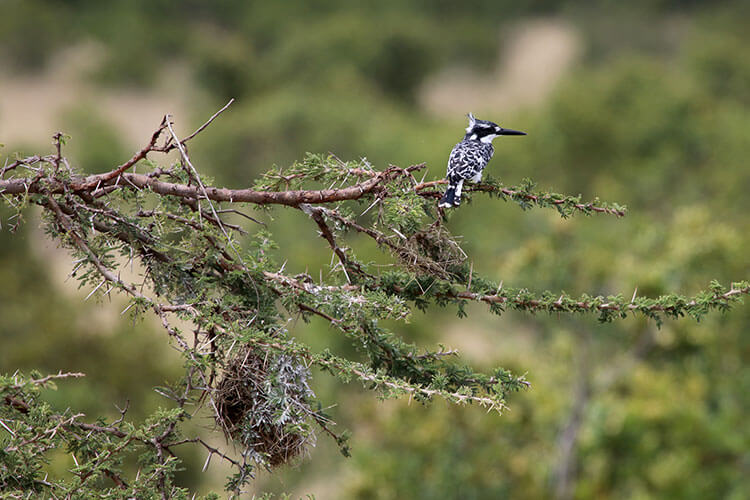 The Best Time to Visit Loisaba Conservancy
Loisaba Conservancy in Laikipia is an excellent year round safari destination with resident animals always present. Like other places in Kenya though, Laikipia has two dry seasons and two rainy seasons.
The long, cool dry season is from July to October and this is the best time to visit Laikipia and Loisaba Conservancy. Thanks to the lack of water, animals tend to gather around water sources and are more easily found in the conservancy.
July to October is the high season in Loisaba Conservancy. While there are far fewer visitors in Loisaba Conservancy than other parts of Kenya, the limited accommodations can mean that accommodations are booked up further in advance.
The long rainy season turns the Laikipia plateau very lush, but significant rainfall can also make the roads muddy and difficult to navigate. Activities like the camel riding, horseback riding and walking safaris are weather dependent and may not be available in the rainy season.
Know Before You Go
Getting There
Booking
Kenya Visa
A visa is required for travel to Kenya. To avoid long waits on arrival, it's advisable to obtain an
online available Kenya visa
prior to arrival.
We've completed e-visas for both of our trips to Kenya. The application form is straightforward with supporting documentation easy to upload. You receive confirmation and your visa by email, which allows you to utilize a dedicated line for e-visa holders upon arrival in Kenya.
Our trip to Loisaba Conservancy was in partnership with Elewana Collection in order to bring you this story. However, Luxe Adventure Traveler maintains full editorial control of the content published on this site. As always, all thoughts, opinions, and enthusiasm for travel are entirely our own.