Usually layovers are the worst. But not in Iceland, where you can choose to layover for up to 7 days on your way from North America to Europe (or vice versa) with Icelandair Stopover with no additional airfare costs. No matter if you've been to the Land of Fire and Ice before or if it's your first time, we've put together a perfect Icelandair Stopover 5-day Iceland itinerary for the adventure seekers with some of the best of Iceland's natural beauty.
Really, who wouldn't want to spend some time in the land of gushing waterfalls, otherworldly landscapes, Northern Lights and iceberg lagoons?
Iceland 5-Day Itinerary for Adventurers
Even though we lived in Iceland for a brief stint in 2011 and have visited many times since, I couldn't resist taking advantage of the Icelandair free stopover when I recently visited Seattle, one of the 35 destinations you can fly Icelandair from in the US and Canada. It's is one of our favorite countries and there's no shortage of things to do in Iceland, even when you've been there as many times as we have.
No offense to Reykjavik, but you're probably not stopping over in Iceland to stroll around another European city – cute as Reykjavik may be. We say skip the city and instead rent a car, preferably a 4×4 from our friends at Go Iceland Car Rental, and hit the road on our Iceland 5-day road trip itinerary. Spend your Icelandair layover discovering the incredible nature that makes Iceland one of the most unique and visually stunning countries on the planet.
Day 1: Arrival in Iceland
If you're stopping over on your way to Europe from the US, you're going to arrive in the late evening or even late at night. We recommend just heading to your accommodation, relaxing to get adjusted to the new time zone, and if it's September through March, keeping an eye out for the Northern Lights.
Our adventurous 5 days in Iceland itinerary focuses on adventure tours and activities in the Southern Region, so why not rent a cottage in Iceland to base yourself out of? Rising hotel costs are one of the biggest expenses travelers to Iceland face, and a cottage is not only less expensive, but it allows you to enjoy being out in the Icelandic nature away from light pollution of the cities like Reykjavik. In other words, a cottage is the perfect spot to be able to look for Northern Lights right outside your door.
Around Selfoss is a really great location in the Southern Region. Selfoss is Iceland's largest city in the South, so you'll still find plenty of restaurants and services nearby. You're also a reasonable drive to many of Iceland's most famous attractions like the Golden Circle, Seljalandsfoss, Reynisfjara Beach and Vik.
Day 2: Exploring the Golden Circle on a Self-Drive Tour and Snowmobiling on Langjokull Glacier
Hopefully the Northern Lights dancing across the sky didn't keep you up too late the night before, because you'll want to start the day bright and early.
Beat the heaps of bus tours that visit some of Iceland's most popular sights like Thingvellir National Park, Geysir and Gullfoss on Iceland's Golden Circle Route.
Start the day by heading straight for Thingvellir National Park, significant as this is the place that served as the meeting spot for the very first Icelandic general assembly in the year 930 and has continued to be the place where every major historic event in Iceland has taken place. It's also the only place in the world where you can see the Earth's tectonic plates above ground.
Next, stop at Geysir. Like clockwork, a geyser named Strokkur erupts it's boiling hot water 20-30 meters in to the air in 6-minute intervals.
In between eruptions, you can wander around the geothermal park watching the boiling water churn, bubble and spittle.
At 12pm, meet Arctic Adventures at the cafe at Gulfoss. They'll pick you up to drive up to their base camp, where you'll get suited up in warm winter suits, a helmet and gloves for super jeep and snowmobiling adventure on Langjökull glacier.
Langjökull, meaning "Long Glacier," is Iceland's second largest ice cap after Vatnajökull. It's also Europe's second largest glacier. The highest point is 1450 meters, and the guides will do their best to get you up above 1000 meters on the snowmobile tour for some of the most spectacular views over Iceland.
If you're blessed with a clear day like we had when we snowmobiled on Langjökull, you'll feel like you can see forever. There's an incredible glacial lake, only visible from up on the glacier, that feeds in to Hvítá River. Gulfoss is fed by three river systems, one of which is the Hvítá River. 
An afternoon spent riding a snowmobile up Europe's second largest glacier is one you won't soon forget.
Gulfoss is less busy once you return in the late afternoon since the oodles of tour buses are on their way back to Reykjavik by this time. Wander down the trails to the massive double-cascade known as the "Golden Falls."
Finish off the afternoon with a stop at Kerid (Kerið in Icelandic), a crater lake that formed about 6500 years ago after a cone volcano erupted and the empty magma chamber collapsed. The red volcanic sand, green moss and vivid blue lake make for a striking combination of Icelandic beauty and is well worth the small entry fee.
Day 3: Exploring Iceland's South Coast
Iceland's Southern Region is pock marked with spectacular sight after spectacular sight. You could really spend a good week just exploring the South, so picking some of the highlights can be a real challenge.
Seljalandsfoss is one of those must-sees. Though not the biggest waterfall in Iceland, not by a long shot, Seljalandsfoss is truly unique because it is the only waterfall of its kind. The draw is that you can walk behind this waterfall.
Just get there early because Seljalandsfoss is one of Iceland's most visited attractions and people come pouring in off the tour buses these days.
Just next door to Seljalandsfoss is Gljúfrabúi. It's often missed because it's hidden away behind the cliff-side in a canyon and the tour buses don't stop there.
Only the very top is visible from the road as you make your way along Route 1, but it's usually quickly forgotten about as Seljalandsfoss catches everyone's eye. You have to walk a short distance behind the campsite, scramble up some boulders using chains that have been attached and hop along some rocks in the stream to get back in the canyon, but it's worth the 30 minute detour.
An even better detour is another short 20-minute hike to Iceland's oldest swimming pool. If you didn't know about Seljavallalaug, you'd never, ever spot it. We weren't even convinced it was truly there when we started hiking because the swimming pool is nestled so far back in to a valley that you can't see it until you're about 50 meters away.
Don't forget your swimsuit, even in winter. Considered an engineering marvel at the time it was built in 1923, one of the four walls of the pool is the natural rock of the cliff face. Geothermal water trickled down the cliff and right in to the pool, keeping it a warm 38°C year round.
Skógafoss is another of Iceland's roadside attractions that can either be a quick stop to snap a few photos of the gushing waterfall tumbling 60 meters down over the cliff-side. Or you can explore a bit and hike up the stairs that have been built for a view from the top of the waterfall.
The DC3 plane crash used to be more easily accessible until disrespectful tourists were destroying the farm land that its located on. Since 2016, the crash site is only accessible by parking at the roadside along Route 1 and then hiking 4 kilometers out to the plane crash.
The black sand and dunes make it look as though the plane crashed on the moon. For now, it's an interesting place to photograph and one day that plane will eventually erode away like it was never there in the first place.
Dyrhólaey Nature Reserve is a beautiful spot to get great shots of the famous Reynisdrangar rock formations jutting out of the Atlantic Ocean. Iceland is a place that loves its tales of elves, trolls and hidden people, and legends say that the rocks are trolls that were trying to drag some ships ashore when the sun caught them and turned them in to stone.
Access to Dyrhólaey is restricted in May and June because it's a favorite nesting spot for puffins and eider ducks, but any other time there is a lot to explore here. There's a lighthouse, abandoned farm ruins beyond the lighthouse and the black sand beach is striking.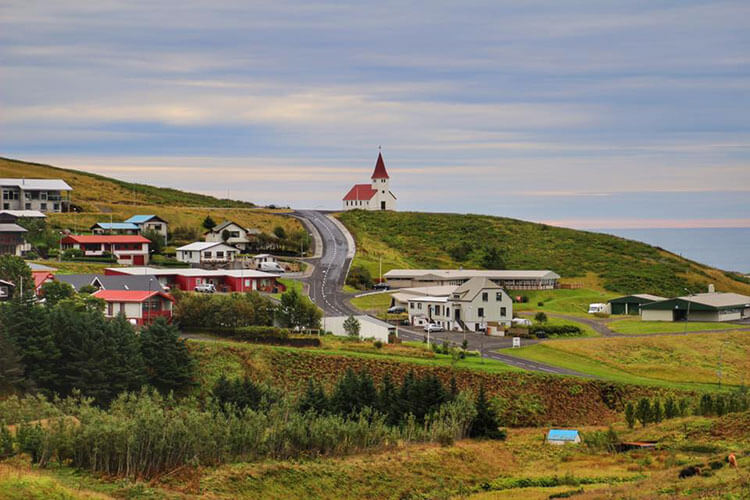 Drive as far as Vik, which is incredibly charming with its church up on the hillside. You can also tour the Vikurprjon Wool Factory for free upon request. We always like picking up our wool souvenirs here, since the prices are better than in the shops in Reykjavik and at the airport where the prices are marked up for the convenience of the location.
Day 4: Svartifoss, Jokulsarlon Glacier Lagoon and Heinabergslon Glacier Lagoon
It might seem like you're back tracking a bit, but the drive out to Jökulsárlón is a long one. It's possible to include most of the South Coast attractions from Day 3 and still visit Jokulsarlon all in one day, but it makes for an incredibly long one.
Get an early start and make your first stop of the day in Skaftafell National Park for the hour hike to Svartifoss, a waterfall shaped a bit like a heart and seemingly cut in to the middle of rolling green hills. It's surrounded by black basalt columns, lending the waterfall its name and meaning "Black Falls."
The hike is a gradual uphill climb for 1.6 kilometers to the waterfall and takes about an hour to reach. The return downhill is much faster and you'll reach the parking area in half the time. It's also a great way to stretch your legs a bit after the long drive.
What you definitely wouldn't have time to do if trying to combine days 3 and 4 is to also kayak on Heinabergslón, another glacial lake with calving icebergs floating in it that still remains pretty off-the-beaten-path. Heinabergslon is much less visited than Jokulsarlon, and this is a unique adventure you won't want to miss.
Heinabergslón is tucked away 8 kilometers off of Route 1 just 30 minutes past Jökulsárlón. The tour company Iceguide offers a glacier kayaking adventure where you can paddle between the giant icebergs that calve off of the Heinabergsjökull glacier tongue. You even land on and explore one of the larger icebergs, and you might see sights like the moraines that form in the melting icebergs.
By the time you stop at Jökulsárlón in the late afternoon, the tour buses will be long gone making the visit to the glacier lagoon a much more pleasant one. You still even have time to take a zodiac or amphibian boat tour to get an up close look at the icebergs and possibly some seals that like to sun themselves on the icebergs.
Day 5: Inside the Volcano
Finish off your Iceland in 5 days itinerary by making time for one last Icelandic adventure before you head to the airport for an early afternoon flight. And it's one so unique that Iceland is the only place in the world that you can do it.
After trekking for 3 kilometers across a lava field, you'll descend 120 meters (394 feet) down in to the magma chamber of the dormant Thrihnukagigur Volcano. It last erupted in the 2nd century BC and it's the only place in the world where you can actually stand inside a magma chamber and observe the colors the magma leaves behind.
After the visit exploring inside the volcano, you warm up with either traditional Icelandic soup or a vegetarian version and coffee or tea, before making the 3 kilometer trek back to the car park. You can actually make the trek back on your own anytime after your visit.
You can meet at the mountain hut in the Blue Mountains and if you select the 8am tour, you'll be back at the car by 12:30pm at the latest. It's then about an hour drive to Keflavik International Airport.
Inside the Volcano is a remarkable tour to wrap up your Iceland stopover with.
Icelandair Stopover Rules
As long as you're flying across the Atlantic, you can take advantage of Icelandair's Stopover program. There's really only two Icelandair Stopover rules. You must be traveling from either the US/Canada to Europe or from Europe to the US/Canada. And you can only layover in Iceland for a total of 7 days.
It's super easy to book and doesn't cost you any extra airfare fees. Here's how it works:
Go to Icelandair.com
Enter your departure destination and your final destination.
If your trip is eligible, a radio button for Icelandair Stopover appears. Click it to get started.
You can select to add your Iceland stopover on either your way to your final destination, or on your return. And you can stopover for a total of up to 7 days in Iceland.
Book your flights.
Plan your adventure (and we already planned it for you!)
It's really that easy. There's no extra cost for the stopover itself with Icelandair. You're just responsible for the expenses of your trip in Iceland. But you may want to play around with the dates if your travel time is flexible in order to find the best fare.

Our rental car was provided by Go Iceland Car Rental in order to bring you this story. However, Luxe Adventure Traveler maintains full editorial control of the content published on this site. As always, all thoughts, opinions, and enthusiasm for travel are entirely our own.