We drank elephant poo coffee. A crap-uccino as some have called it jokingly. Yes, you read that right. And we think it's a great cup of coffee! Officially it's called Black Ivory and it's the rarest and the world's most expensive coffee.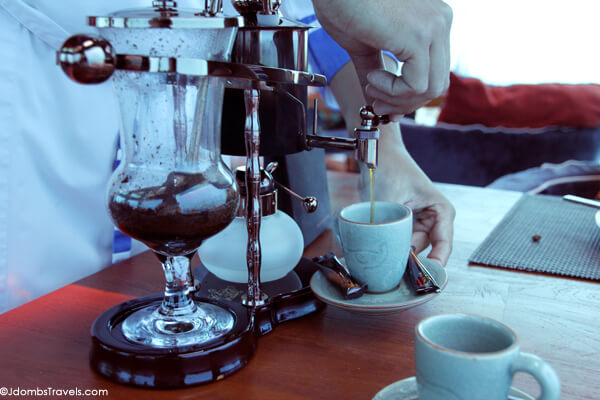 So what makes it the world's most expensive coffee? Black Ivory coffee is produced from the finest Thai Arabica beans that have been handpicked from an altitude of 1500 meters (around 5000 feet). The Arabica beans are then fed to Thai elephants and plucked by mahouts (elephant caretaker) a day later from their dung. The elephants are highly inefficient though. It takes 33 kilograms (72 pounds) of raw coffee cherries to produce 1 kilogram (2 pounds) of Black Ivory coffee. The majority of beans get chewed up, broken or lost in tall grass after being deposited by the elephants.
Refinement of the coffee takes place at Anantara's own foundation the Golden Triangle Asian Elephant Foundation (GTAEF) in Thailand. The foundation has rescued 30 street elephants to date and 8% of all coffee sales were donated to GTAEF to help fund an elephant veterinarian to provide free care to the elephants.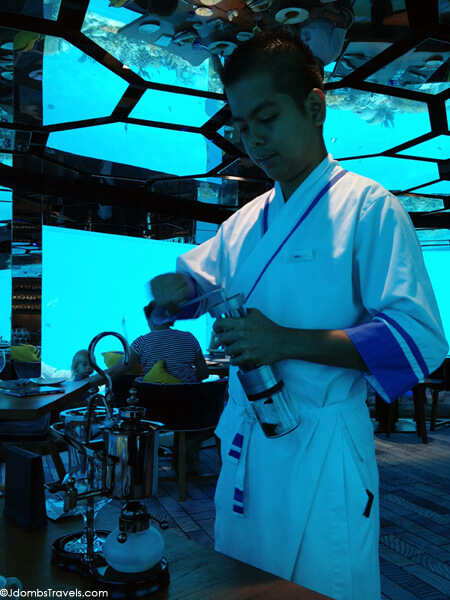 Black Ivory coffee is only available at Anantara luxury hotels and resorts in a few remote corners of the world – Thailand, the Maldives, and Abu Dhabi – and only 50 kilograms (110 pounds) were produced in 2012. We had it on our trip to the Maldives with Anantara Kihavah Villas as the perfect end to our underwater meal at Sea. Drinking it feels so exclusive! The coffee beans were hand ground at our table and the brewed in front of us using technology developed in Austria in 1840.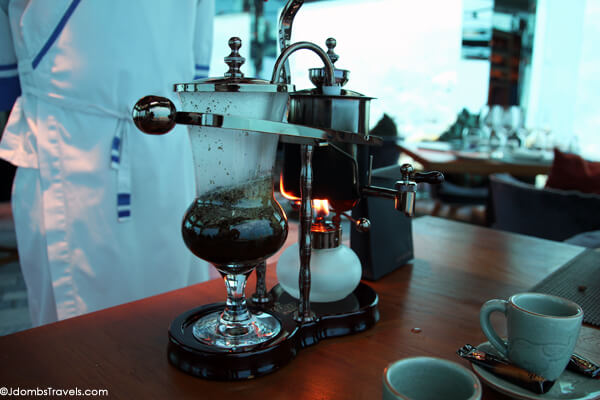 We were enchanted by the brewing process! The little Austrian machine has two chambers and is like a balance. The heated chamber is weighted and the water heats up to 93°C. It slowly filters into the glass chamber and the flame is snuffed out by the counterweight, the coffee brews, and then siphons back into the heated chamber. The whole brewing process took around 5 minutes and definitely attracted the attention of other diners.
It far surpassed our expectations and we enjoyed the earthy flavor of the brew. Interestingly, Black Ivory coffee is sweetened with chocolate instead of sugar and always served black.
So what will it cost you to sample a cup? Black Ivory coffee retails at $1100 per kilogram and a cup at one of Anantara's resorts is $50.
Thank you to Anantara Kihavah Villas for hosting us during our stay in the Maldives and allowing us to sample a pot of Black Ivory coffee. As always, all opinions are entirely our own.