One of my absolute favorite places in all of Iceland is the Jökulsárlón Glacier Lagoon and we've been blessed to not visit once, but twice! Our second visit was particularly special, thanks to seeing it through the eyes of a new friend. Shortly before our trip, Tim came across the stunning photography of The Aurora Photo Guide: Runólfur Hauksson on Facebook. We reached out to Ronni to see if he'd like to meet us. Much to our delight, he was more than happy to do so and we arranged to meet at Breiðamerkursandur, the black sand beach opposite Jökulsárlón Glacier Lagoon just across Highway 1.
When we planned to stay the night at Hali Country Hotel, located just 12 kilometers from Jökulsárlón, we hoped that our one night there would be clear and we'd capture a postcard perfect Aurora dancing over and reflecting off the icebergs floating in Jökulsárlón. But as I wrote in Five Things No One Ever Tells You About the Northern Lights, they are unpredictable and evaded us that particular night. We weren't disappointed though, because we spent a fantastic afternoon experiencing Breiðamerkursandur and Jökulsárlón through Ronni's eyes.
Ronni worked as a guide at Jökulsárlón for a number of years, taking thousands of people out on the boats to get up close and personal with the icebergs floating in the lagoon. Three years ago he became really interested in photographing the Northern Lights and that is now his life's passion and work. Ronni also regularly photographs the amazing landscapes of South Iceland, often with his dogs in tow.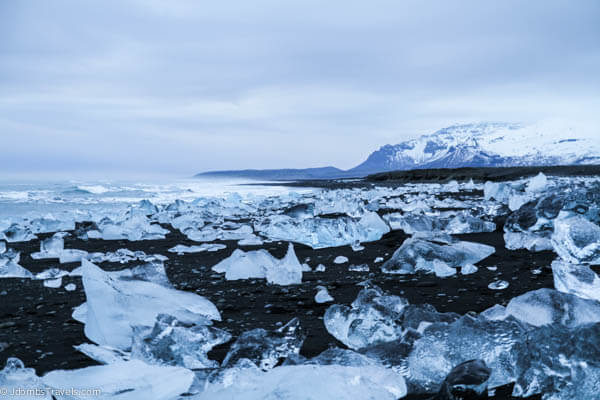 We'd spotted Breiðamerkursandur on our last visit and Tim had run around in sideways rain (as rain often is in Iceland) photographing the huge chunks of crystal clear ice contrasting with the black sand of the beach. I had sat in the car, shivering from a very cold and wet boat ride around Jökulsárlón in blowing, sideways rain. Tim had run back to the car coaxing me out, and I reluctantly went telling myself I might not ever have the chance to climb around on icebergs again. Never could I have known that I'd find myself back at this very spot a little more than a year later, and in much better weather to boot!
We poked our heads into holes in the melting bergs and clambered around, all laughing as Ronni's dog Balto took a huge bite out of one. "Some days I come and there is not a single berg on the beach," he told us. Apparently the icebergs are as unpredictable as the Northern Lights and the currents just carry them out to the ocean. Other days, the wind blows just right and they wash ashore. On days when the beach is full of bergs, it is a playground for photographers!
Know Before You Go
The Aurora Guide offers 3-4 day photographic tours in Austur-Skaftafellssýsla. Contact him at [email protected]
Jökulsárlón is located along Highway 1 approximately a 5 hour drive from Reykjavik
Stay at the family run Hali Country Hotel; accommodations are available with both private or shared bathrooms.