We're so tired of hearing people say that you only need one day to see Venice. Sure, in a whirlwind tour you can see the Rialto, Piazza San Marco and take a gondola ride. But you'd be missing out on some of the best parts of visiting Venice, like taking the vaporetto (water bus) over to Burano, the colorful island famous for its lace-making.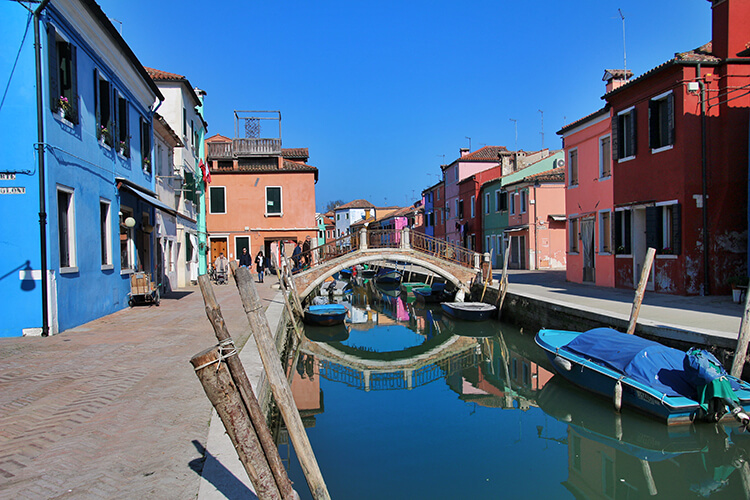 Visitors are drawn to Burano because of its rainbow of bright, colorful houses which make the sleepy little island a photographer's dream. Lace-making and fishing are the main industries of Burano and most visitors spend a couple of hours wandering around snapping photos and popping in and out of the lace shops that line the main street.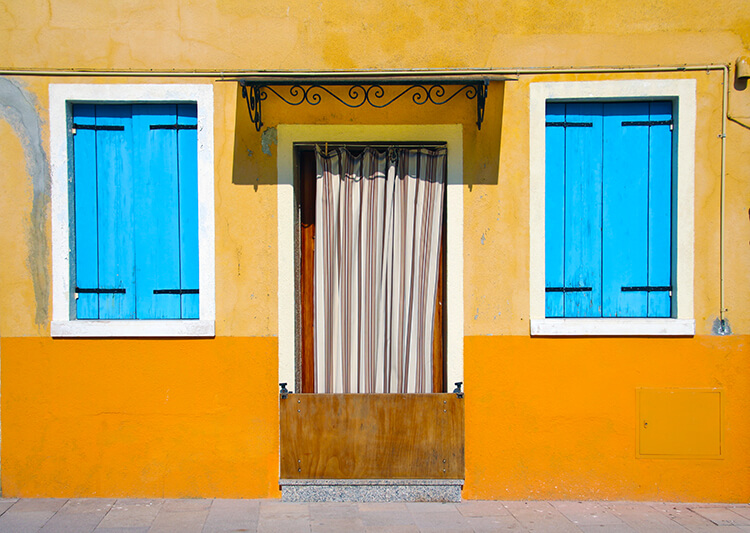 Burano is among the top 10 most colorful cities in the world and the locals are proud of that distinction. It's a tradition that began when fisherman decided to paint their houses in bright colors to be able to easily find their way home after a long day fishing and in the thick fog that often descends upon the Lagoon. It's a tradition that has carried to today.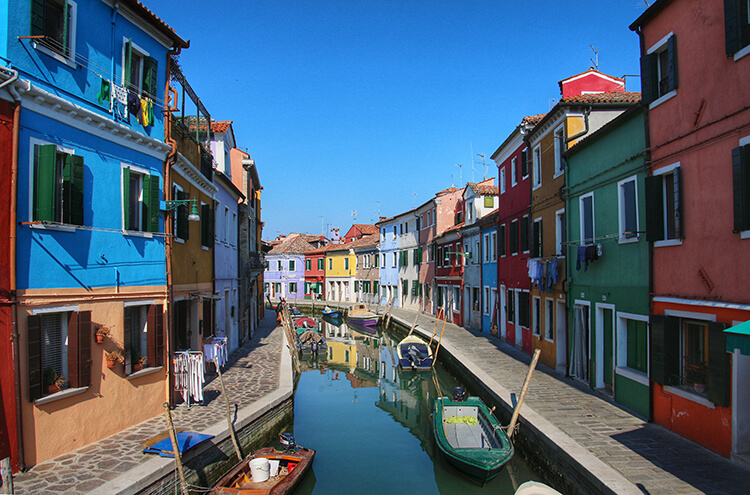 To a visitor's eye Burano's houses might seem like a modge-podge, but there's actually a specific system that follows a color pattern. If a resident wants to paint their house, they have to submit an application to the government and the government will respond with the colors permitted for that house.
Burano is less than one square mile in size, but you could spend hours wandering and photographing house after unique house. But there's more to Burano beyond its perky appearance.
Burano is also famous for its lace-making, which dates back to 1500. Initially lace working was almost exclusively done at the Scuola Merletti (Lace School) and it was traded across Europe. A lace cloth even found its way to the town of Lefkara on the then Venetian-ruled island of Cyprus; the cloth made its way home to Italy when Leonardo da Vinci purchased it in Lefkara in 1481 to be placed on the altar in the Duomo di Milano.
The lace trade declined with the fall of the Serenissima Republic in 1797 and lace-making shifted to family-run businesses. It wasn't until the winter of 1872, when it was so cold that it meant tragedy for Burano's fishing industry, that the lace industry was revived. Thanks to noblewomen of the time like The Queen of Holland and Queen Margherita, the lace school received consistent orders and employed more than 100 workers.
The lace school again closed in 1970 and today it the Venice Lace Museum. You can see works dating back to the first lace works from the 1500s through the 20th century.
I've mentioned that the other primary industry on Burano is fishing and if you stay until the evening, you can still see fisherman returning with the day's catch. There are some 450 fisherman on an island with a population of just 2800. The fish you see sold daily at the Rialto market in Venice is caught by the fisherman of Burano.
You can't leave Burano without dining on the freshest seafood in Venice. One of my favorite restaurants in all of the Venetian Lagoon is Al Gatto Nero on Burano, and celebrity chef Jamie Oliver agrees. Chef Ruggero Bovo has been running the restaurant since 1965 and it makes its own fresh pasta and serves fresh fish daily.
The menu changes, which is a sign of an authentic Italian restaurant, with what fresh catches are available and what's in season. If they're available, I recommend starting with the buttery sautéed razor clams. Bring your significant other (or a friend) because you'll want to share the pappardelle with scampi and smoked ricotta. Seriously, so good I would have licked the plate clean if that were socially acceptable.
Skip dessert and instead head to Panificio Pasticceria Palmisano Carmelina to satisfy your sweet tooth. This bakery is famous for Bussolà, a special kind of cookie shaped like an S and only made on Burano.
The Bussolà are made with eggs, flour, sugar and butter and flavored with vanilla, lemon or rum. The cookies were originally made for the fisherman by their wives when they were going out fishing for long periods of time because the cookies would stay fresh for long periods of time.
Bussolà are also the traditional Easter sweet of Burano, though you can find them all year round. You'll probably even have one served with your espresso or cappuccino at coffee bars on Burano.
One more thing you won't want to miss before hopping on the vaporetto back to Venice is a visit to the nearby island of Mazzorbo. The island is so near, you can actually walk to Mazzorbo by a wooden foot bridge that connects Burano to it in just about five minutes time.
Mazzorbo is home to Venissa, the only winery located in the Venetian Lagoon. Even though Mazzorbo suffers from high water just as Venice does, the small vineyard has managed to produce a unique wine from the Dorona grape. Though the small wine resort isn't open year round, hopefully you're visiting from February through November and can pop in to the cantina for an apertivo.
Know Before You Go
Getting There
Where To Stay
Take the water bus (vaporetto) No. 12 line from Fondamente Nove A to Burano. The vaporetto also stops and picks up on Mazzorbo. Lines 4.2 and 5.2 run from in front of the Venezia Santa Lucia train station; take it to Fondamente Nove to change to the 12 for Burano. It takes 40 minutes from Fondamente Nove. You can see the timetable here. 
Hotels on Burano are very limited. Stay on Venice or stay at the
Venissa Wine Resort
on Mazzorbo, which connects to Burano by a foot bridge.