Acqua Alta, which literally translates to high water, typically occurs in the winter months in Venice. Due to a combination of the amounts of rain northern Italy receives in winter, strong southerly winds, the tides, and even the movement of the sea, Venice is at risk for flooding when the water rises in the Venetian Lagoon. So what does that mean for tourists visiting La Serenissima? Generally not too much as acqua alta is a way of life, but here are 9 tips for surviving acqua alta in Venice: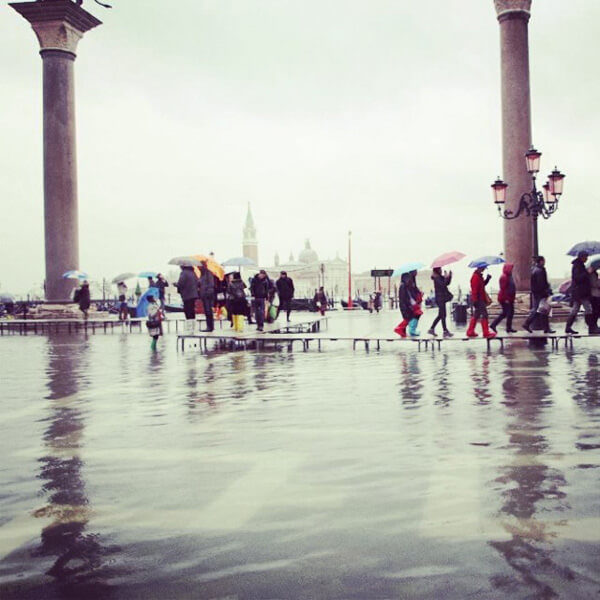 1. How do I know if Venice is experiencing acqua alta?
If you're headed to Venice, just like the weather, you can check the acqua alta forecast online. Also check out the webcams at St. Mark's Square and Rialto Bridge to see real-time conditions.
2. Should I pack rain boots?
Generally, there is no need to tote your wellies all the way to Italy. Most of Venice remains dry during acqua alta. Typically the photographs that make the news are taken in and around St. Mark's Square, the lowest part of the island, because it floods first and also usually has the highest water. You can typically avoid the flooded parts and wait out acqua alta at your hotel or do activities and sightseeing in the dry neighborhoods.
3. Will my suitcase get wet?
It might! Always an advocate of packing in a carry-on size bag, you'll be glad you packed light when you have to lift and carry that suitcase over your head to reach your hotel in a high water area.
4. Do water buses still operate?
Yes, they sure do! Acqua alta is a way of life in Venice and Venetians go about their business even in high water. It might mean that the route needs to be altered, so just check that the vaporetto will still be stopping at your destination.
5. What about attractions, stores, and restaurants?
It's typically business as usual for most attractions, stores, and restaurants too. Though some in high water areas may need to close temporarily. If you're planning to visit an attraction, store, or restaurant in a high water area you can always check with your hotel's concierge to confirm it is open.
6. Can I still walk around?
Yes, absolutely! Elevated platforms are set out on the main passageways to allow you to walk above the water. Stay to the right when walking.
7. What about when there aren't platforms? Should I take my shoes off?
Never walk barefoot in acqua alta. Remember that this is water that has washed over the streets and piazzas, sweeping up all the trash with it. You wouldn't want to step on broken glass or other objects and risk cutting your feet. Not to mention, the water is dirty and full of bacteria.
8. How long does acqua alta last?
Remember, acqua alta is typically caused by the tides. Usually the water starts going down in 3 – 4 hours. In periods of heavy rain, acqua alta can last up to a few days. But that is pretty rare.
9. How often does acqua alta occur?
From 1966 to 2012, water over 110cm occurred on average four times per year and covered about 14% of the island.
Acqua alta is not a dangerous phenomenon. It's more of an inconvenience, which can mostly be avoided by following these tips!