No visit to France is complete without a trip to the Champagne wine region to taste the world's most famous sparkling wine from its source. Located just a 1-hour train ride from Paris, Champagne is an easy day trip from Paris. Though with many champagne houses to discover, you'll surely want to stay for longer than just a day.
Think of Champagne and surely Moët & Chandon or Veuve Clicquot come to mind. Both of these are known as Maisons, or large champagne houses that buy their grapes from many different growers all over the Champagne wine region. Maisons focus on producing a consistent taste year after year through the blending of different growing areas and vintages. Making up around 87% of the Champagne brands exported to the United States, it's no wonder that the big names are the most well-known among Americans.
While a visit to either Moët & Chandon or Veuve Clicquot is certainly impressive, not to be missed is a chance to visit what is known as a Vigneron. Vignerons are the Champagne grower-producers, who both tend their own vines and produce their Champagne from their specific parcels. And a visit with a grower-producer is a chance for a far more in depth visit than the classic tour and tasting offered at the maisons.
So if you're considering a day trip to Champagne from Paris and want a unique experience, head to Château-Thierry. And more specifically to the 5th generation family-run grower-producer Champagne Lévêque-Dehan, for a unique discovery of all things Champagne in their VW Kombi.
Château-Thierry: The Door to Champagne
This sparkling wine region is so much more beyond its Champagne commercial centers, Épernay and Reims, and the famous Champagne houses that reside there. In fact, the geographically closest part of the Champagne wine region to Paris is Château-Thierry in the Vallée de la Marne. As a door to the Champagne wine region, Château-Thierry is often overlooked.
Birthplace of the famous French fabulist Jean de La Fontaine, home to one of the oldest medieval fortresses in France and the site of one of the first actions of the American Expeditionary Forces (AEF) under General John J. Pershing in WWI, Château-Thierry certainly has something for everyone. And of course, there's plenty of champagne.
The Vallée de la Marne encompasses roughly 66% of Champagne's 34,000 hectares of vineyards. Situated in the Vallée de la Marne growing area and just a stone's throw from Château-Thierry is Champagne Lévêque-Dehan.
Though wine grapes had actually been grown in Barzy-sur-Marne since at least the 13th century, it was more still wine that was produced in the area before the arrival of Champagne vineyards. It was 1887 when Eugène Dehan created the Champagne estate on the right bank of the Marne River in the historic village of Barzy-sur-Marne.
Today, it's the 5th generation Eric at the helm of Champagne Lévêque-Dehan. And while he's still using traditional champagne making techniques, a visit at Champagne Lévêque-Dehan is anything but classic.
Champagne Lévêque-Dehan
A visit to Champagne Lévêque-Dehan goes far beyond the ordinary, with the family themselves ensuring a memorable day. From the interactive sensory experience to the vintage baby blue VW Kombi, the visit itself is as bubbly as their glasses of Champagne. It's an Instagrammable experience visitors will definitely want to document and recount to friends back home over bottles of Champagne Lévêque-Dehan.
Discovery Bay: Champagne in a VW Combi
Imagine it's the '70s and you're cruising the winding roads through the Champagnes vineyards in a vintage VW Kombi. On a whim, you pull your microbus off to the side of the road among the vines. Picturesque villages practically tumble down the sloping hillside below you and you can't imagine a more beautiful spot for a picnic.
At Champagne Lévêque-Dehan, you don't have to imagine it. You can take a trip back in time in their vintage VW Combi, of course with a cooler of Champagne tucked safely in the back for tasting along the way.
Introduced in 1950 as a commercial van, the Volkswagen Kombi soon morphed into a multi-passenger van that would revolutionize multi-person transportation. The Kombi was so popular that Volkswagen continued producing it for more than half a century.
But Eric's grandfather, Lucien Dehan, saw the potential of the VW Kombi early on. By 1951, Lucien was delivering Champagne barrels to merchants in Épernay and Reims in his trusted VW Kombi.
Today it is Eric behind the wheel. And instead of carrying precious barrels of bubbly, the VW Kombi is fitted to carry up to 9 passengers on an unforgettable tour. Winemaker and tour guide extraordinaire, Eric leads his visitors on a fun expedition along the Marne River and through some of the most picturesque vineyards sloping up from the Marne.
The Discovery Bay, as the baby blue VW Kombi is named, is more than just a ride around the vineyards and villages of the Aisne and Marne. Eric makes several stops on each side of the Marne River to taste the Champagne he produces right where the production begins: in the vineyards. On the right bank we taste the Extra-Brut Adret and on the left bank we taste the Brut Ubac.
The Adret and Ubac are two distinctly different terroirs. The Adret produces fruity and well-rounded wines thanks to the full sun and soil made up of silts, clay and composite rocks. Over on the left bank, Eric's Ubac plots enjoy more shade thanks to their north-east location and the siliceous sands and limestone clays give these cuvées their power.
While Eric is very descriptive telling us about his various parcels before leaving the estate, it's the trip to each area in the VW Kombi allows you to truly see and understand it for yourself.
Sensory Experience
Though we might think it is mainly smell and taste that we use when wine tasting, in fact all five senses play a role in how we experience wine. And it is through a sensory experience in the cellar at Champagne Lévêque-Dehan we realize just how well our senses work (or sometimes fail).
The cellar is set up with little stations to test you. Visitors taste four ice cubes: salty, sweet, bitter and umami. On a worksheet, you must guess which flavor is which. Another station is thermoception, where we must guess the temperatures that correspond to four different wines. Yes another station is to smell and identify the aromas.
In all, the workshop includes eight different stations with an activity to complete. Before long, competitiveness also kicks in and you're in a friendly game with your group to see who has gotten the most correct.
The reward: a tasting of champagne upstairs in the boutique.
Where to Stay in Château-Thierry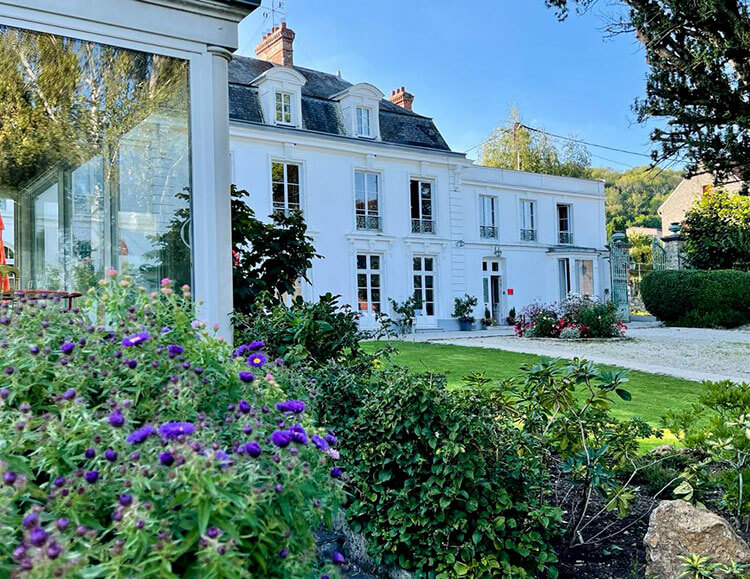 Located just a few minutes drive from the center of Château-Thierry and about a 30-minute drive from Champagne Lévêque-Dehan, Château de la Marjolaine is a charming 19th century castle tucked between the Champenois vineyards and the Marne River. Once the weekend holiday home of the Sinel-Quincarlet family, who own the chic French children's stores Petit Bateau, Château de la Marjolaine was purchased in 2008. Carefully restored over nearly a decade, the owners maintained the traditional feel while modernizing it with contemporary amenities for guests.
It doesn't feel as though you're arriving to a hotel, but rather to the quaint country home of impossibly chic French friends. There's various objects d'art scattered about, but it never feels museum-like or over the top. It's tasteful, yet cozy and welcoming.
Each of the five guestrooms is uniquely decorated with elegant French furnishings. There's also two suites, one of which we stayed in during our stay.
The château has an indoor heated swimming pool, a sauna, and a beautiful private garden for guests to enjoy. Bicycles are also available for guests.
Breakfast is served every morning for guests and is a buffet of breads, pastries, jams, yogurt, fruit and cereals.
Know Before You Go
Getting There
Visits and Tasting
Our trip to Aisne was in partnership with J'aime l'Aisne and Champagne Lévêque-Dehan in order to bring you this story. However, Luxe Adventure Traveler maintains full editorial control of the content published on this site. As always, all thoughts, opinions, and enthusiasm for travel are entirely our own. This article contains affiliate links. When you book on Booking.com or Trainline through our affiliate partner sites, we earn a small commission at no additional cost to you.