Dinner and a movie is a date night classic, but La Cite du Vin just took it to the next level with their new Ciné Gourmand series. We were invited to attend the new event series at Bordeaux's (what I like to call) wine experience center, for a night with one of my favorite Disney movies: Ratatouille. I wasn't entirely sure what to expect, but I knew that we'd be watching the movie Ratatouille and having a Ratatouille inspired dinner with wine tastings from various Bordeaux appellations.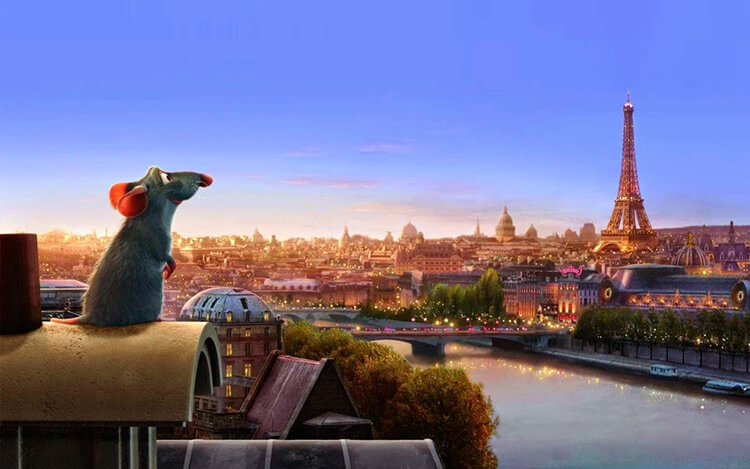 If you're unfamiliar with La Cité du Vin, it's been widely touted as France's wine theme park. It's a highly interactive museum, but also hosts a series of events like the Ciné Gourmand and various wine classes. There's also a fabulous gourmet restaurant on the 7th floor with panoramic views over Bordeaux and a wine cave boasting some 20,000 bottles from around the world. While not a theme park in the true sense of the word, wine lovers of all kinds certainly feel like a kid let loose at Disney World.
In winter, La Cité du Vin closes at 6pm so it all felt very exclusive as I arrived with a trickle of other guests that were also attending at evening Ciné Gourmand event. Perhaps because it's a new event, but my guesstimate is that there were around 50 of us total in attendance, including a handful of children. It was the perfect sized crowd, in my opinion.
The movie, which was in French (I wasn't sure if it would be in French or English prior), was shown in the auditorium first. Since I know the Ratatouille story line fairly well, I could easily follow along with what was happening even though my French is still pretty terrible. I have to say that I felt French camaraderie as I laughed along with my fellow attendees, presumably mostly Bordelaise or long-time expats.
As a side note, watching movies and tv shows you know pretty well in another language is actually a really great way to get exposure to it and learn. Of course, if I'd attended a film I wasn't familiar with and had not seen before, I probably would have been a bit lost. It's just something to keep in mind if you're a non-French speaker visiting Bordeaux and thinking of attending Ciné Gourmand.
As we all exited the auditorium, the first course of dinner was already waiting. The food was all finger foods, though there was plenty and we were stuffed by the time we'd tried everything (and went back for seconds). It was actually quite clever because, as I've come to learn about the French, everyone was mingling and we even met a few new people.
The very first thing I noticed were the mushrooms, which looked exactly like the cartoon mushroom Remy roasted on the tv antenna when he got struck by lightning. I don't know what "lightning-y" tastes like, but Chef Emmanuel Perrodin's mushrooms with parmesan and meringue were delicious. I won't admit to how many of those I ate, but it was definitely more than one.
There were also sea urchins cleverly served in their shell with bacon and chestnut, Arcachon oysters with camembert, sushi with a smoked bonito fish and a sweet potato pancake topped with beef and shrimp. Every bite was incredible.
Of course, Remy's soup was what put Gusteau's back on the map as food critics gushed about it. No surprise, then, that at a Ratatouille inspired dinner a "spicy, yet subtle" soup would appear. Chef Perrodin's was actually a creamy squash soup dressed with the oh-so-delicious French cream. And as in the movie, we all raved about the soup.
A creamy egg with basil that was light-as-air was served in little cups to look like egg shells and the individual cups were all in egg crates. The presentation of each dish was truly beautiful and we were all like paparazzi snapping photos as each new dish appeared.
The veal with vanilla was a delicious marriage. I wanted an entire plate of that alone.
But I needed to save room, because in France there is never just one dessert course. No, this Ratatouille inspired dinner had three! First chocolates with grapefruit and dusted in cocoa powder appeared, followed by a pear and dijon chutney. But it was the little pastries like Remy-sized cream puffs filled with the most delicious salted caramel butter cream that stole the dessert show for me. Stuffed as I was, I had to have two.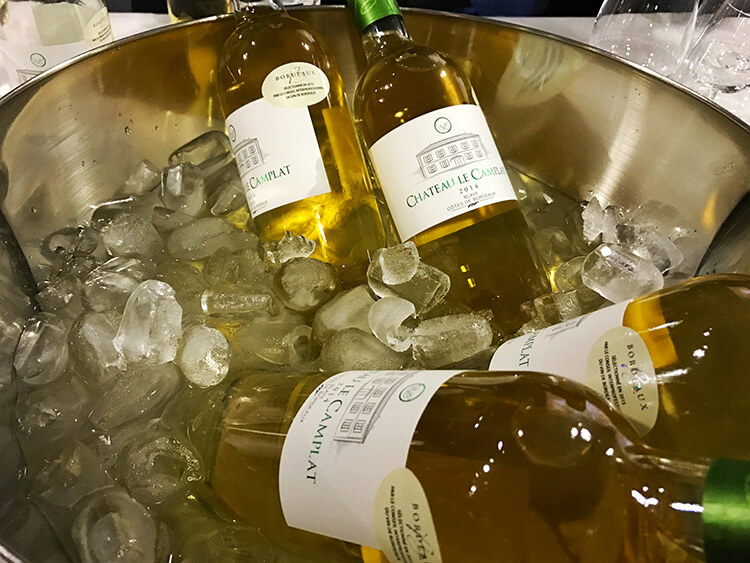 All this food was paired with four wines from Bordeaux: a white from Chateau Le Camplat from Blaye Côtes de Bordeaux, Chateau La Fleur Peyrabon 2009 and 2010 from Paulliac and Chateau Tour de Yon 2012 Grand Cru from Saint-Émilion.
As we ate, drank and mingled a band played and scenes from Ratatouille and Burnt played on the screens in the reception hall. Check out the video I downloaded from my Instagram Story during the event.

There's a different movie with dinner and wine tasting on the first Wednesday of every month. Check their website for more upcoming Ciné Gourmand events.
Posted by Luxe Adventure Traveler on Thursday, December 8, 2016
Ciné Gourmand was a really fun event that we're definitely looking forward to attending again. It happens on the first Wednesday of every month, so check La Cite du Vin's event calendar to see if one of your favorite movies is showing when you visit Bordeaux!
Know Before You Go
La Cité du Vin is easily reached on public transportation from anywhere in Bordeaux. Take the tram Line B to the stop La Cité du Vin. Download the
TBM app
for tram and bus time tables.
La Cité du Vin's Ciné Gourmand is on the first Wednesday of each month. Check their
event calendar
for upcoming events and to book.



Our Ciné Gourmand was provided by La Cité du Vin in order to bring you this story. However, Luxe Adventure Traveler maintains full editorial control of the content published on this site. As always, all thoughts, opinions, and enthusiasm for travel are entirely our own.