The fact that Bordeaux is like Mecca for wine lovers is certainly what drew us to come visit this city and worship at the altar of some of the world's best wines. But Bordeaux is more than just sipping Grand Cru Classé at châteaux; it's a beautiful and compact city who's been getting a shiny facelift over the last few years. Known as the Sleeping Beauty, Bordeaux's 350 listed buildings now gleam a honey-gold. There are new attractions popping up all the time, and there's no shortage of excellent restaurants, pâtisserie, bars or cafes to rest your weary feet in. The only problem is narrowing down what exactly you can fit in to your Bordeaux trip. And luckily, locals know best. We're Bordeaux locals and the leading English-language Bordeaux blog. We've compiled all the best things to do in Bordeaux from the musts for fist-time visitors to the more off-the-beaten path that only locals know (and we're always adding more).
You can also join our Bordeaux Travel Facebook group for even more insider tips, events happening in Bordeaux and around the Nouvelle Aquitaine region each weekend and more.
Bordeaux Museums | Bordeaux Attractions | Free Attractions | Monuments Worth the Entry Fee | Markets in Bordeaux | Day Trips | Things to Do in Bordeaux on Sunday | Bordeaux City Pass
Bordeaux Museums
Think you've seen one Bordeaux museum and you've seen them all? Think again. Bordeaux has a bevy of museums, each with a different theme – more than 20 in fact! Most famous is La Cité du Vin, the interactive wine museum that opened in 2016. But with museums like the Natural History Museum, Contemporary Art Museum, Science Museum and Maritime Museum, there's sure to be at least a few to tickle your fancy. We haven't even been to all of them yet, but we're working on it.
Important: New entry policy is coming to Europe in November of 2022. Stay informed about the ETIAS for France.
1. La Cité du Vin
La Cité du Vin is a must for wine enthusiasts. France's premier wine museum is an interactive experience engaging all of your senses, ending with a wine tasting on the top floor and a panoramic view over Bordeaux.
The permanent exhibition takes you on a journey through the greatest wine regions of the world, wine making processes and techniques throughout the centuries and a sensory experience of everything but tasting wine. But don't worry, because you do get to taste on the top floor at the end of the visit.
There's also events, temporary exhibitions and various wine classes. One of our favorite events is the Ciné Gourmand, which pairs a movie with a delicious movie-themed tasting dinner with wine pairings.
La Cité du Vin is open daily April 1 – June 30 from 9:30am – 7pm, July 1 – August 31 from 9:30am – 7:30pm, week days September 1 – March 31 from 10am – 6pm and weekends September 1 – March 31 from 10am – 7pm. Closed December 25. Book a Skip-the-Line La Cité du Vin ticket or La Cité du Vin is included as free entry with the Bordeaux City Pass.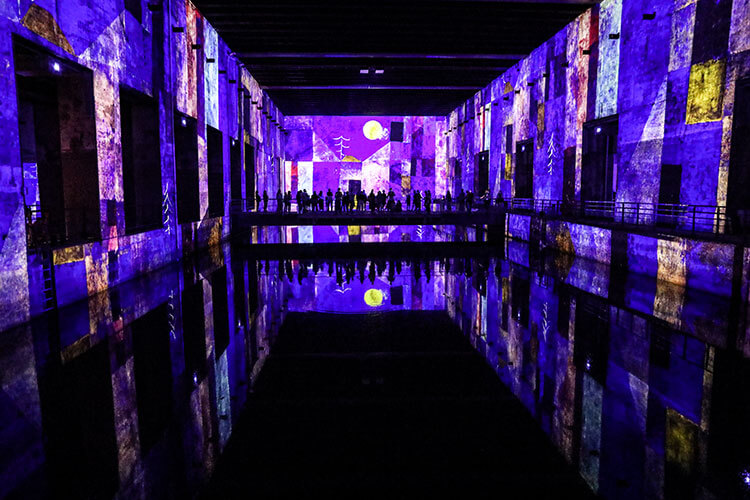 2. Be surrounded by art at the Bassins de Lumières
The Bassins de Lumières (Ponds of Light) is Bordeaux's newest attraction and the world's largest digital art museum. It's located in the Base Sous-Marine, which was built as a U-boat base during WWII when Bordeaux was under German occupation. Spread across 11 cells, the thick concrete walls come to life with the art of first Gustav Klimt and then Paul Klee in the current exhibition, which runs until January 2021.
A few tips for visiting:
advance tickets are mandatory. Avoid selecting the 10am time slot, which is opening. A line forms and then everyone enters at once, making it the most crowded and difficult to social distance.
the exhibit plays on a loop and you see the same thing in all 11 cells. Most cells, with the exception of the very center which have small round digital screens set in the ponds too, are are same. So it's unnecessary to crowd the entrance. Move through a bit and you can find spots where it is very easy to maintain social distance.
the Gustav Klimt exhibit plays first and lasts around 45 minutes. Paul Klee follows after a short intermission and lasts around 5 minutes. Plan for 1 hour to see the entire exhibit.
there is stadium like seating in a cell at the very back if you don't wish to stand. There is also a platform with wheelchair access in front of the stadium platform where you can watch.
masks are obligatory. Only small bags can be carried in and currently lockers/coat check is unavailable due to COVID-19.
Bassins de Lumières is open daily from 10am – 7pm with late opening until 9pm on Fridays and Saturdays. Book your ticket in advance online.
3. Visit the cradle of Christianity in Bordeaux
The foundation of the Saint-Seurin Basilica dates back to Gallo-Roman Bordeaux and the 6th century, though the church we see standing today dates from the 11th century with many additions to it through the 18th century. A gothic style entrance was added on the south side in the 13th century, the 14th and 15th centuries saw the addition of several chapels including the Notre-Dame de la Rose chapel dedicated to the Virgin Mary, and the pipe organ is added in the 18th century.
The crypt dates from the fourth century and was discovered on accident during excavations. UNESCO declared Saint-Seurin a World Heritage Site in 1998 as part of the monuments along the Saint James de Compostela Way.
One of the really interesting things about Saint-Seurin Basilica is that you can visit the ancient crypt to see the Merovingian marble sarcophagi. The crypt gives us a look into the earliest French Christians, or the very cradle of Christianity here in Bordeaux.
There are two parts of the crypt which can be visited. One is the archaeological site, which has a small fee to enter. The second part of the crypt can be accessed from a stairway down in to it from the center of the Basilica and is free to enter, along with the Basilica itself.
Saint Seurin Archaeological Site is open June 1 – September 30 from 1pm – 6pm daily. Entry is €5 or free with the Bordeaux City Pass.


Bordeaux Attractions
These Bordeaux tourist attractions go way beyond wine, museums and city sightseeing. From mind-challenging escape room games to a wave pool right in the center of the city, there are many things to do besides taste wine and there's sure to be something for visitors of any age.
4. Visit the only château located within Bordeaux city limits
A visit to most of Bordeaux's wine estates requires at least a half day, since travel times are often greater than most visitors expect. But there is one Bordeaux wine estate located within Bordeaux city limits and it's easily accessed by Tram A in just 30 minutes from Bordeaux centre.
It's Château Les Carmes Haut-Brion, who got their start as a part of the 1855 classified Château Haut-Brion. With unique architecture, lovely gardens designed by the same designer of the Jardin Public, top notch wines and a location so close and accessible from Bordeaux centre, you can easily include a château visit on any Bordeaux itinerary.
Château Les Carmes Haut-Brion is open for visits by appointment only. Book your visit online.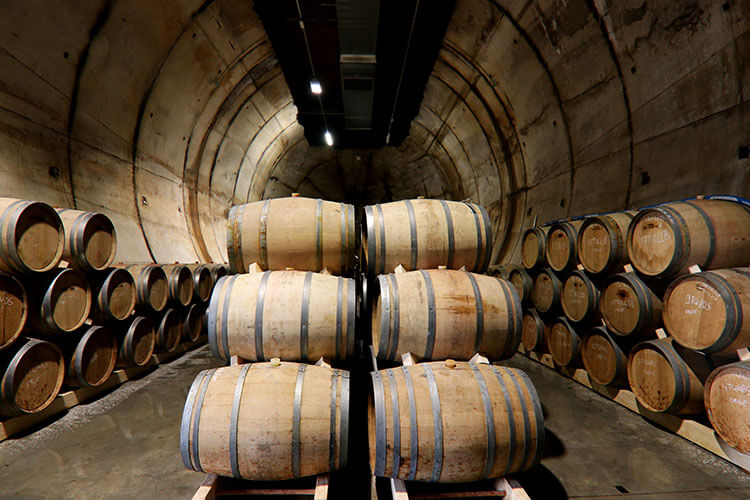 5. Tour Bordeaux's only whisky distillery
While this region is no stranger to distilling spirits like Cognac, Armagnac and Lillet, Moon Harbour Distillery is the very first to ever produce a whisky distilled and aged in Bordeaux. The distillery sits just on the edge of Bordeaux a short distance from La Cité du Vin.
Even if you don't like whisky, it's well worth touring Moon Harbour. The barrels are uniquely aged in a former WWII U-boat bunker. With walls of concrete up to 30 feet thick, a doorway was cut out of the concrete to allow visitors to enter the unique barrel room.
Of course, the distillery and barrel room tour ends with a tasting of Moon Harbour's whiskies and gin back in the boutique/tasting room. There's not a whisky distillery like it anywhere else in the world, so be sure to check it off on your visit to Bordeaux.
Like Bordeaux châteaux, it is required to book a Moon Harbour Distillery tour in advance. Email [email protected] to reserve your visit in English. Visits last 1 hour and are €10 per person; visits are discounted with the Bordeaux Metropole City Pass.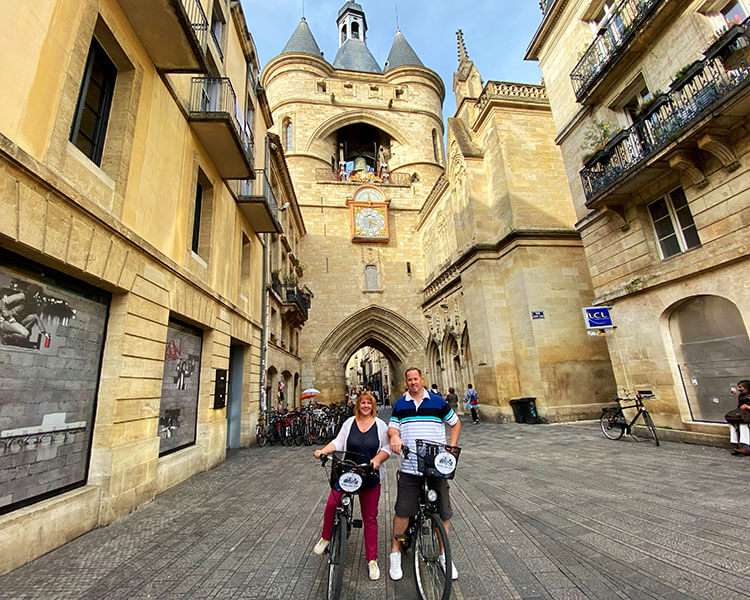 6. Take a bike tour of Bordeaux
With more than 200 kilometers of cycling paths, Bordeaux is the 4th most bike-friendly city in the world. Believe us when we tell you to skip the open-top bus tour and explore Bordeaux by bike instead. A bike tour of Bordeaux is a great way to cover a lot of the sights of Bordeaux, especially if you're short on time.
Bike to some of Bordeaux's most beautiful monuments like one of the oldest belfries in France, the Grosse Cloche, and learn about the unique design of the Bordeaux Tribunal (Bordeaux Law Courts) that was designed by Richard Rogers (the same architect who built Paris' Centre Pompidou). Discover some of "new" Bordeaux and see some of the most stunning views of Place de la Bourse after crossing the Stone Bridge to La Bastide (Bordeaux's Right Bank).
With a number of stops to hear stories about the monuments and sights, there's plenty of time to take photos too. The Bordeaux Highlights bike tour is an excellent way to spend an afternoon in Bordeaux.
Bordeaux Highlights bike tour is available daily April – November at 9:30am and 2:30pm. The tour lasts 3 hours and is €29 per person. Bicycles and a bottle of water are included.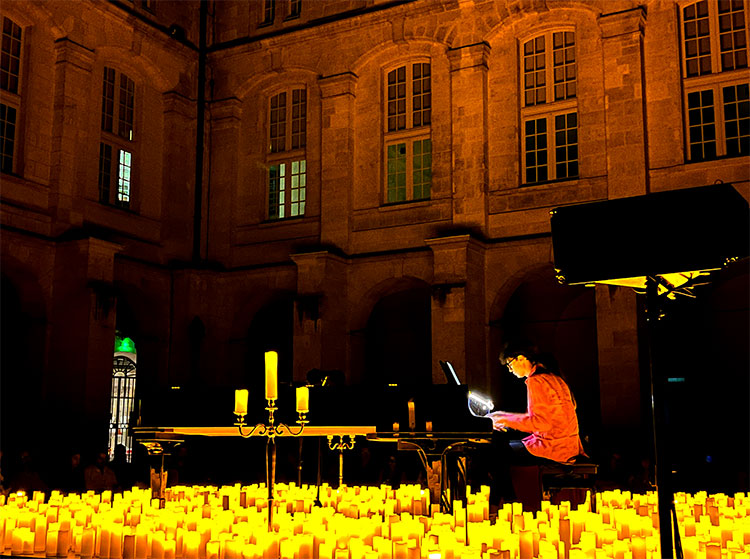 7. Attend a Candlelight Concert
A unique and memorable experience, some of Bordeaux's most emblematic spaces transform into dream settings by flickering candlelight for live musical performances. Not only unique to Bordeaux, Candlelight Concerts are available in spectacular settings around the world. But imagine a concert by candlelight under the stars in Cour Mably or in the decadent Place de la Bourse.
The 60-minute concerts explore a number of musical genres from classical to pop, and even offer concerts honoring some of the world's most beloved musicians from Queen to Elvis. Flame-less candles are used, making the concerts sustainable, as well as entertaining.
Though not a nightly event, Candlelight Concerts offers regular events in Bordeaux so it's worth looking at the upcoming concert schedule during your stay in Bordeaux.
Book Candlelight Concerts in Bordeaux (and around the world) online.
8. Put your detective skills to use at Escape Hunt Bordeaux
You're locked in a room and you have just one mission: to solve a mystery by working through a series of clues before the clock runs out.
You get a small group of at 3-4 friends or family together and test your detective skills while attempting to solve the mystery. You have an Escape Hunt guide who watches from outside, and is there to help with additional clues when you get stuck.
Escape Hunt Bordeaux currently has five different mysteries to choose from and they are both in French and English. We've done Jack the Ripper, Murder in the Harbour and the Saint-Émilion Mystery, where we were only a few minutes from solving it to unlock the door. We're addicted now and will be back to do all the mysteries.
The newest escape room offered by Escape Hunt Bordeaux is at their Tourny location. It's called Protocol, and you have to solve the mystery of murders that took place in an insane asylum. This particular escape room is currently only offered in French, and there's so much to read in French that some of the clues were hard to tackle for even our French friends. So if your French isn't très bon, you might want to skip this escape room and opt for one of the four other options.
Escape Hunt Bordeaux is open daily from 10am – 11pm. Book online.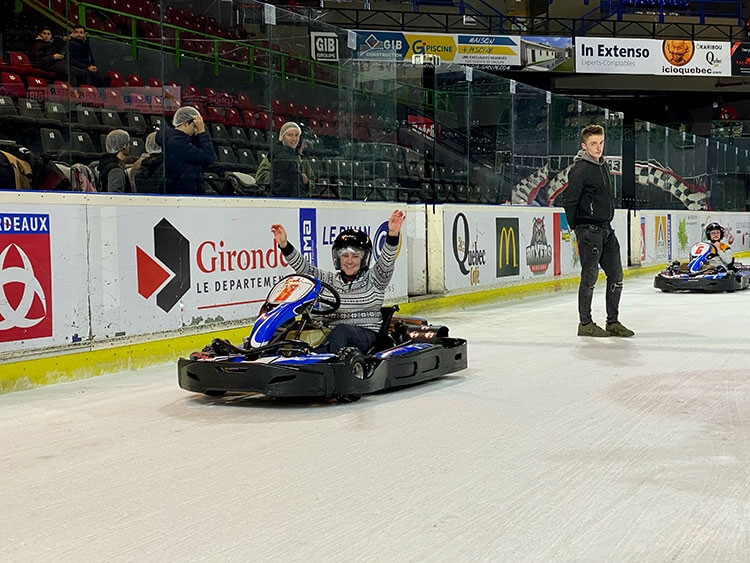 9. Ice Karting
Like Mario Kart come to life, the premise of ice karting is pretty simple. It's just like go karting, but add in some studded tires and an ice rink and you have a recipe for some serious fun. The ice rink at the Patinoire Mérideck, which usually serves either as a public ice skating rink or as the ice for Bordeaux Boxers home games, turns in to an ice karting race track on Wednesday nights from September to May.
The sessions are 7-minutes, which is basically the perfect amount of time for racing around the course. You have enough time to get warmed up and used to the kart, and then plenty of time to go zipping right past your friends to take home the championship.
Ice Karting at the Patinoire Mériadeck is available on Wednesday evenings from September – May. It's €16.50 per person and must be booked at least 24 hours in advance.
Free Things to Do in Bordeaux
There are a lot of free things to do in Bordeaux. From browsing the various food, book and antique markets to the Bordeaux sights like the Miroir d'Eau and the parks, you can easily build an itinerary of free fun.
10. Splash around in the world's largest reflecting pool
Bordeaux is home to the world's largest reflecting pool, Miroir d'Eau. Opened in 2006 as a public art instillation designed by landscape artist Michel Corajoud and water technician Jean-Max Llorca, it was inspired by the flooded sight of Piazza San Marco in Venice.
It's set across the street from 18th century Place de la Bourse, the very symbol of Bordeaux. The square represents Bordeaux's break from medieval Bordeaux when the city was surrounded by walls. Originally the square had an equestrian statue in the center, which was briefly replaced by one of Napoleon. Since 1869, the Fountain of the Three Graces has dazzled visitors.
The water mirror quickly became a favorite spot for locals and tourists alike to cool off on a hot summer's day. Children are always seen running and splashing in it, there's often salsa dancing on either side and it's a favorite meeting place for lovers. The water goes through a programmed sequence of 3 minutes of fog, 3 minutes of mirror and 10 minutes of pool.
It's a contemporary UNESCO World Heritage Site and the most photographed place in Bordeaux. With just three minutes to capture a photo during the mirror sequence, it's becoming more and more of a challenge to capture one like ours above without any people in it.
11. Picnic in the Jardin Public
The Jardin Public was designed in the French style by Jacques Ange Gabriel and inaugurated in 1746. The garden was built in an area where the land was deemed not suitable to grow quality grape views and was meant to give the Bordelaise an open space to relax away from the city.
It was re-designed in 1856 in the English style around a central pond and is much as we see the Jardin Public still today.
You can bring a blanket and have a picnic, relax with a book or maybe play a game of pétanque. In summertime, there's a puppet theater for the kids. There's also a playground and carousel for children. At the far side of Jardin Public closest to the Chartrons District, there's also a fenced dog park where pups are free to run to their heart's desire.
Behind the building that seems to frame the back of the Jardin Public, there's actually a small botanical garden that is free to visit as well.
12. Shop 'til you drop on Europe's longest pedestrian shopping street
The 1.2 kilometer long Rue Saint Catherine is the longest pedestrian shopping street in Europe. It runs from the Grand Théâtre on Place de la Comédie to the Thermier Column on Place de la Victorie. It's been an entirely pedestrian-only street since 1984, though a shopping street also ran along this same stretch when Bordeaux was called Burdigala in Roman times.
Rue Saint Catherine has over 250 stores, plus cafes and restaurants. Aside from shopping, some points of interest along it are the Galerie Bordelaise, a covered shopping arcade that was designed in 1834, and Place Saint Projet.
13. Admire France's largest city square
Place des Quinconces is the largest city square in France and one of the largest in Europe. It's often the home of pop-up events, outdoor concerts and festivals in the heart of Bordeaux.
Laid out in 1820 on the site of Château Trompette, a castle-fortress that once stood court in the city, Place des Quinconces was intended as a defense to prevent rebellion. The guns were pointed toward the city center, as opposed to enemies that might advance from the Garonne.
The trees that were planted in staggered rows lends the square the name, Quincones. And the Monument aux Girondins honors the Girondists that were victims of the Reign of Terror during the French Revolution. There's four scenes on the fountain: Triumph of the Concorde, Triumph of the Republic, the Tribune and the city of Bordeaux. The central column is topped with a statue of liberty.
We think it's one of the most beautiful places to watch the sunset in Bordeaux, and it's also one of the most photographed spots in the city.

14. Check out the street art, skate park and roller derby at Dawrin
Darwin sits on Bordeaux's right bank and it's a unique project created to revitalize the former Niel Military Barracks. More than 100 companies and 30 associations in Bordeaux share the space and a common goal: to reduce their companies' environmental footprints. You'll find an organic grocery store, an urban garden, a skate park and more at Darwin. The Magasin Général is also France's largest organic restaurant and Darwin brews its own organic beer.
There's cool areas where you're encouraged to hang out and play a game of ping pong or foosball. There's skate and bike parks, where you can practice your flip trick …or maybe just watch. There's even roller derby – come to watch the matches or the practices.
And urban street artists are encouraged to practice their free expression here at Darwin, with nearly every inch covered in graffiti and murals. Like anywhere where street art is prevalent, it's always changing and evolving so it's interesting to revisit Darwin and see what's new.
Darwin also has a lot of events and concerts going on, so be sure to check their website for their calendar of events while you're visiting Bordeaux.
Darwin is located at 87 Quai des Queyries. Take Tram Line A to the Stalingrad stop and then walk for about 10 minutes along the quayside.
15. Browse France's largest independently owned bookstore
Librairie Mollat is France's largest independently owned bookstore and has been run by the same family since they opened their doors in 1886. The book shop itself is a sprawling complex of 15 different departments and stocks more then 265,000 books. The departments, which range from everything from books in English to classic French literature, are spread across a maze of rooms in the former residence of the French philosopher Montesquieu. Music and movie lovers will enjoy getting lost in the multi-media department. And regular events like book signings and readings take place, so be sure to pop in and see what events are on while you're visiting Bordeaux.
Librairie Mollat, 15 Rue Vital Carles. Open Monday – Saturday 9:30am – 7:30pm and on the first Sunday of each month from 2pm – 6pm.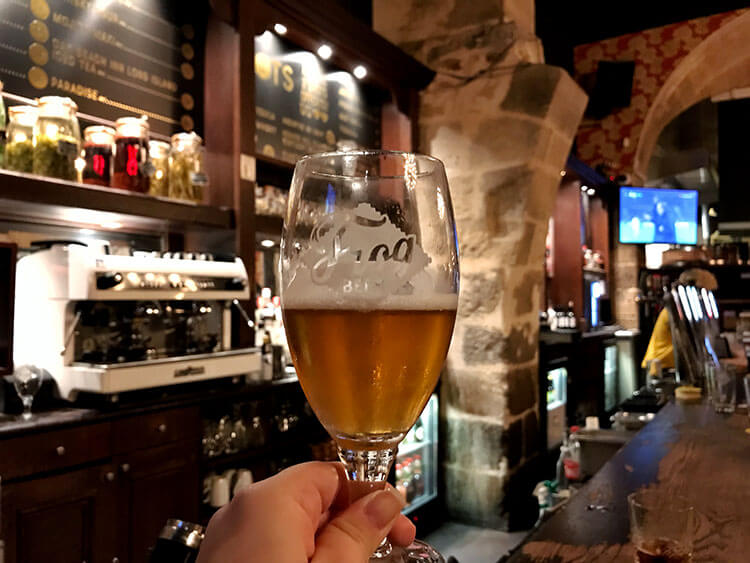 16. Tour Bordeaux's first brewery
Bordeaux isn't just all about wine. We have a number of micro and craft breweries and beer shops in the city. But it was The Frog & Rosbif Bordeaux that was the very first pub in Bordeaux to brew their own beers. And the microbrewery does is right here in the very center of Bordeaux, steps away from the famous Miroir d'Eau in a historic building that was once a women's prison in the 16th century.
Frog Beers was originally born in Paris. It was the final project for a Brit that had come to study in France. He decided to just stay in France and turn a microbrewery on paper into a real life pub. Frog Beers and Frog Pubs are indeed now a successful venture, with seven locations currently in Paris, plus the Frog & Rosbif here in Bordeaux and a location in Toulouse.
You can take a brewery tour of the microbrewery for free. The Frog & Rosbif Bordeaux brews 2-3 times per week, and if you're lucky they'll have brewed earlier in the day on the day of your tour. If they've recently brewed, you might just get to taste the sugary beer that's just beginning it's 7-day fermentation process.
The tour ends with a tasting of three of Frog's 32 beers. We tried the lager, IPA and their Chipotle Chocolate Porter (my favorite) on the day we toured. It's a great tour and a fun thing to do in Bordeaux at night.
Like the Frog & Rosbif Bordeaux's Facebook Page to see when there are upcoming tours, which are typically the first Wednesday of each month in the evening. And if you don't happen to be in Bordeaux when they're officially offering a tour, you can also send them a message to request a tour. They can do tours in both French and English.
The Frog & Rosbif Bordeaux, 23 Rue Ausone. Open Sunday – Wednesday from 5pm – 1am and Thursday – Saturday from 5pm – 2am. Also open Saturday and Sunday for brunch from 12pm – 3:30pm.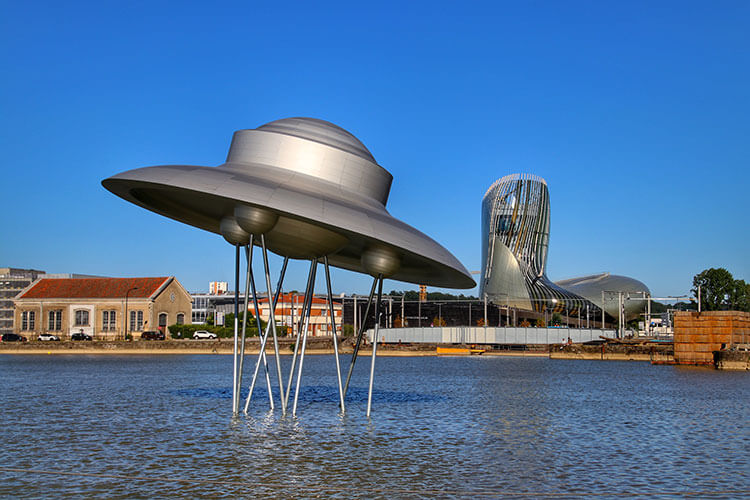 17. See Bordeaux's spaceship in the Bassin à Flot
The Spaceship is a sculpture by British artist Suzanne Treister and part of Bordeaux's public art. The massive 17-meter (55-foot) in diameter spaceship sits in the Bassin à Flot district of Bordeaux and, according to the artist, represents the transformation of the past to the future. The artwork is definitely an interesting addition to Bordeaux's skyline and it's kind of fitting in the modern Bassin à Flot.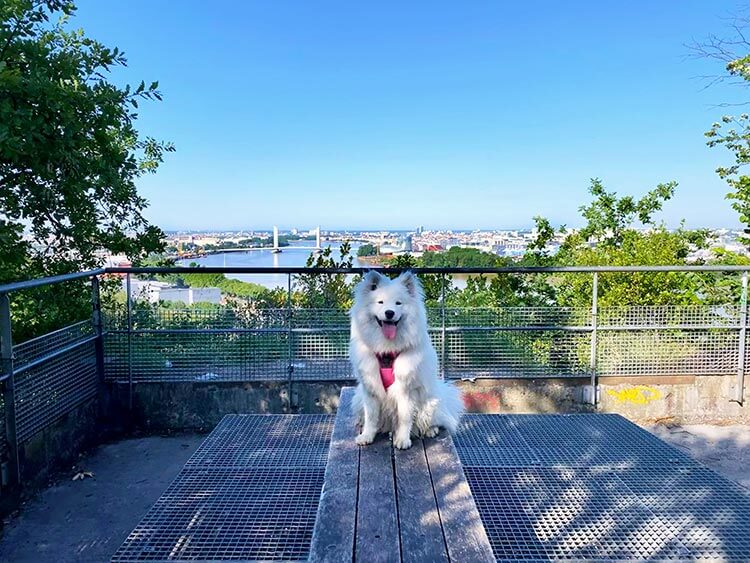 18. Get the ultimate view over Bordeaux at Lormont's Parc de l'Ermitage Sainte-Catherine
Worth the short trip up to Lormont on Bordeaux's Bastide, the Parc de l'Ermitage is not only one of the best green spaces close to the city center, but also boasts one of the best viewpoints over Bordeaux. It's a former quarry turned into a beloved Bordeaux green space with 27 hectares to explore.
The crown jewel of the Parc de l'Ermitage is the Belvedere perched 60 meters up on a plateau overlooking Bordeaux with views of the Garonne, La Cité du Vin, the Pont Jacques Chaban-Delmas and the monuments of Bordeaux's skyline beyond. There's also a small lake at the center of the park, with it's cloud shaped refuges périurbains called Le Nuage on the lake's edge. The refuge is one of about a dozen free accommodations available to walkers on the Saint James Way in summer.
It's not necessary to have a car to access Parc de l'Ermitage. In fact, one of the most pleasant ways to reach the park is to take the TBM Bat3 from Bordeaux Center at the Quinconces Jean-Jaurès stop in the direction of Lormont. Get off at the Lormont Bas stop and then walk up to Parc de l'Ermitage. You can walk back in the direction of Bordeaux along the quay to the Lissandre bus stop, where you'll find an archway underneath the railroad bridge (number 8 on this PDF map of the park). Take the path for a nice stroll up through the Parc de l'Ermitage. The Belvedere viewpoint is located at the top just near the park entrance.
Plan to spend around 1.5 – 2 hours walking in Parc de l'Ermitage.
Monuments Worth the Entry Fee
While it's free to admire many of Bordeaux's monuments, some have a modest entry fee that goes toward maintaining them so visitors can enjoy them for years to come. We've included our favorites that are well worth the entry fee, and most are covered under the Bordeaux City Pass.
19. Climb the second tallest church bell tower in France
For an entirely different view over Bordeaux, climb the 114 meter tall Saint-Michel bell tower. And if you really want to impress the locals, refer to the bell tower simply as La Flèche.
It was built in the 15th century over 20 years from 1472 to 1492 by Jean Lebas. His son took over the building of the spire in 1496 and at the time that it was completed, it was 120 meters high. It's the second tallest bell tower in France, after Strasbourg Cathedral's at 142 meters high.
It's practically a miracle it's even still standing. It was hit by lightning in 1574, nearly demolished by Louis XIV in 1675 and a spire was swept away in a huge storm in 1768.
After nearly a century, a project to restore the spire was finally underway and the rebuilt spire was inaugurated in 1869. So perhaps with all these trials and tribulations, you can see why La Flèche is a source of pride for the Bordelaise and a key monument of the city.
La Flèche Saint-Michel is open from April 1 – October 31 daily from 10am – 1pm and 2pm – 6pm. Entry is €5 and children under 12 are free. Entry is free with the Bordeaux City Pass.

20. Get a look at Bordeaux during the Middle Ages at Port Cailhau
After nearly three centuries of British occupation, Bordeaux's fortified walls are opened with a monumental gate facing the river. Porte Cailhau was built between 1493 and 1496 as an arc of triumph dedicated to King Charles VIII to show loyalty to the kingdom of France after the Battle of Fournoue.
Though the gate is elegant, it also had many defensive features. The name "Cailhau" has two possible origins: it could refer to the stones found on the site where it was built, or perhaps from the family name Cailhau, who birthed several mayors of Bordeaux and whose family mansion was located just next to the gate.
The gate serves as a small museum that tells the story of Bordeaux in the Middle Ages, and in to the 18th century when stone quarries and the Renaissance began to significantly change the style of architecture in the city.
Porte Cailhau is open daily from 10am – 1pm and 2pm – 6pm. Entry is €3 and children under 12 are free. Entry is free with the Bordeaux City Pass.
21. Glimpse the remains of Gallo-Roman Bordeaux
The Roman Empire's reaches were far and wide, so it's really no surprise that Romans once occupied Bordeaux (then called Burdigala). They even made wine here.
The remains of the amphitheater are the oldest Gallo-Roman ruins in Bordeaux and it dates from the third century. It was probably built on the occasion of a visit of Caracalla to Aquitaine. It's believed it was a unique amphitheater, and unlike other Roman amphitheaters, only had wooden bleachers.
Only a fraction of the arena remains today, but at it's time the ellipse-shaped arena would have held some 17,000 spectators for gladiator games. That would have been nearly twice the population of Burdigala.
It's thought that it was set on fire by the Franks of Gaul and that it burned for two days. It was then abandoned until the 18th century when it became a refuge for prostitutes and hoodlums. Finally, steps were taken to preserve it and it became classified as a historical building in 1911.
A monumental entrance still stands, along with some arcades and ruins even lie in the cellars of the houses that surround it today.
Undoubtedly a Roman amphitheater, it got the name Palais Gallien in the Middle Ages when in 1367 it was named for Charlemagne's wife, Galine.
Visit Palais Gallien on a guided tour from June 1 – September 30 at 10:30am or 3:30pm, or at 9:30pm on Saturdays in July and August. Entry is €3 for the day tour and €5 for the night tour. Entry is free with the Bordeaux City Pass. Purchase the tickets at the Tourist Information Office.

Markets in Bordeaux
There's a number of bustling markets in Bordeaux on any given day of the week. From taking in the colorful produce and scents of farmer's markets to browsing the books of the book market that circles Grands Hommes, there's a market for just about anything you could want.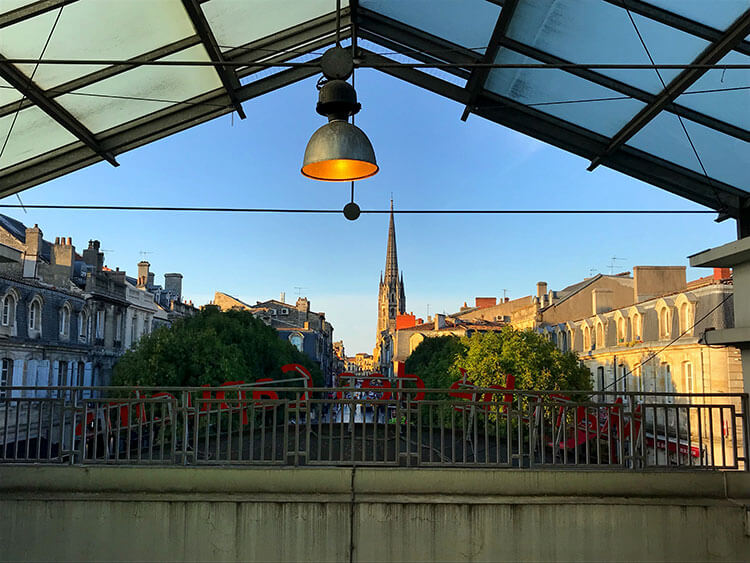 22. Eat your way through Marché des Capucins
Mountains of fresh herbs. Pungent goat cheeses. Piles of fresh oysters. Stacks of custard-y canelés. Grab a French market basket and pick out some picnic essentials alongside some of Bordeaux's chefs at Marché des Capucins, the city's largest market, and you'll feel like a true Bordelaise. It's here that you can try a number of Bordeaux specialties and specialties of the region.
Known as the "belly of Bordeaux," the first market was held in this spot in 1749. Though, it would have looked quite different then. Cattle were sold along with food and the services of carpenters, roofers, shoemakers and blacksmiths. The market hall was officially launched in 1863, but the structure we see today wasn't completed until 1881.
The areas on either side of the glass arcade have permanent vendors with their various stalls lining the rows. The center aisle often changes as vendors receive their spot by auction daily.
Tip: for great photo spot over the market, go up the steps to the car park. There are bridges that cross the center aisle and have an excellent view of the market and hall.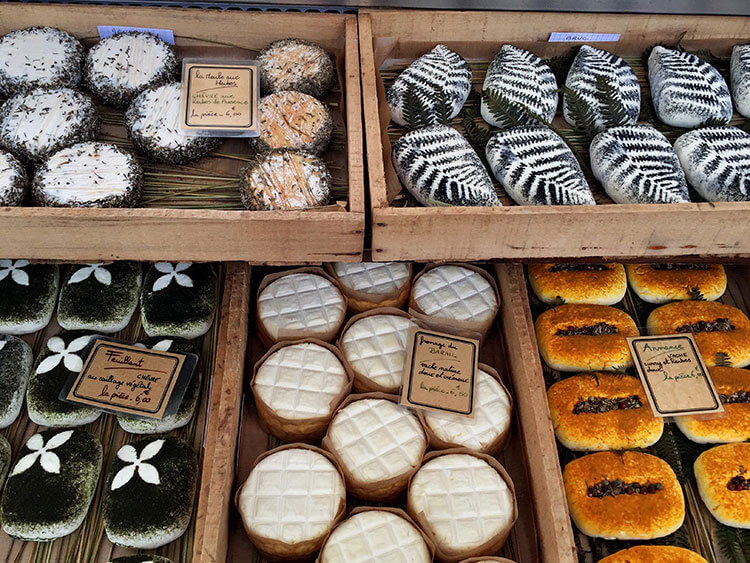 23. Find a feast the Marché des Quais
The Marché des Quais stretches along the Quai des Chartrons every Sunday. Locals and tourists alike enjoy browsing the various markets stalls where food is the star of the show.
You'll find everything from local produce to cheese producers. But you'll also find an array of stalls selling food meant to be enjoyed on the spot. Vendors come from throughout the region with a bevvy of international cuisines to be enjoy.
Sit at little tables alongside the Bordelaise while you enjoy a plate of freshly shucked oysters and a glass of wine for around €5. We never miss having some empanadas. The roast chickens with their drippings cooking up delicious, crispy potatoes below are another temptation you can't go wrong with.
But come with an appetite, because you won't be able to resist all the food temptations at this Sunday market.
Marché des Quais is every Sunday along the Quai des Chartrons from 9am – 2:30pm
Day Trips from Bordeaux
The great thing about Bordeaux and the region is that it is well-connected by a train network. That makes many day trips from Bordeaux a breeze to make, even if you aren't renting a car. You can easily take the train to Saint-Emilion, Arcachon and even places in the Médoc like Margaux and Pauillac.

24. Tour an 1855 classified Médoc wine estate
You can't come to Bordeaux and not visit the very châteaux that this city is built upon. Wine making dates back to Roman times here and while the 1855 Classification of the Médoc was politically fueled at the time, it put Bordeaux on the map as one of the greatest wine regions of the world.
The classification has never been revised, with one exception, and the wines would hardly even be recognizable today. But the 1855 classification chateaux are some of the most impressive to visit. Beautiful, stately homes sit on stunning estates surrounded by vines that produce some of the best wines in the world.
Find all of our recommendations for Médoc châteaux to visit in our Guide to Bordeaux and easily book Bordeaux wine tours directly with many châteaux online at Rue des Vignerons.
25. Visit the Medieval Town of Saint-Émilion
While Bordeaux sparkles with its honey-colored facades, the medieval village of Saint-Émilion impresses with its steep tertres and ancient monuments. Built as an upper and lower town, Saint-Émilion seems nearly to be cradled by a bowl that's surrounded by vines.
As another UNESCO World Heritage Site itself, the village deserves much more than a day trip to soak up everything Saint-Émilion has to offer. If you can plan to, spend at least 3 days in Saint-Émilion alone to tour the sites of the village and visit the châteaux of both the Pomerol and Saint-Émilion appellations.
But if you only have time for a day trip to Saint-Émilion, it's well worth including the village on your Bordeaux itinerary. You can easily take the train from Bordeaux to Saint-Émilion in just over 30 minutes time. Climb the bell tower of the church and to the top of the Tour du Roy for unparalleled views over the village and vineyards beyond. Be sure to tour the Monolithic Church, which is the largest of its kind. And you can even still visit some Saint-Émilion châteaux like Château Soutard near the top of the village or Château Canon-la-Gaffelière just across from the train station.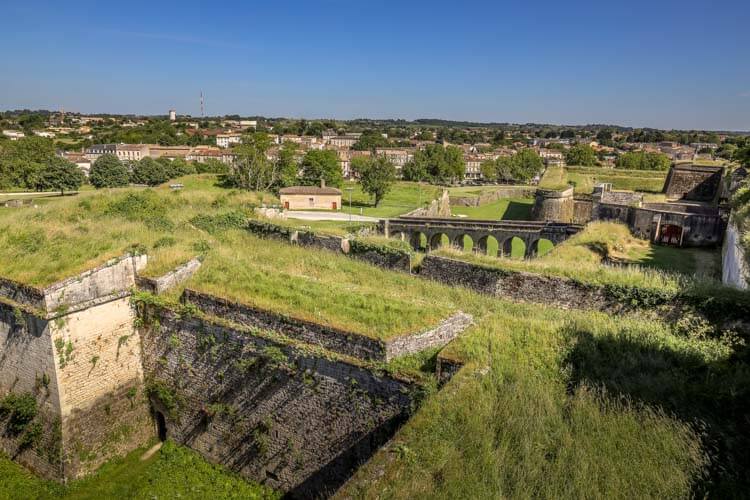 26. Visit the UNESCO listed Citadelle de Blaye
Located just one hour from Bordeaux, the Citadelle de Blaye is one of the best free attractions near Bordeaux. Often underrated by locals, you'll find the fortified city is uncrowded even in the height of the summer tourist season.
With information panels dotted around the site, it's easy enough to visit on your own and discover the various buildings, ruins, bastions and ramparts. But there are guided tours available, including to some parts of the walled city only accessible on the guided tours such as the walled in vineyard of the Clos de l'Echauguette.
Visit on a Wednesday or Saturday when the weekly market sets up in the village just outside the Citadel. Pick up a baguette, saucisson and cheese and enjoy a picnic inside the fortification with stunning views looking out over Europe's largest estuary.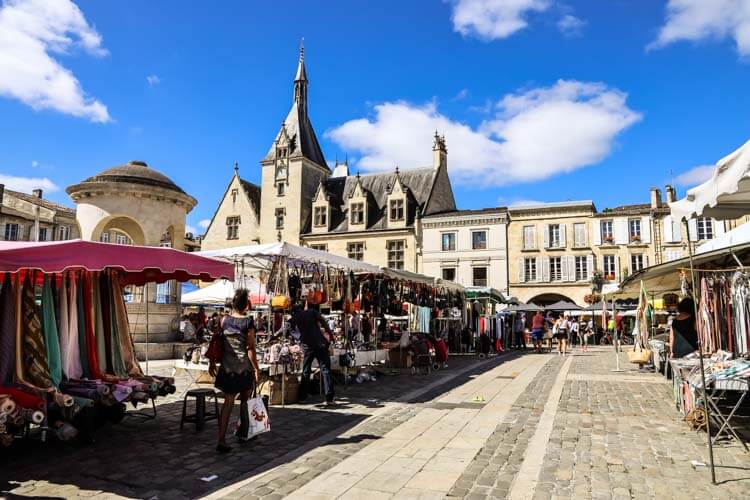 27. Visit the Medieval bastide town of Libourne
Libourne is one of the best towns near Bordeaux and with a short 30-minute train connection, it's also easy to visit. The fortified town is often overlooked for more famous Bordeaux, but it's full of charm and has plenty to do.
Libourne is also home to one of the best open air markets of the Gironde with Place Abel Surchamp turning in to a market square every Tuesday, Friday and Sunday. In fact, a market has taken place there for over 600 years.
In summer, don't miss a variety of activities that you can do from Libourne like kayaking to a nearby grain mill or taking a ride with the rail bikes along the historic train line. There's even a relaxing 2-hour river cruise along the Dordogne River that takes visitors past some of the beautiful fortresses of the area, like Château de Vayres.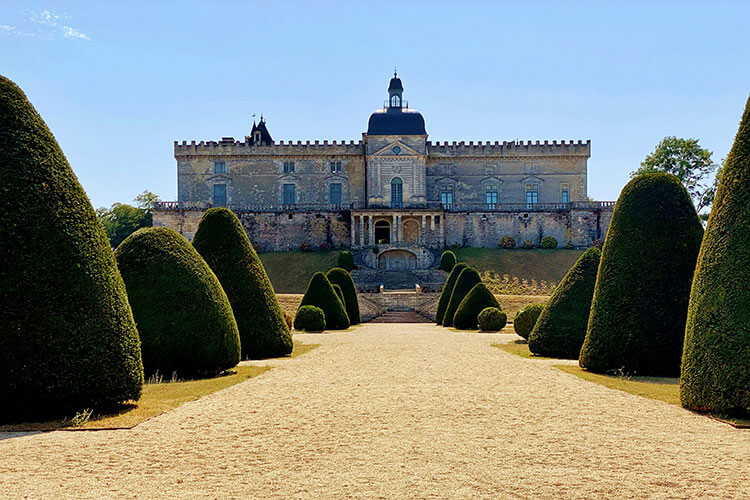 28. Tour the Medieval Château de Vayres
While the word château is well and truly associated with the Bordeaux wine estates of the region, Château de Vayres is a different kind of castle. Not a wine producing estate, this castle once served as a mighty fortress to protect Bordeaux. And since 2001, it's been classified as a historical monument.
Still occupied privately by the family that owns it, Château de Vayres is open seasonally from Easter until November 1 to give visitors a glimpse at this impressive castle. There's a small collection of tapestries and period furniture that has been carefully curated by the owners throughout the rooms you can tour. And the gardens, which sit right alongside the Dordogne River, are of note for their beauty.
Accessible by train in just 30 minutes from Bordeaux or just 5 minutes from Libourne to the Gare Vayres, the castle is well-worth a look.
Château de Vayres, 63 Avenue de Libourne, Vayres. Open Easter to November 1.
29. Take a day trip to Europe's highest sand dune
You might not think of Bordeaux and beautiful beaches, but one of The Guardian's 50 Best Beaches in the World is right here in the southwest of France. It's Dune du Pilat and it's the highest sand dune in Europe, towering above the Atlantic over 100 meters high.
A mere 30 miles from the city of Bordeaux, you can often find us at the Dune in summer. A staircase helps visitors climb the Dune for a stunning view over the Arcachon Bassin. And in summer, the adventurous can paraglide off the top of the Dune – just remember that you have to drag yourself and your chute back up the Dune.
Some other ways we love to soak up the picturesque wall of pristine sand is on an Arcachon bay wine tasting cruise or a scenic helicopter flight over Dune du Pilat.
30. Try some of the world's best oysters
It wasn't just grapes that grew here in Bordeaux since the Roman times; back then oysters grew wildly in the Arcachon Bassin. Though just a fraction of France's annual oyster production comes from the Arcachon Bassin, 60% of the oysters eaten in France come from the 350 oyster farms here.
All of the farmers are small scale producers and the oysters aren't sold to supermarkets or exported. And the fact that the oysters are sold directly to people and restaurants keeps their cost low.
You can visit many of the farms that sell their oysters fresh for you to slurp up right there on a small terrace. Or you can eat plates of six with a bit of bread and butter and some white Bordeaux at the various markets like the Sunday Marché des Chartrons, where the lot will cost you just €5.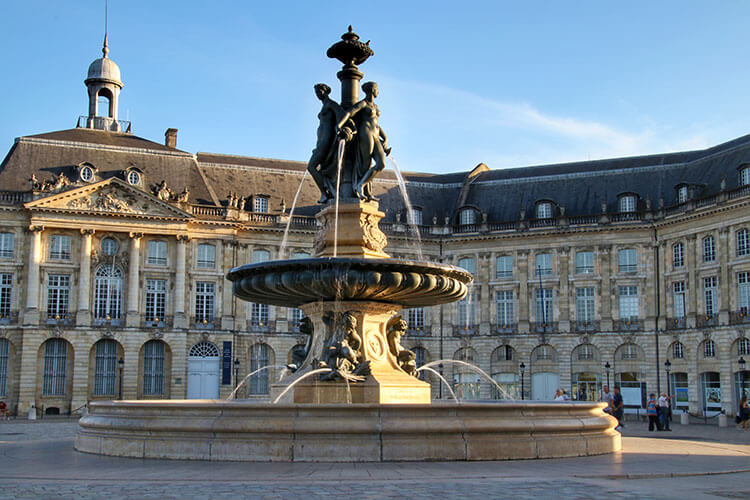 Things to Do in Bordeaux on Sunday
Many of the cruises begin or are in port in Bordeaux on Sunday. While it's true that Sundays are a day of rest in much of Europe with many shops, museums and attractions closed, times are a changin'. Here's a list of what to do in Bordeaux on Sunday:
Many shops particularly along Rue Saint Catherine are now open on Sunday in Bordeaux.
La Cité du Vin is open on Sundays
The Marché des Capucins is open on Sundays from 6am – 2pm
The Marché des Quais is open on Sundays from 7am – 1pm
The Jardin Botanique de Bordeaux is open on Sundays from 8am – 8pm (8am – 6pm in winter)
The Musée des Beaux Arts (Museum of Fine Arts) is open on Sundays from 11am – 6pm
The Musée des Arts Décoratifs (Museum of Decorative Arts & Design) is open on Sundays from 11am – 6pm
The Musée d'Aquitaine is open on Sundays from 11am – 6pm
The CAPC Museum of Contemporary Art is open on Sundays from 11am – 6pm
The Cap Sciences Museum is open on Sundays from 2pm – 7pm
Take a lunch Bordeaux river cruise on the Garonne
A few chateaux are open on Sundays by appointment only (mostly only during summer months) such as Chateau La Dominique, Chateau Cantenac, Chateau Fombrauge and Chateau Dauzac
It's also worth noting that several Bordeaux museums offer free admission on the first Sunday of every month. Checking out a museum that normally has an entry fee is one of the best free things to do in Bordeaux on a Sunday! The museums that offer free admission on the first Sunday of each month are:
Musée d'Aquitaine
Muséum de Bordeaux (also known as the Bordeaux Natural History Museum)
Musée des Arts Décoratifs
Jardin Botanique de Bordeaux
Musée d'Ethnographie de l'Université de Bordeaux
Musée National des Douanes
Bordeaux Metropole City Pass
Sometimes city passes just aren't worth it, but that's definitely not the case for the Bordeaux Metropole City Pass. Available as a 24 hour, 48 hour or 72 hour pass, you can choose the right pass for your trip to Bordeaux. You do get addition free entry and discounted entry to a number of sights and monuments around the Bordeaux wine region with the 72 hour pass.
No matter if you choose the 24, 48 or 72 hour Bordeaux Metropole City Pass, you get free entry to 8 museums, 7 monuments, a guided Bordeaux city tour of your choice and unlimited access to Bordeaux's public transportation network. If you plan to visit La Cité du Vin, one other monument such as Pey Berland Tower or the Saint-Michel bell tower and use public transportation just once while visiting Bordeaux, you'll already recover the cost of the 24 hour Bordeaux Metropole City Pass.
Museums where you get free entry with the Bordeaux Metropole City Pass:
*Note that free entry with the pass to La Cité du Vin must be before 12pm, otherwise the entry fee is reduced to €5 with the pass.
Monuments where you get free entry with the Bordeaux Metropole City Pass:
Tour Pey Berland (entry fee without pass is €6)
Porte Cailhau (entry fee without pass is €3)
Submarine Base (entry fee without pass is €5)
Flèche Saint-Michel (entry fee without pass is €5)
Grosse Cloche (entry fee without pass is €5)
Cité Frugès (entry fee without pass is free)
Attractions, tours and museums where you get a discount with the Bordeaux Metropole City Pass:

Some activities and attractions visited are in partnership with Bordeaux Tourisme in order to bring you this story. However, Luxe Adventure Traveler maintains full editorial control of the content published on this site. As always, all thoughts, opinions, and enthusiasm for travel are entirely our own. This article contains affiliate links. When you book on Viator, Rue des Vignerons or Trainline through our affiliate sites, we earn a small commission at no additional cost to you.