We love wine, but that wasn't always the case. Neither of us really had much of a taste for wine until we moved to Italy. Part of the appeal of wine was visiting vineyards. They're just so atmospheric. In spring, the new leaf shoots start appearing on the vines that had been cut back after the harvest; as summer days heat up, tiny grapes begin to appear; the onset of véraison signals the end of summer; and the fall sets the remaining leaves ablaze in a sea of gold. Particularly in Italy, vineyards are set among the most picturesque castles and hilltop towns. We've definitely visited some beautiful vineyards in the last couple of years, but the Prosecco Road, winding along spaghetti thin roads in the Prosecco Hills of the Valdobbiadene in the Veneto has some serious wow-factor.
Just an hour's drive north of Venice and a mere 30 minutes drive from our home in Italy, the Prosecco Road runs for nearly 20 miles from Conegliano to Valdobbiadene. The breathtaking wine region is full of small terraced vineyards planted on steep slopes almost exclusively dedicated to grapes for Italy's famed sparkling wine. You won't find any massive producers here. Small family-run wineries producing the light and crisp Italian bubbly line La Strada del Prosecco. They've remained small because the steep slopes make it difficult to mechanize the work and the traditional methods from more than 200 years ago are still used by growers in these hills today.
Prosecco Wineries to Visit
You don't need to book a Prosecco tour in order to visit the Prosecco wineries. In fact, there aren't many organized Prosecco day tours at all. We think it's best to independently explore the Valdobbiadene and suggest spending at least two nights in the Valdobbiadene to soak up this beautiful wine region. There's lovely agriturisimi and small family-run B&Bs practically right in the middle of the vineyards that are the perfect spots to bike or hike from vineyard to vineyard, or explore by car. But if you are looking  for a Prosecco tour from Venice, this private Prosecco Tasting Wine Trip is a good day trip that visits two different Prosecco wineries for a tour and tasting and includes lunch.
Driving the Prosecco Road is like a treasure hunt. Just around every bend in the narrow, winding road is a new spectacular landscape. Though the entire road is picturesque, we think the most beautiful scenes are around the village of Santo Stefano. It's also here that the most sought after Italian Prosecco is made, with a dozen or so growers laying claim to patches of farmland on a hill with such perfect growing conditions that it is almost of mystical renown. That hill is called the Cartizze and not only is it some of the most expensive farmland in all of Italy, it produces the grapes that make the Grand Cru of Proseccos.
Ca' Salina
One of the most popular because of its location on the top of a hill in the heart of the Valdobbiadene DOCG (Denominazione di Origine Controllata e Garantita) zone, Ca' Salina has an amazing view from its outdoor tents that serve as a tasting room in good weather.
Ca' Salina was created by Riccardo Bortolin following the division of the Bortolin brothers from the famous and historic Bortolin winery in the 1950s.  Ca' Salina's DOCG wines come from their oldest and best vines. We tried the Rivete Valdobbiadene Prosecco Superiore DOCG Brut. We don't drink Prosecco often, but the dry and elegant fruity wine is perfect as an apertif or would be great with fish dishes.
Ca' Salina is open daily from 9am – 7pm. Call in advance to book a tour and tasting. Tel. +39 0423 975296
Garbara
Just a few minutes drive from Ca'Salina is a charming small producer that specializes in Cartizze, the absolute best Prosecco in Italy that money can buy. The family has been cultivating their vineyards on the Cartizze hill by hand for over 60 years and just a few thousand bottles are produced each year. Cartizze is made from pure Prosecco grapes solely from the Cartizze hill and the sophisticated flavors are much more pleasing to my palate.
What I particularly like about Garbara is that they are also an agriturismo with a lovely sun deck. You can order plates of salami and local cheese carefully selected to compliment their Prosecco. It makes the tasting relaxing and you want to linger for the breathtaking views.
Garbara is open by appointment only. Call in advance to make an appointment for a tasting in the agriturismo. Tel +39 0423 900155. 
La Tordera
Leaving behind the heart of Valdobbiadene in Santo Stefano, La Tordera can be reached in about a 15 minute drive. Even though the winery is located a short distance away from the Cartizze hill, the family does have farmland on the hill and also produces a Cartizze. They produce around 1 million bottles per year and unlike small producers like Garbara, La Todera does export to countries like the United States.
The Cartizze is good, but at La Tordera its their Gabry, a rosé Prosecco, that is my pick. Rosé isn't quite as chic to drink in summertime as it is in France, with most Italians preferring Prosecco. So a good rosé is harder to find that you might think and La Todera hits the mark with its rose Prosecco.
La Tordera. Basic tastings are available Monday – Saturday from 9am – 12:30pm and 2pm – 6pm and cost €5 per person. The tasting cost is waived with a purchase. A guided tour with tasting is €10 per person and reservations are required. Tel +39 0423 985362
Toffoli
Toffoli is a second generation run family winery located in Refrontolo that was started by Vincenzo Toffoli in 1964. He had a passion for wine making from a young age and passed that passion, as well as his experience, on to his children Sante, Luciano and Gabriele who run the winery today.
Located in the Conegliano Valdobbiadene Prosecco Superiore D.O.C.G. historical production area, Toffoli produces Prosecco and Passito (a type of sweet wine). A tour of their winery takes you in to the production rooms and finishes with a tasting of their Prosecco and Passito.
Toffoli. Tastings are available Monday – Friday from 8:30am – 12:30pm and 2pm – 6pm. Email [email protected] to make an appointment.
Biking and Hiking
The Prosecco Road offers more than just a car ride from winery to winery. The area has a number of hiking and biking trails that take you right through the historic vineyards. With little traffic, aside from the tractors you'll encounter during harvest season, the Prosecco Road is a favorite among cyclists.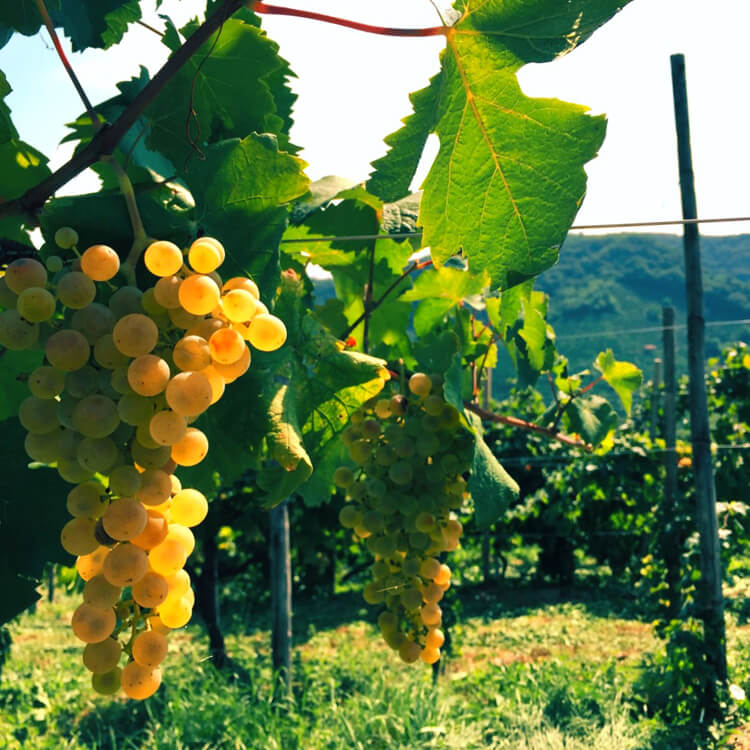 One of the popular routes, L'Anello del Prosecco, is a loop starting and ending in San Pietro di Barbozza. The trails are well marked and this one follows the path marked 1019A as it meanders for 8 kilometers through the villages of San Pietro di Barbozza, Santo Stefano and Saccol. It takes just 45 minutes by bike or about 2.5 hours hiking. Be sure to bring a camera because you'll definitely want to stop for photographs along the way.
More experienced cyclists can plan routes running up to 90 kilometers from Nevegal to Conegliano. Some might even want to give La Pinarello, the route where the famous Prosecco Classic takes place, a try.
Where to Eat on Prosecco Road
Trattoria Fos da Marai
Even if the food was subpar, Trattoria Fos da Marai would be a top pick for the view alone. But luckily it's not; the food is lick-your-plate-clean good. And that's evident when even on a weekday cyclists and Italians just out for a drive pack the terrace. There's just seven tables that overlook the vineyards, so call ahead to reserve one if you want a view with a side of pasta.
There is typically a special of the day, as well as the regular menu. I highly recommend the gnocchi di fos da marai, a house specialty. The gnocchi are homemade (I saw the chef preparing them when I wandered in just as they were opening) and served with a delicious sausage ragu. Meats and sausages are grilled on the open fire and just a whiff sends all hesitation at whether you should have a second course right out the window.
Trattoria Fos da Marai is open Wednesday – Monday for lunch from 11am – 2:30pm and Wednesday – Sunday for dinner from 7pm – 12am. They are located at Via Santo Stefano, 20, Valdobbiadene. Tel +39 0423 900292.
Salis Ristorante
Salis Ristorante is a little more upscale than the casual Trattoria Fos da Marai, has almost as good a view and almost as good food. It's definitely be my second choice if Trattoria Fos da Marai has no tables left.
The cuisine served is similar to Trattoria Fos da Marai and typical of the local area. I recommend the tagliata of beef, which is like a steak sliced and grilled. The cut was very good and the meat was lean.
Salis Ristorante is open daily for lunch from 11am – 3pm and dinner from 6pm – 11pm. They are located at Strada di Saccol 52 – Valdobbiadene.
Where to Stay on Prosecco Road
Agriturismo Relais Dolce Vista
Agriturismo Relais Dolce Vista, literally meaning beautiful view, offers a chic experience in their renovated farmhouse.  There are just five rooms, all with breathtaking views of the Cartizze vineyards and some even have fireplaces. You'll hardly want to pull yourself out of bed, but the pool is a spectacular place to relax in the hot summer months and exploring along the Prosecco Road awaits.
Agriturismo due Carpini
Agriturismo due Carpini is another lovely Italian farmhouse with a total of nine rooms located in two different buildings on the farm. It's set in Santo Stefano, the most beautiful of the hills in all of the Prosecco Hills. Each of the nine rooms is uniquely decorated and have vineyard views.
The swimming pool on the sun terrace overlooking the vineyards is a place you'll want to schedule some relaxation time to enjoy. The agriturismo also has spa facilities, so you can enjoy a massage. And the Salis Restaurant we recommended above is located right in the agriturismo, which is perfect after a long day exploring this wine region.
B&B Casa Bortolin
Bortolin is one of the famous names when it comes to Italian Prosecco and the B&B Casa Bortolin is set on the Bortolin winery in Santo Stefano. The family is extremely friendly and there's also bike rental available right from the B&B.
The rooms are elegant and comfortable with private bathrooms. They do have views of the garden and vineyards, but you won't find the floor to ceiling windows of the Agriturismo due Carpini or Agriturismo Relais Dolce Vista here. However, this B&B is a more affordable option if you don't plan to spend much time at your accommodation.
Agriturismo Vedova
Located essentially on the next hill over from Santo Stefano, Agriturismo Vedova is a charming farmhouse with beautiful vineyard views. The highlight of the agriturismo is their restaurant, with recipes served from the Vedova family. There's also a family winery, and you'll enjoy wines with the food either in front of their big fireplaces or outdoors on the terrace of their tavern with sweeping vineyard views.
There's just four rooms and each is tastefully decorated, yet simple. The rooms do have windows with vineyard views and all have private bathrooms.
Shop This Post
This article contains affiliate links. When you shop on Amazon or book on Booking.com or Viator through our affiliate sites, we earn a small commission at no additional cost to you.