When it comes to Bordeaux wines, world-renowned names like Château Margaux and Château Pétrus typically come to mind. As do some stop-your-heart price tags that can make Bordeaux wines seem out of reach. But Bordeaux wines come in all price ranges, including a number of classified Bordeaux wines that are affordable for just about any collector.
While you might enjoy a trip to Bordeaux (which we highly encourage!) to expand your wine collection, it's not always the most feasible or economical to transport wine back home with you. Millesima is a Bordeaux-based family-run business that specializes in the sale of classified Bordeaux wine. While they do have a brick and mortar flagship shop in New York City, Millesima is an online wine merchant that often offers promotions like free ground shipping to meet all your Bordeaux wine needs.
1. Château Léoville Poyferré 2010
While it's likely you think of Margaux when you hear about Bordeaux Grand Cru Classé châteaux, it's actually the appellation of Saint-Julien that boasts the highest number of Grand Cru Classé châteaux. An impressive 11 of Saint-Julien's 24 châteaux were classified in the famous Bordeaux Wine Official Classification of 1855.
Château Léoville Poyferré is one of 15 Deuxièmes Crus (Second Growths) in the 1855 Classification. Since 2000, Château Léoville Poyferré has been one of the most consistent producers of high quality Bordeaux wine.
With 2010 being an excellent year across all the Bordeaux appellations, we've chosen Château Léoville Poyferré 2010 as a great vintage to splurge on. Robert Parker rated the 2010 vintage with 98+, which means it was already extraordinary but the reviewer thinks it will improve further as the wine develops with age. As the 2010 is structured, tannic and powerful, it's meant to be aged.
This wine is one you can enjoy already or save for another five years. But no matter when you enjoy it, opening a bottle will immediately transport you to the vineyards of Saint-Julien.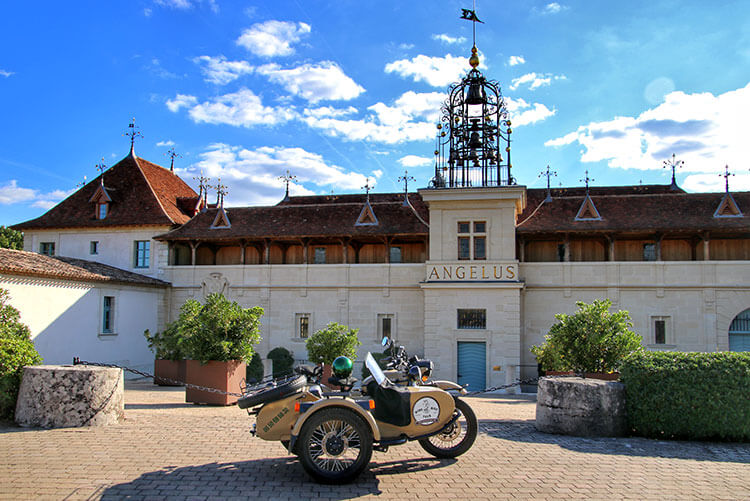 2. Château Angélus 2016
It's not only Bordeaux's Médoc wines that are classified. No Saint-Émilion, or any Right Bank Bordeaux wines for that matter, were classified in 1855. Unlike the Médoc wines that have never been reclassified since 1855, Saint-Émilion wines were most recently reclassified in 2012.
Château Angélus was one of only four châteaux to receive a Premier Cru Classé A classification. Considered to be in the same league as the First Growths in the Médoc, this Saint-Émilion wine is as coveted as any 1855 Grand Cru Classé.
The summer of 2016 was unlike any that Bordeaux winemakers had seen up until that point. A full three months passed without a single drop of rain, and then just before everyone was ready to begin harvesting, the perfect rain came. The 2016 vintage has been called the vintage of the century with the late harvest allowing tannins to fully mature.
Château Angélus 2016 is a top choice because the Merlot, Cabernet Sauvignon and Cabernet Franc grapes all reached optimal maturity before the châteaux harvested in mid-October. Robert Parker rated the 2016 vintage 98+. And we might be a little bit biased since 2016 was the very same summer we moved to Bordeaux, but we agree it is an exceptional vintage.
Even though the 2016 vintage is young, it's very drinkable now. You can also keep it and let it develop for 12 – 15 years, which is recommended for a powerful wine like Château Angélus.
3. Château Lafaurie Peyraguey 2016
When you think of Bordeaux wines, you no doubt think of powerful red wines. But Bordeaux has a remarkable sweet wine called Sauternes, which is like nothing else in the world thanks to noble rot that only occurs in a tiny part of the Bordeaux wine region.
Château Lafaurie Peygraguey is not only in an exceptionally beautiful part of the Bordeaux wine region; the château is also an 1855 First Growth as Sauternes was included in the Official Classification of 1855.
As I already said, the 2016 summer was a fantastic vintage across all 65 Bordeaux appellations. Sauternes was no exception. The late summer rain created the perfect conditions for botrytis to develop, which is the essential ingredient in the recipe for Sauternes wine.
We've chose Château Lafaurie Peyraguey 2016 as a great vintage for your Bordeaux collection because of both the wine itself and the spectacular bottle adorned with a Lalique goddess. Robert Parker rated the 2016 vintage 95+.
Enjoy Château Lafaurie Peyraguey 2016 now for the tropical flavors of pineapple and mango. Or let it age as the caramel aromas develop. No matter when you drink it, it's an elegant choice that will surprise even those who raise an eyebrow at sweet wines.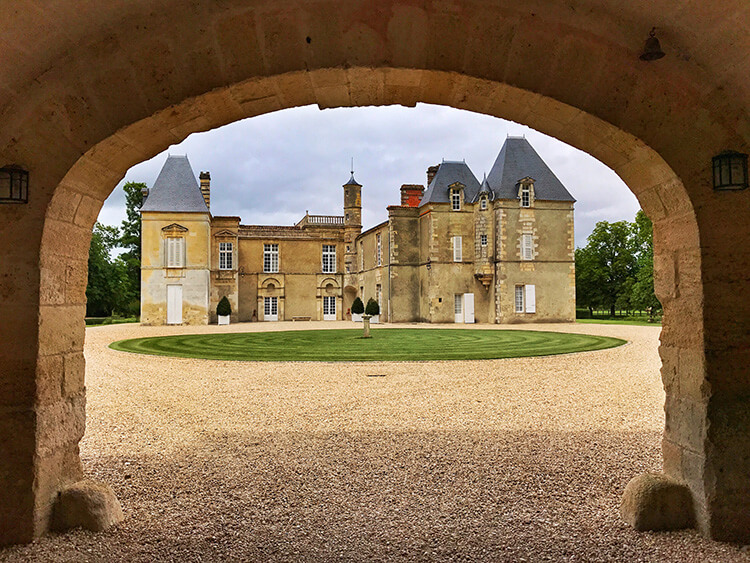 4. Château d'Issan 2015
One thing you discover with only a few visits to the more than 7000 châteaux that make up the Bordeaux wine region is that these châteaux each have lengthy histories of changing hands. It's almost a rare occurrence to discover a Bordeaux château that has managed to remain within the same family for more than a few generations these days.
Château d'Issan, one of 14 troisièmes Crus (Third Growths) and in the Margaux appellation, has been in the same Cruse family since 1945. The family has produced more than 70 vintages under their direction.
The 2015 vintage an incredible vintage for the Margaux appellation, which is a bit of an anomaly with this vintage. The 2015 vintage is typically considered incredible for the Right Bank, where the Médoc was considered to have produced weaker wines.
We've chosen Château d'Issan 2015 for both the vintage and the excellent story you can tell while serving this wine. A bond that tied France and England together, the wines of Château d'Issan were served at the wedding of Eleanor of Aquitaine and Henri Plantagenet (the future Henry II of England) on May 18, 1152.
Robert Parker rated Château d'Issan 2015 as a 93. The complex wine is outstanding and only getting better as it continues to develop with aging. Let this one age for around eight years.
5. Château Canon La Gaffelière 2016
While the Official Classification of 1855 is often debated about because it has never been reclassified, the regularly changing Saint-Émilion classification can be hard for wine collectors to keep up on. Then there is both Premier Cru Classé A and Premier Cru Classé B, which can add to the confusion. It's easiest explained when comparing a Premier Cru Classé A to a First Growth from the 1855 Classification and a Premier Cru Classé B to a Second Growth from the 1855 Classification.
Château Canon La Gaffelière is a Premier Cru Classé B and sits as the base of what is known as the Saint-Émilion slope. The château has officially been certified organic since 2014. And an interesting thing about this château is that they graft their own vines onto rootstock instead of purchasing already grafted vines.
Arguably, Château Canon La Gaffelière 2016 is one of the best vintages produced by the château. It's so well balanced and has the delightful jammy blackberry fruit aromas. If you didn't know what you were drinking, you might actually guess it is a Left Bank and not Right Bank Bordeaux wine.
Rated 93-95 by Robert Parker, it can be enjoyed now but will continue to develop more if you give it a decade before opening it.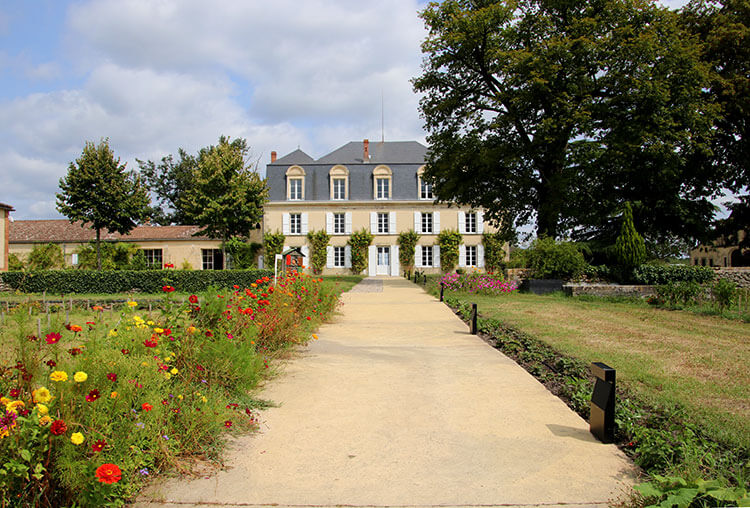 6. Château Guiraud 2016
Organic farming and Bordeaux Grand Cru Classé aren't two terms typically paired together like a nice vintage of Bordeaux and an excellent cut of beef classically go together. But as complex as being certified organic and holding up the standards of producing a Bordeaux Grand Cru Classé both are, organic farming is being seen more and more slowly throughout the Bordeaux wine region.
Château Guiraud, an 1er Grand Cru Classe Sauternes, has been a leader in organic farming in Bordeaux by becoming the first 1855 Classified First Growth to be certified organic. They earned their Agriculture Biologique (AB) farming logo in 2011.
We picked Château Guiraud 2016 not only for their impressive feat in converting a 100 hectare vineyard to an entirely organic winery, but also for their superb wines. The 2016 vintage is exceptional, particularly in Sauternes.
Robert Parker rated the 2016 vintage a 95. As a young wine, it's full of tropical aromas with sweet white peach and honey notes. It can easily be enjoyed now, but letting it develop with aging with bring out more rich caramels.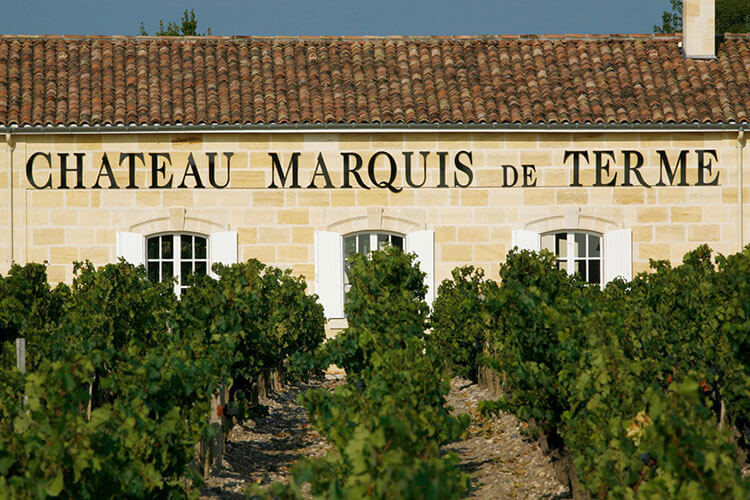 7. Château Marquis de Terme 2016
The Bordeaux terroir is legendary. Terroir is a wine term you'll hear everywhere once setting foot in Bordeaux. And Château Marquis de Terme is simply the best example of the unique Margaux terroir because of the château's position on the Margaux plateau.
A Fourth Growth in the 1855 Classification, Château Marquis de Terme was among some of the very first château we visited in Margaux after moving to Bordeaux. It's one we return to often, so the Château Marquis de Terme 2016 vintage holds a special place in our hearts.
It's an elegant vintage with blackberry aromas. There's a delicateness to this wine, where as many other 2016 vintages were already bold when we tasted them just a few months after harvest at En Primeur in early 2017.
Rated as a 92 by Robert Parker, Château Marquis de Terme 2016 will just continue to improve as it ages. We suggest keeping it for at least 10 years before opening, making it a wonderful Margaux choice to add to any wine collection.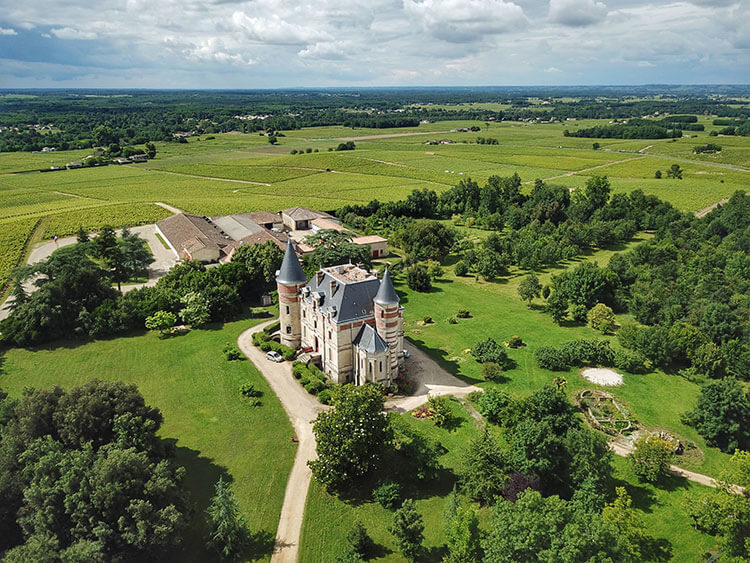 8. Château de Rayne Vigneau 2016
Once you visit Château de Rayne Vigneau, you can't help but fall in love. The château resides atop a hill in one of the most beautiful parts of the Bordeaux wine region. Its neighbor is Château d'Yquem, famed as being the most expensive bottle of white wine sold to date.
And the wine of Château de Rayne Vigneau itself is like drinking droplets of gold. Of course, as with the other 2016 vintages we've already mentioned, Château de Rayne Vigneau 2016 is one for the ages. A tough year between the extremely wet spring and then the drought, without the rain that came on September 13, 2016 the vintage likely would have turned out entirely differently.
Rated as a 94 by Robert Parker, the 2016 vintage is already a bold wine at its young age. There's aromas of orange blossom and passion fruit if you drink it now, or age it for anywhere between 12 – 30 years for a caramel-y custard wine. Try it with spicy Asian dishes for a surprising twist of a pairing.
9. Château Soutard 2018
The two main grape varieties of Bordeaux are Merlot and Cabernet Sauvignon. Sometimes small percentages of Petit Verdot or even Malbec can be found in the Bordeaux blends of the Left Bank. But it's really surprising when you come across a bit of Malbec in a Right Bank blend.
Château Soutard, a Saint-Émilion Grand Cru Classé (a step below Premier Grand Cru Classé A & B), uses just the tiniest bit of Malbec in their blend. For Château Soutard 2018, Malbec represents just 1% of the blend. But it's enough to set this wine apart from other Saint-Émilion Grand Cru Classé wines.
The 2018 vintage is a good one, particularly for châteaux like Château Soutard located up on the limestone Saint-Émilion plateau. Already in April 2019 at En Primeur, this wine had a blackberry pie jamminess to it. We can't wait to see how it develops.
Rated a 93-95 by Robert Parker, it's a pre-order as the wine won't even be bottled until 2020.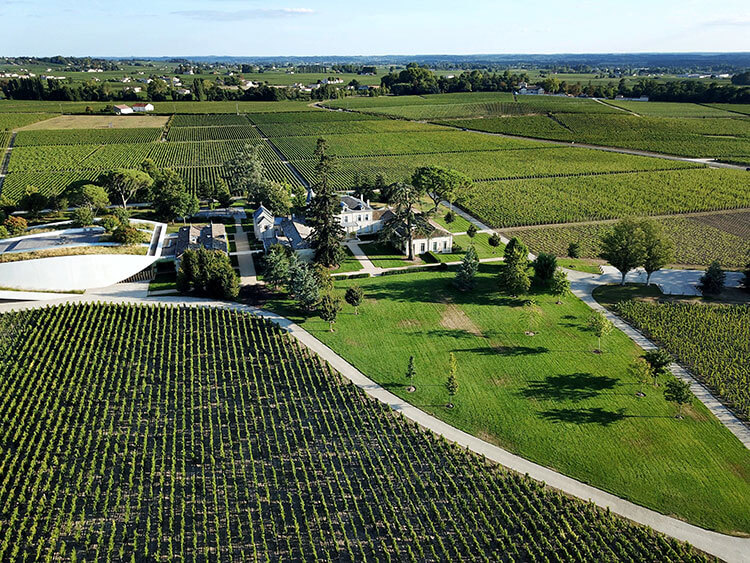 10. Château Cheval Blanc 2006
Bordeaux wines are powerful. They're meant to be aged to further develop in the bottle. And yet, the majority of Bordeaux wines on this list are young vintages – one of which is still even aging in oak barrels and hasn't even been bottled yet.
The reason we've selected so many young vintages is both because these vintages are truly exception, but also because you get purchase young vintages at a good value. Older vintages tend to also increase in price.
For a true splurge, we've picked Château Cheval Blanc 2006. Château Cheval Blanc is just one of the four châteaux classified as Premier Grand Cru Classé A in the Saint-Émilion appellation. It's a true star among Saint-Émilion wines.
Robert Parker rated it a 97 and the wine was tasted as recently as 2016 for the rating. It's a structured wine that is perfect to enjoy now – on a special occasion, of course!