As an avid hiker in Arizona, I kept looking for new adventures. Some friends and I came up with the idea of climbing Mount Rainier in Washington. As you can imagine, conditions on the 14,410 foot mountain vary greatly from the peaks in Arizona. As Mount Rainier is an active volcano and ever changing glacier we new this wasn't a trip we could just show up and "wing it" on. We choose to go with Rainier Mountaineering Incorporated (RMI).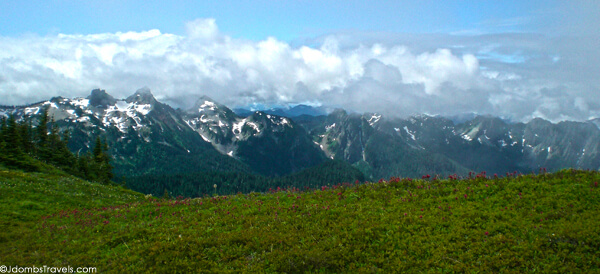 RMI has long been the experts of the mountain and have been guiding clients up Rainier for over 40 years. RMI also has expeditions on nearly ever major mountain in the world. They were an easy choice for us given their reputation for safety and success. Ken, Pete and I choose to do the 4 day summit climb. It consisted of an afternoon orientation, a full day of mountaineering training, and two days of climbing on Rainier.
At the orientation they go over the next three days in detail and what to expect. You meet your guides for the trip and everyone does an equipment check to make sure you have all necessary gear. Being a minimalist, they didn't like my lightweight parka that I had brought, so I ended up renting an expedition quality one from them. That is one of the great things about RMI – you don't need to buy thousands of dollars in gear for a once in a lifetime trip. Everything can be rented from them on site. After getting my parka we were all set. We headed into town to pick up some snacks for the next day's mountaineering course.
An early wake up, some breakfast at the cafe, and soon we were on a bus headed up to the entrance of Mount Rainier National Park. The weather hadn't been very good for climbing that week but we were happy to hear that for the first time in a week a group would be making a summit attempt that day. It was an hour drive to the Paradise trailhead where we would begin our hike. We had a 3 hour hike to get to a nice snowfield that we could all learn some basic mountaineering principles on. We began to climb in and out of the clouds and still hadn't even seen the mountain at that point. We practiced the basic skills that we would need on the climb. Self arresting with an ice axe was the main thing that we practiced. We also covered roped travel with a group, crampon usage and techniques, and some basic rescue methods that could be needed. It was reassuring to practice these techniques should we need them on the mountain. Once roped in you must really trust each other. If one person begins falling it is up to everyone else to help save them or risk getting pulled off the mountain as well. I felt that we all learned a lot that day and we had an early night in preparation for the first stage of the climb the next day. Unfortunately for me the boots I had were reeking havoc on my heels and giving me blisters. I hoped it wouldn't affect me.
Finally we were beginning our climb to the Muir hut where would stay for the night. We started hiking on a trail and after about two miles reached a snowfield and took a straight up approach from there. We fell into a single file line to  practice stepping in each others steps, rest steps, and pressure breathing. It was a nice pace and soon we found ourselves above the clouds with amazing views of the mountain as well as Mt. Adams, Mt. Saint Helen's, and Mt. Hood.
We took a 15 minute break every hour. Keeping hydrated as well as getting food in you is important to maintain stamina. Fifteen minutes seems like a good amount of time, but I always found myself a bit rushed. While we were re-energizing the guides would tell us old tales and also cover the plan for that night and the following day. We finally made it up to Camp Muir as another group cleared out. Space was limited as there were to be 18 of us in there, but the hut does the job quit nice and is way better than having to carry a tent and set it up on a snowfield. RMI provides hot water for drinks and to hydrate the freeze dried meals everyone eats. Lights out was at 7pm since it would be a very early morning for a summit attempt.
Our summit attempt began with a midnight wake up call, which gave you an hour to get dressed and make your breakfast. We would be roping up to begin the climb at 1am. We were split up into two rope teams: Ken, Pete and I with three others, and a group of teens made up the other rope team. We began the traverse that looked horrible from what we could see the previous day, but it turned out to be the easiest part of the day. After the traverse we climbed a steep icy scree chute with tight switchbacks. We had to be particularly careful in this section because of the loose rocks and not kicking rocks down on to the climbers below.
After and hour and half of climbing we took our first break once we were in a safe area. We donned the parkas immediately and took in fluids and food. After what seemed like five minutes we were off and hiking again. I was regretting not bringing the camelpack as they said not to (the tubes can freeze); I was used to continuously hydrating in Arizona, not just every hour and a half. The next section we climbed was Disappointment Cleaver. It started off with some steep tedious scree to climb. I was really starting to feel my blisters through this stuff. Finally we made it past the rock and were climbing in the snow again. It was steep and had switchbacks every 50 feet or so. This section was slow going for us and we had to take a few extra breaks to catch our breath. I was getting pretty winded, realizing at this point I probably didn't prepare for this hike as much as I should have. I kept trying to step in a way that would be easy on my heel blisters, but it just made me more tired and wore me out quickly.
Finally we made it to our next rest break atop Disappointment Cleaver. This would basically be the point of no return, and if we had any doubts about continuing on this would be our only option to do so. Pete was having issues with the altitude and decided it would be best to head down. I jumped on board with him as I knew it wouldn't be a pleasant day if I decided to continue on. It was a hard decision to make and one that still angers me, but every step was shooting pain for me. The top is only half way and it was a long way down from there. We parted ways with Ken and wished him the best of luck; I was disappointed. Some of the teen group was heading down too so we joined their rope team.
It was very slow going on the way down, but we had no need to rush. My blisters didn't feel that bad on the way down leading me to keep second guessing if I should have turned around or not. Soon the sun was beginning to rise and it was picture time for me. We weren't supposed to take pictures while climbing, only at the breaks. After all we were on a steep glacier with open crevasses that we had to navigate around. I still managed to grab the camera from my pocket and snap some pictures now and then as the sun lit up the glacier.
We picked up another straggler that left his group and was headed down and he joined our rope team. RMI is concerned about the safety of everyone on the mountain, not just their clients. Back at Muir it was a beautiful day  as we arrived a bit before 7am. I took an hour or two nap but found myself restless. It would be a long day at camp anxiously awaiting the rest of the team to return. But it turned out to be a beautiful day so we enjoyed the scenery and stared off at the other mountains in the cascade range.
Finally we started seeing climbers beginning to descend. We got excited when they returned and I was very happy for their success. It was great to hear their stories and struggles from the mountain. I was still happy with my decision to turn back when we did. We all got packed up and started heading down very happy to be going down the snow field at this point. The snow was soft and made for some great sliding on the way down. There were a few glissading chutes and some of us had a lot of fun sliding down on our butts; others just walked down. We were a bit on our own for once and it was nice to be free not walking single file staring at each others boots. It was all fun and games until we hit the trail; no one enjoyed the trail in their boots.
That night we all met up at the pizza kitchen there at RMI basecamp and enjoyed some food and beer with our guides and fellow climbers. Everyone enjoyed themselves whether they reached the summit or not and everyone made it down safely which is what matters in the end. I showed them some of the pictures I had captured on the decent and a few the guides yelled at me for as taking pictures while traversing the crevasse section, but also asked that I email a few to them. The next morning we packed up early and headed into Seattle for a quick tour before catching our plane back to Phoenix. Pete even sweet talked the girl at the ticked counter into some first class seats for us and we were treated to amazing views of Mount Rainier as we took off. It was the perfect way to end the trip.
Know Before You Go:
RMI 4 Day Summit Climb- The 4 day program costs $1,006 and runs mid-May through mid-September.
Wear Sunscreen- I got fried on our our training day climb and we never saw the sun that day. Don't let the clouds fool you; the snow acts like a tanning bed and you will get some sun.
Boots- Make sure your boots are broken in prior to the trip. We lived in Phoenix and it was difficult for me to break in the mountaineering boots in the 100 degree Phoenix heat. Most rented boots from RMI, something I would probably do next time.
Fitness Level- Conditioning is key when it comes to snow climbing. While I had no problems climbing steep trails in Arizona, climbing glaciers in crampons needs a much higher level of fitness.
Seattle- Make sure to give yourself and extra day or two in Seattle. It's a great city to explore and I wish we had more time there.