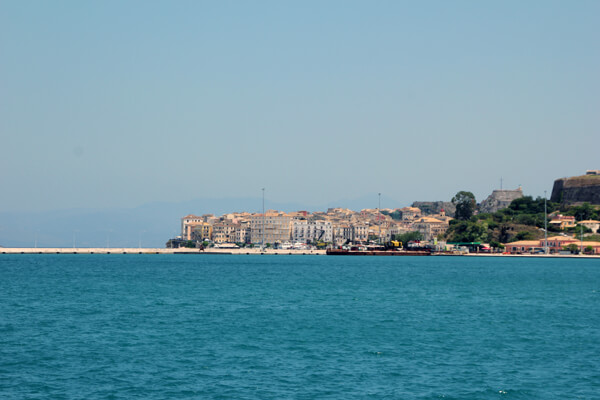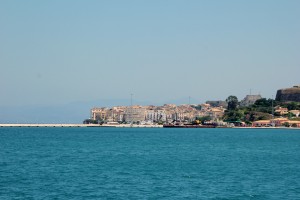 I am not a morning person. I never have been. I used to drive my parents nuts every morning when it was time to get up for school. And I drive Tim nuts now as he tries to get me up and moving. So imagine his surprise when I was up and raring to go before the ship was even in port.
We finally reached our first port of call after which had seemed like one really, really long day at sea. And I was in Greece! What girl doesn't dream of going to Greece after seeing Mamma Mia!?
We had arrived on the Ionian island of Corfu. Because of the island's position on the Adriatic Sea, it is very green. One of the most green of the Greek islands and is plentiful in both olives and kumquats.
Shortly after disembarking, we were picked up right at the port by Sally and her niece, who transported us to Sally's stables for horseback riding. Sally is the British-born owner of Trailriders, a lovely stable just outside of the village of Ano Korakiana in the center part of the island.
Sally and her stable hand, Marissa, picked out our horses based on our riding experience. Sally picked her own horse, Rebel, for me as I was the most experienced of our group. In case you're wondering why Rebel is wearing a branch as an accessory, it's not because he really likes trees. Rebel gets spooked by flies and the branch was quite effective at keeping the flies off his flank. Tim was paired with Tyson, a gentle giant at 16 hands tall. Our little group of 5 – Tim and I, a couple from Tasmania (where I definitely want to go after hearing about how awesome it is), and Marissa – all saddled up and off we went!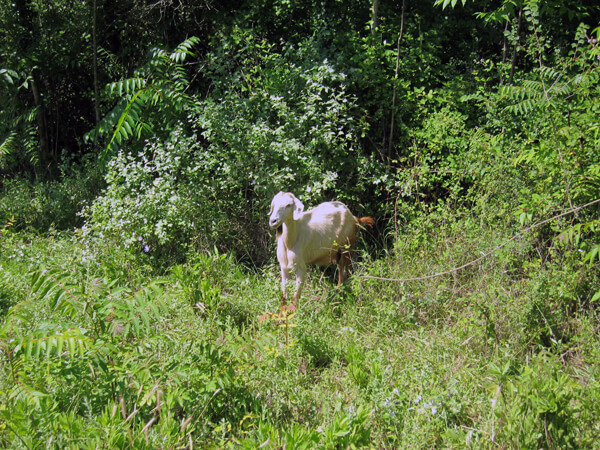 We wound through some woodland, which suddenly opened up to a beautiful view of the village of Ano Korakiana. Marissa told us we'd arrive at the lower part of the village in about 20 minutes time. Once we reached the village, we walked by quaint little houses with olive groves and beautiful gardens. Greeks tending to their gardens shouted out hellos and how are yous to Marissa as we clickity-clacked by. After the village, it was time to test out our riding skills and exercise the horses by working them up to a full trot. We trotted through more olive groves, vineyards, and pastures of grazing goats.
Once we returned to the stables, we each helped to untack our horse and rewarded them for hard work with apples. Rebel gently sucked in the apple pieces and I opened my hands wide to show him I didn't have any more. Sally rewarded each of us with cool beers.
Sally then drove our little group to Corfu Town and we had around two hours for a quick lunch and to explore the town and shops before we had to be back on board.
How To Save
We booked with Trailriders Corfu through their website directly for €60 per person (~$75 per person). Norwegian offered a horseback riding shore excursion for $139.99 per person. Total savings = $130.
Tip: A regular shuttle bus runs from Corfu Town to the port every 10 minutes for €2 per person.